Are you looking for the perfect font for your wood sign? Let us discuss here which are the best fonts for wood signs.
Table of Contents
Wood signs are an excellent way to communicate messages for indoor as well as outdoor messages.
While wood signs are unique in that, they look natural, plain, and in the finest textures, their natural look and feel give them an extra level of character that many other sign types do not possess.
From digital printing to hand painting, wood signs have been a standard means of conveying messages, making announcements, advertising, or promoting products. And choosing the right font helps your message stand out and attract attention.
There are various options to consider while selecting the best font for wood signs; choosing the right one to convey the right image and tone of your message is essential.
Whether it is a decorative statement piece, a functional sign, or an announcement for everyday use, one should consider a few points when choosing the best font for a wood sign.
This article will give you a detailed insight into different fonts that work well on wood signs. So here are some exciting fonts used for wood signs which are creative, innovative, and rustic at the same time.
Lumbero
Lumbero is the perfect font for all fun designs and belongs to the regular subfamily. Lumbero is a stylish and playful sans font which makes any write-up more attractive with its fluidity and the ability to render a fun feel to even the blandest designs. This font is mainly used for crafts, product packaging, product designs, label, branding projects, wedding cards and designs, social media, and advertisements.
Wood Trap – One Of The Best Fonts For Wood Sign
The wood trap is a bold, chunky, and showy display font that makes your text stand out.
This font has unique spacing, kerning and hinting, characters, and modern metrics and is ideal for year-round festivities.
Wood trap font is best used for: logos and branding, website designs, especially blogging websites related to travel, fashion, food, etc., clear print designs, magazines, headers that require handwritten touch, and social media graphic quotes.
The font includes full upper and lower case characters, numbers and Punctuation, pua-encoding, .otf, and .ttf file, and multilingual Support.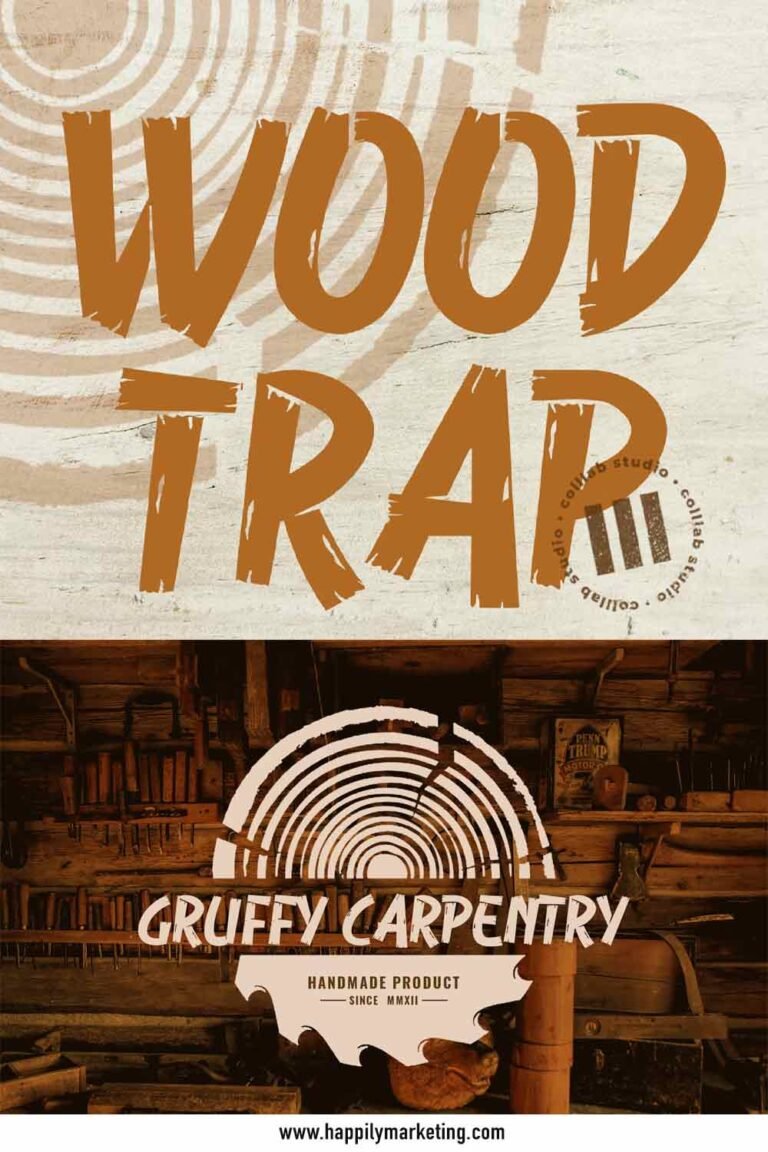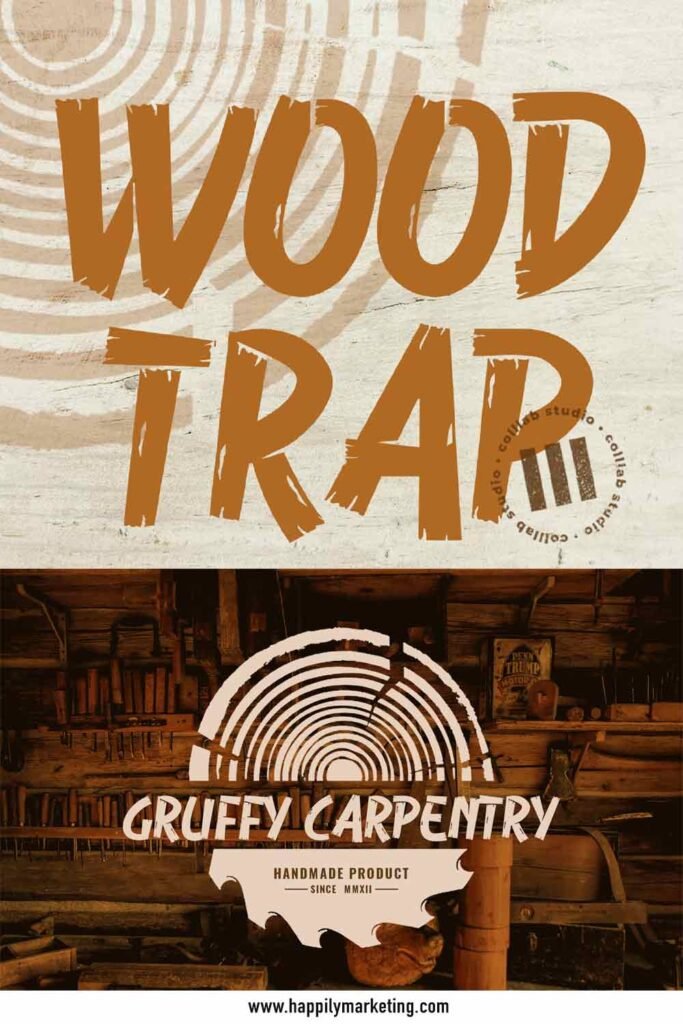 Woody Wood font
Woody wood is a new unique, bold font with pen and ink effects and is quite large.
As the name suggests, a wood plank was nailed down to make a woody wood font.
This font is used for advertising, adventure websites (headlines), posters, travel magazines, packaging, postcards, and social media posts.
It includes web fonts, basic Latin alphabets, lower and upper case, numbers, Punctuation, pua encoded characters, and simple installations.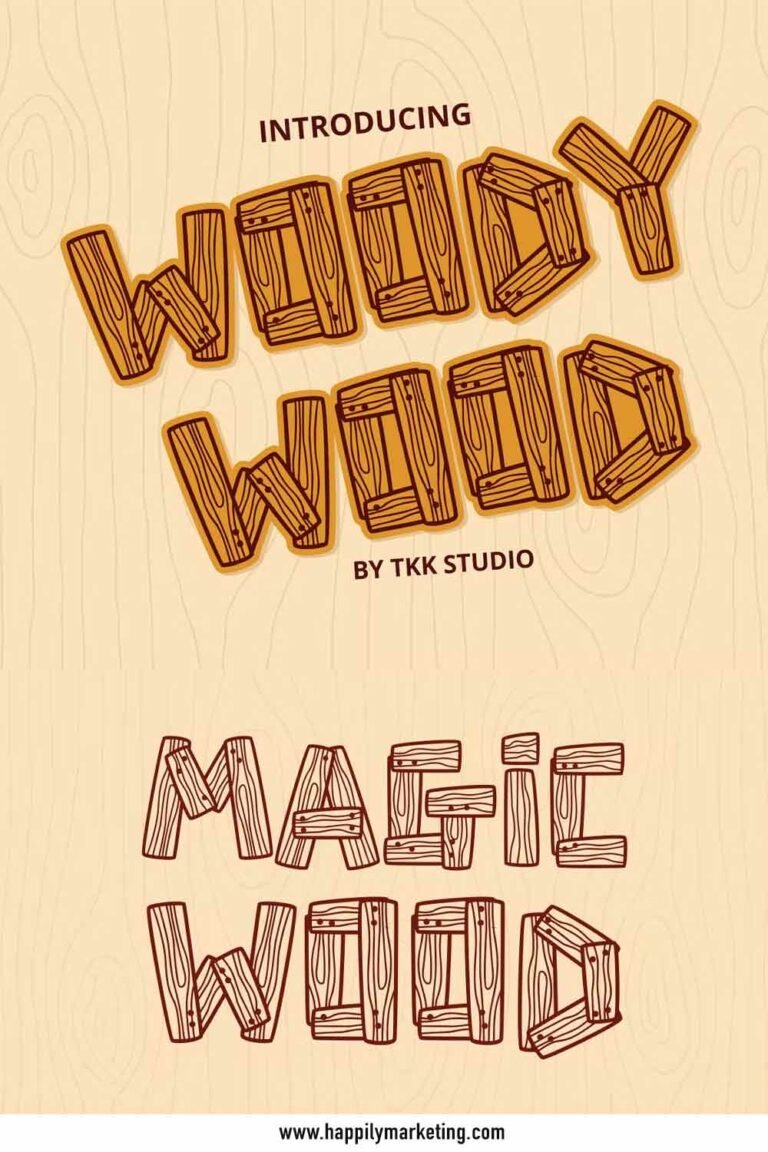 Wood Chop Adventure
A wood is chopped into a plank and shaped as a letter which forms the wood chop adventure font.
This font is primarily used in fun outdoor themes books market, wildlife adventure posters, survivor mode games, jungle and park adventure posters, school supplies font, youtube covers and thumbnails, and social media page covers.
It includes the wood chop family (OTF, TTF, WOFF), essential Latin A-Z and a-z, numbers, and Punctuation.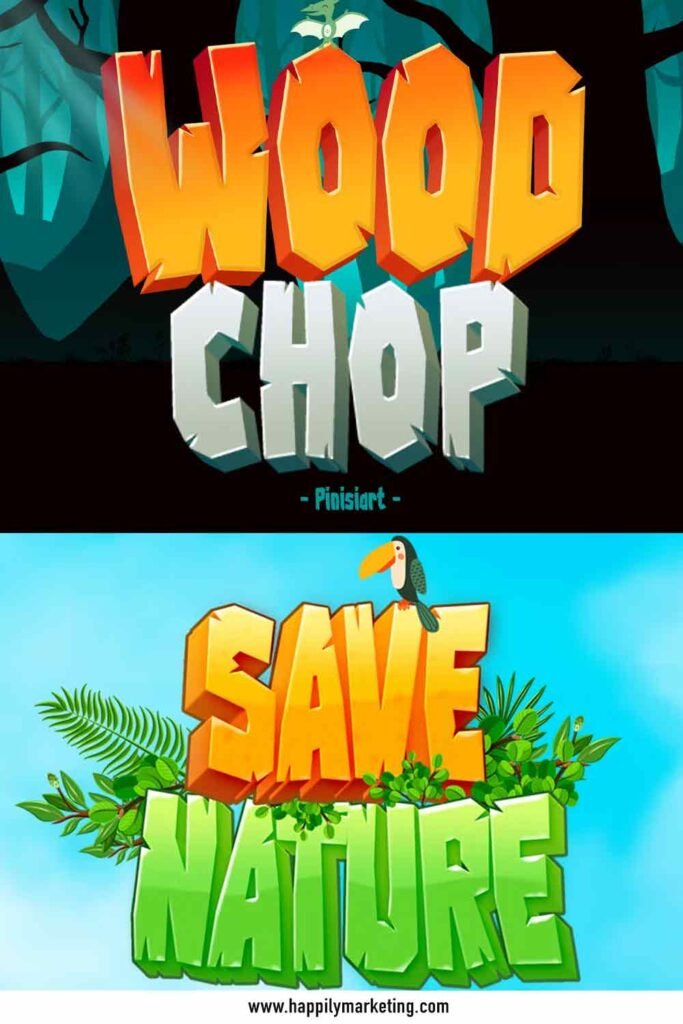 Woodpecker Unique Jungle Font
Woodpecker font comes with a chopped wood plank style.
This font is perfect for any outdoor, wildlife adventure, survivor mode games, jungle, and park adventure poster and includes TTF, OTF, and WOFF.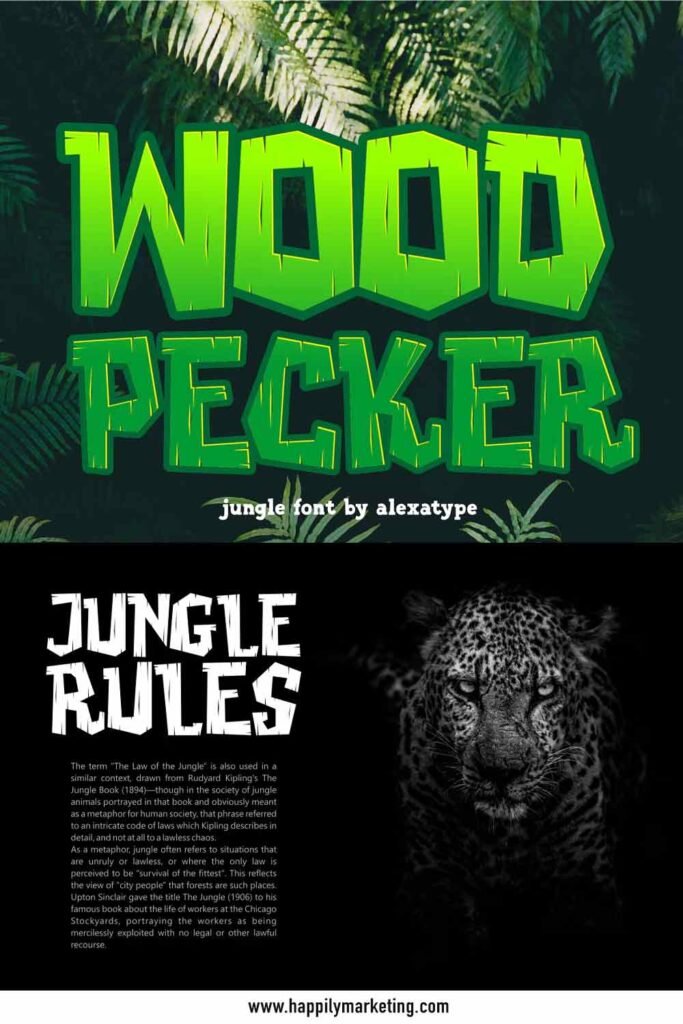 Backeth
Backeth is a fun display font with a wood character that is quite natural, beautiful, and full of modern talent and is similar to a video game.
This font provides a substantial, particular, flexible, appealing, bold typeface with a stylish and attractive shape for various presentations.
Backeth font is ideal for various graphic projects, including games, book titles, outdoor activities, posters, banners, quotes, branding, and other similar projects.
Zoonaji Sans Display
Zoonaji Sans Display is an All Caps sans serif display font.
This font incorporates fun, quirkiness, and originality and can turn any creative idea into a different standout.
This font is ideal for branding, logo design, editorial design, stationery design, blog design, and modern advertising.
Timber Hitch Fonts plus Bonus Nature Elements
Timber Hitch is a bold sans-serif font with a plain rustic wood grain texture. This includes an all-caps font handcrafted for nature designs and inspired by old logging camps.
It is used in wilderness posters, hiking clothes, simple wedding stationary, and antique logos.
It includes Timber Hitch Font in .otf format.
Forestana Childrens Font
The forestana font is perfect for children, bringing a wooden plank in a funny and kid-friendly way.
This font is perfect for kids' markets, online games, school supplies, stationary font, posters used for kids, movie titles, youtube thumbnails and covers, and social media covers.
It includes the forestana family (OTF, TTF, WOFF), Basic Latin A-Z, a-z, numbers, and punctuations.
Wooden Bridge- Vintage Display Font
Wooden bridge font is unique, which makes it irregular. This font has vintage touch in character and is inspired by the poster of the 1970s but is made flexible for everyday use.
The wooden bridge is used for titles, invitations, headings, covers, posters, logos, quotes, product branding and packaging, merchandise, social media, and greeting cards.
Wooden bridge supports multi-language, and we can divide the characteristics into several open-type features like a swash, stylistic sets, stylistic alternates, contextual alternates, and ligatures.
It includes OTF, TTF, and WOFF, features a lower case, upper case, numbers, and punctuations, and is easy to install.
CA Coronado
CA Coronado is a subtle display font with a vintage look. It creates a pleasant and human feeling and is used for titles, headings, and logos.
It includes upper and lower case characters that differ in details and can be mixed to get a realistic look. The best original look comes from "Regular" and "Shadow Styles."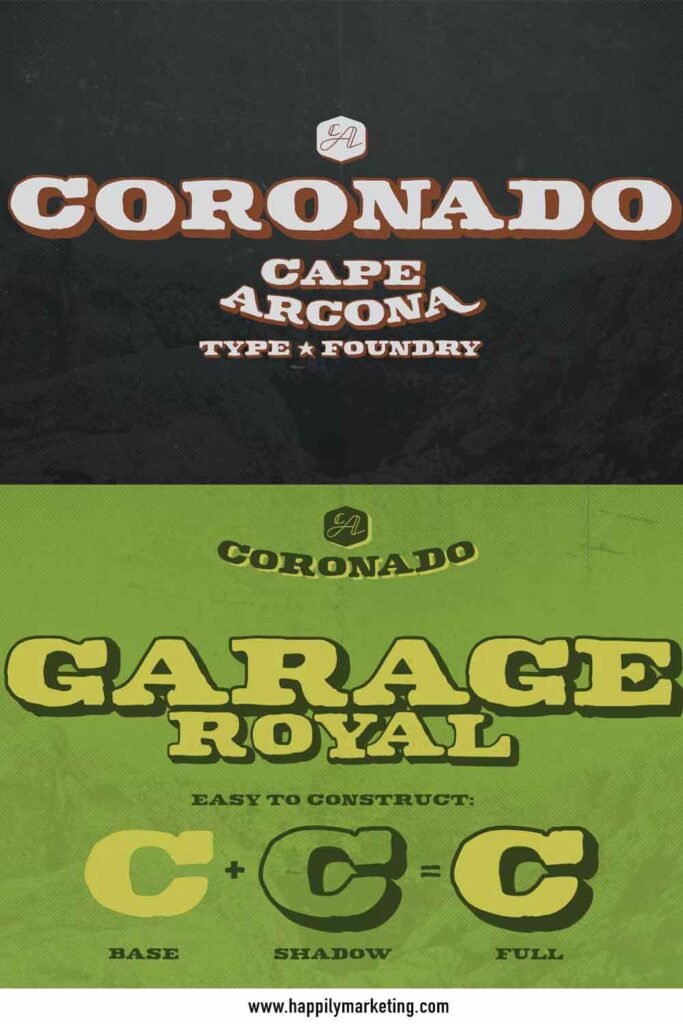 Signcore Sans Serif Texture Font
This font has a grainy and textured feel with a hand-drawn display sans serif font.
This font is a premium high-resolution letterpress family with rectangle letterforms and original hand-made textures.
Sign Core font is used in logos and branding, invitations, stationary, wedding designs, social media, advertisements, product branding and packaging, product design, labels, photography, watermark, and all projects requiring a handwritten touch.
Bradrock – Vintage Slab
Bradrock is a vintage slab serif font inspired by old-school cowboy and circus-style design.
Bradrock uses a bold bifurcated serif on the letterforms and has a more decorative font.
This font is the best choice for vintage or old-school ideas. It is an all-caps font that highlights power, confidence, and old-school looks,
It is used chiefly in vintage logos, mugs, embroidery, prints, display, texts, packaging, signages, and other related projects.
This font makes your design more potent with its exceptional characters.
It includes TTF and OTF and features an upper case, lower case, numbers and punctuations, accented characters, stylish alternates, and stylistic sets.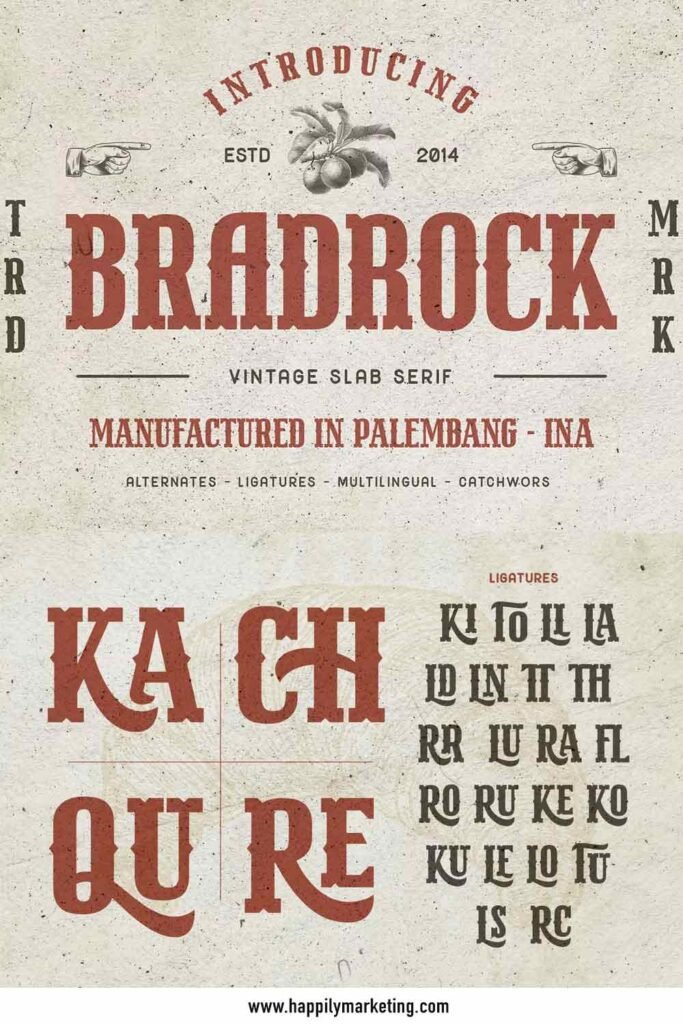 Woocaza- Kids Adventure Font
Woocaza Kids adventure font is like a wood plank with some fun.
This font is used for outdoor places like kids' adventure books, bookshops and markets, online games, events, kids' shows, school supplies, posters, movie titles, youtube covers and thumbnails, and social media to attract kids and families.
It includes OTF, TTF, and WOFF and features basic Latin lowercase and uppercase Punctuation.
Conclusion
Fonts can be used for various purposes, from aesthetic design to legibility. Choosing the right font style and size for your wood sign is essential to make a statement that is eye-catching and easy to read. Fonts are also necessary for branding your business, helping customers remember who you are and what you do.
This article will help you decide which font is best for wood signs.
Read More