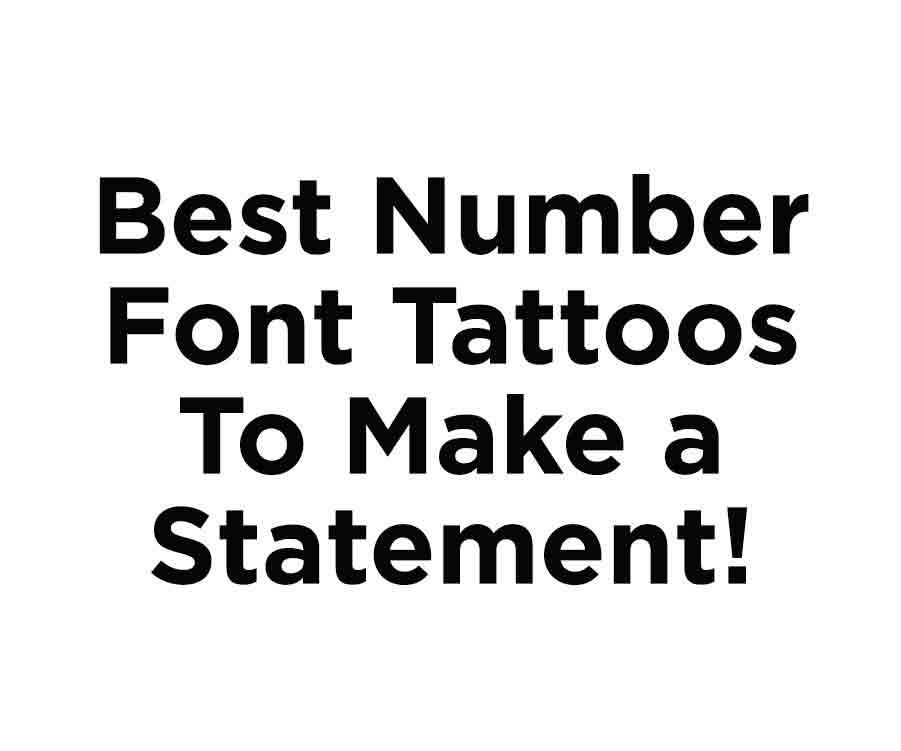 15 Best Number Font Tattoos To Make A Statement | Try Them
How cool are these number font tattoos? I love how they look like bike chains. Right?
If you are looking for inspiration for your tattoo, look no further! Here is a list of 15 awesome fonts to use on tattoos. They range from traditional to modern and cover almost every style out there. With these fonts, the possibilities are endless. Check them out below! 
The best collection of the most incredible and unique Number Fonts For Tattoos

1. Carnivalee Freakshow : The Carnivalee Freakshow is the perfect font for bikers, tattoo artists, and anyone looking to go all Old West with their lettering. So strap on your six-shooter steak-holdin' holster and ride with us into the murky depths of rusty cursive you always wanted!

2. Rio Grande: Rio Grande was designed by creative folks who love their tattoos. It has an old-style, hand-drawn quality that will get people's attention. Plus, it's easily readable, lightweight, and limited in color variations like bikers like!

3. Docktrin : Want to make your tattoos pop? Here's the most promising font for tattoo artists, bikers, and street art enthusiasts! Docktrin is a distortion-free old-timey style of typeface

4. Cowboys: The number fonts in the Cowboys typeface is a creative idea for tattoos and body art. This handwriting has an old western feel with individual letters that appear hand-drawn or hand-written. The distorted look will make your work original and stand out from any other design you could find.
Read: 70s Color Palette: Design in Retro Style
5. Shadowed Serif : Shadowed Serif is the best font for tattoo. Revive your western aesthetic with our shadowed serif. This classic distressed style takes a trip back to the old days of fonts and numerals. And don't forget bikers! Craving an attractive yet new take on that rider look? We got what you need: Shadowed Serif offers distorted numerals and letters perfect for true individuals who want to stand out from the pack.
6. IFC Rail Road: The IFC Rail Road provides a clean and crisp historical look, perfect for a classic inked-up biker. The font in this product is distorted enough to not be too distracting from the tattoos you have or plan on getting. If you're looking for a font that will draw attention away from imperfections in the skin, the IFC Rail Road is just what you're after!

7. Vanilla Whale: Ready for a new way to spread some sweet and sick tattoos? Check out the Vanilla Whale! A western best-number font tattoo with some distortion, perfect for bikers.

8. Calvous: Tattoos are the ultimate personal statement. Give your ink some flare with Calvous- a number font inspired by classic graffiti lettering. It's fun, expressive, and perfect for that raw street cred you need to stand out in today's laser tattoo world.

9. Bandero: Bandero is a classically styled tattoo font with mechanical influence for those who want to break the mold and do things their way.

10. Bosox: This old-fashioned number font is perfect for anyone with a western vibe. With a touch of quirkiness, this quirky little typeface will surely turn some heads.
It's the perfect font with an undeniable patina that looks cool tattoo.

11. Retro Grunge West: This font features one of the most pleasing number fonts for tattoos and some of your favorite new fonts. It makes a great gift, too!

12. Western Dead: Look no further; the perfect typeface has been found for your tattoo artist. When designing a tattoo space, you have to consider how it will look in ink; the Western Dead font delivers an aged and distorted effect that brings your design to life.

13. Pointedly Mad: Pointedly Mad is the finest number tattoo font, old font for bikers, and distended look font.
14. Colleged : Colleged is one of the perfect tattoo fonts for your tattoos. With Colleged, you can customize every aspect of your design with different fonts and sizes to fit any style or body shape. You can now tattoo your skin with ease thanks to our distorted look.

15. Love Craft : Line the surface of your skin with a font like Love Craft. With over 100 different fonts, it's hard to pick just one! We offer an assortment of pica styles and flourishes that will make you fall in love.
The number fonts are the ones that you like. There is no right or wrong answer here! It would be best to consider what tattoo style you want and then choose a font accordingly.
For instance, if you get an Arabic numeral on your arm in black ink with red shading around it, you'll probably want something bolder than, say…a script-style typeface?
But this is just one example; there are plenty more creative options when deciding which tattoo fonts will work best for your next tattoo design idea. Which one of these do you think looks most appealing?