If you're a photographer or are building your photography business, you'll need an online presence to showcase your work.
You'll need to show potential clients what you're capable of, and there's no better way to do that than with an online portfolio website.
Your online portfolio website can help you get new clients and grow your business.
In this post, I'll share the best photography websites and portfolio websites that are well-designed and display amazing photos.
So, whether you're looking for your first online portfolio or already have one but want something better, you'll find something that suits you.
Check our top portfolio websites for inspiration and display your work like a pro!
Most promising Photography Websites
The following are our top ten picks for the best photography portfolio websites:
Tom Hull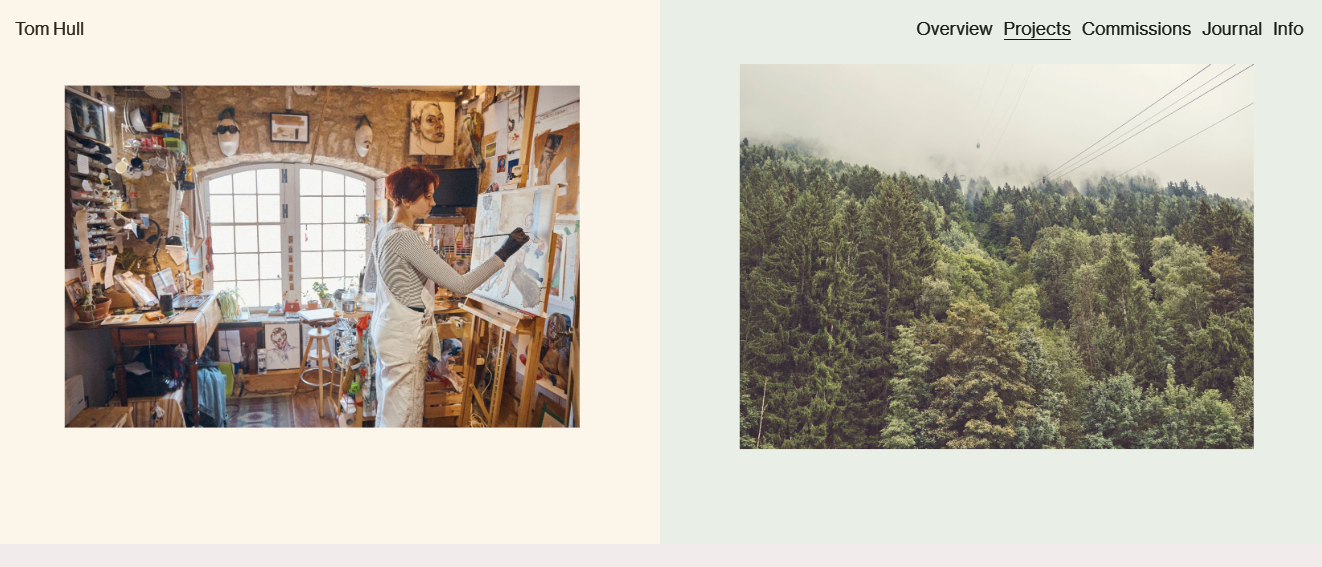 Tom Hull is a British photographer who focuses on landscape and advertising photography. His website has a clean and modern design, which lets his beautiful photos shine.
Many of his photographs involve people who are not professional models, making his shots more spontaneous and dynamic. Tom Hull has worked with clients such as Google, Nike, and The Tate.
You can see his work on his photography website as individual images or as a grid of thumbnails. There are also separate pages for his landscape and advertising photography.
Website Link
Jen Huang Bogan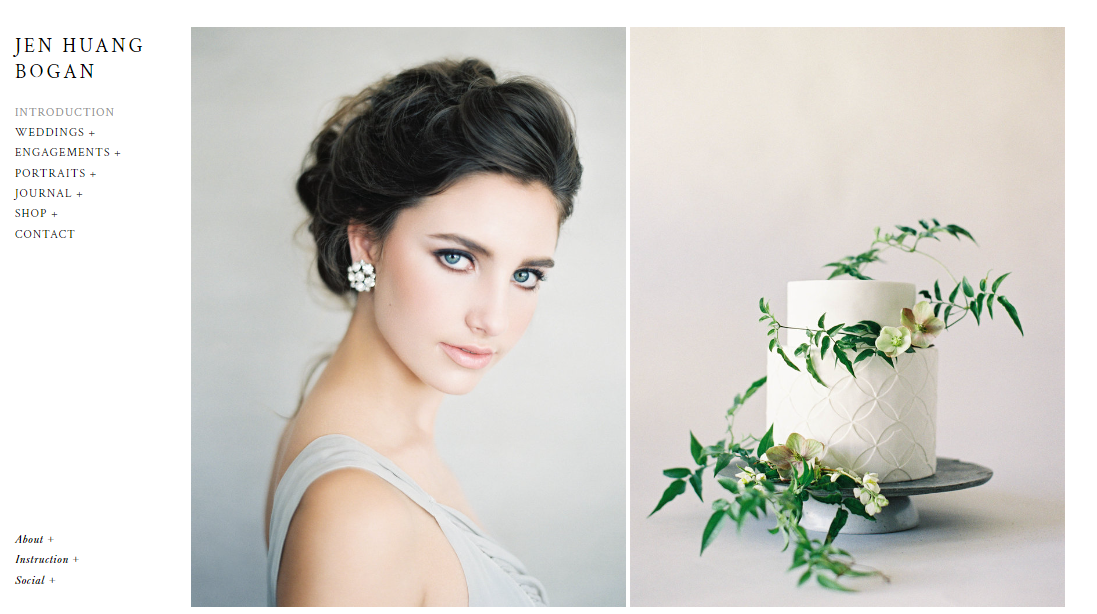 Jen Huang is an American photographer who specializes in wedding photography. Her website has a soft and romantic vibe.
The front page of Bogan's website displays large photos, and the navigation menu is located in the left sidebar.
The design is clean and straightforward, but each page has a different background image that helps to set the mood.
What we like about Jen Huang's website is how it tells a story. Lightbox photo galleries also make it easy to view her beautiful and unique photos.
Website Link
Amelia Allen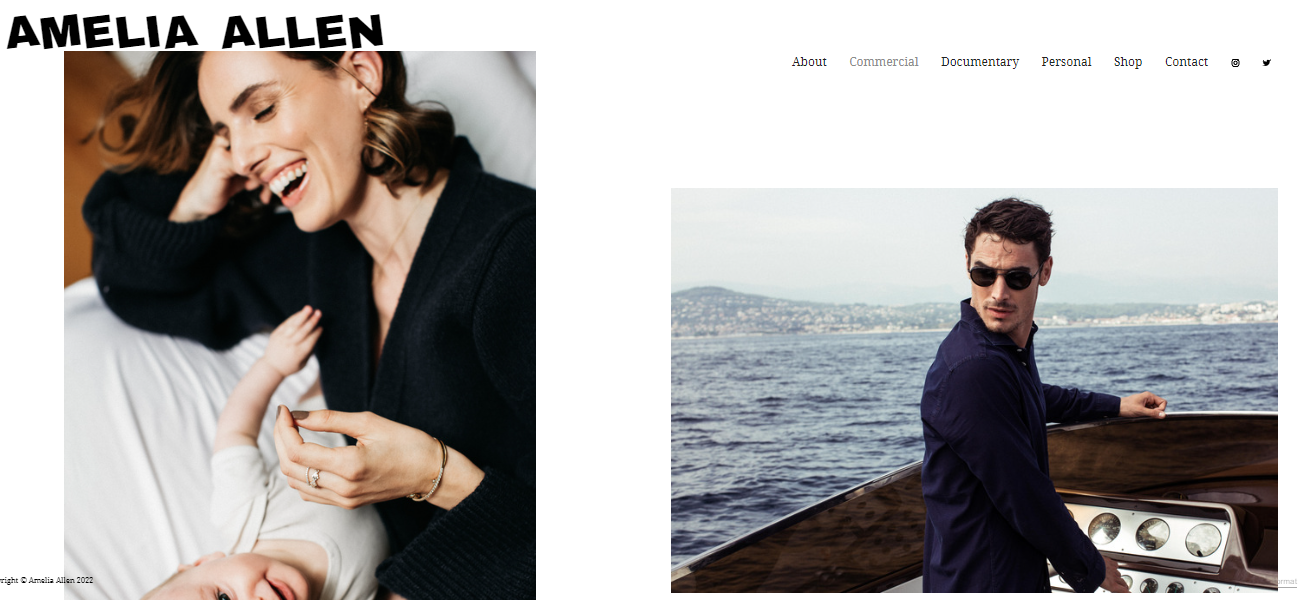 Amelia Allen is a lifestyle, documentary, and portrait photographer based in London. Her portfolio website is stylish and minimalist, which lets her stunning photos take center stage.
She displays her works horizontally rather than on a grid, making her portfolio stand out from the competition.
Starting her career in fashion photography, Amelia developed an iconic style. She has worked with clients such as Harper's Bazaar, Vogue, Porter, Sunday Times Style, The Daily Mail, and Forbes.
Creating works such as Amelia Allen helps the contemporary to re-evaluate the things that matter in life.
In this portfolio website, she focuses on emotivity, building a harmonious identity, nurturing a healthy ego, and the magic of making and collecting memories.
Website Link
Sanz Lena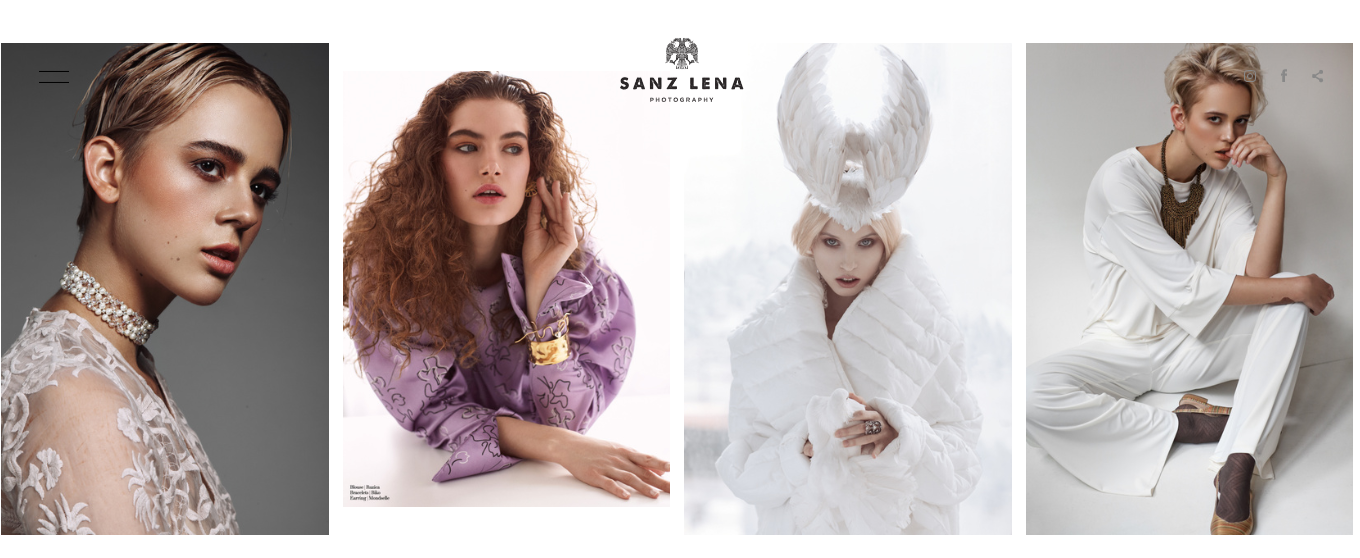 Sanz Lena is a Paris-based fashion and beauty photographer. He has been a professional photographer since 2012 and specializes in beauty, fashion, still-life, and editorial photography.
Made with Format, Sanz Lena's portfolio website is very classy and minimalistic. The website uses a simple grid layout consisting of lots of white space with a horizontal scrolling gallery.
It gives his website a modern look and feels while still being easy to navigate.
Sanz developed a different artistic look thanks to his travels around the world. As an editorial photographer, he is constantly experimenting with new creative ideas and techniques.
Website Link
Read: Is Canva Free? How Is It Different From Pro
Adam Bird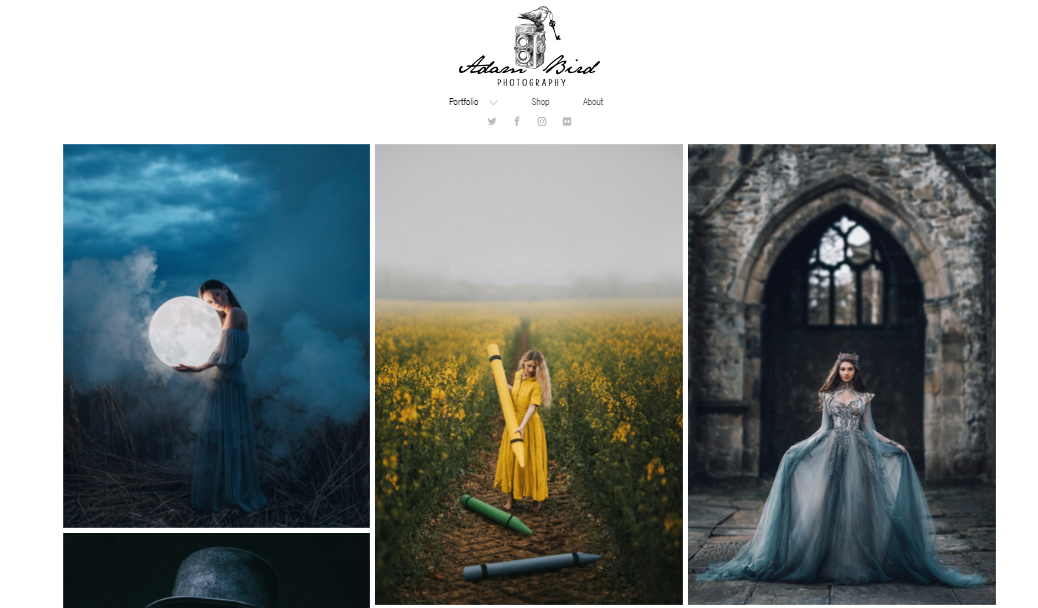 Adam Bird is a fashion, portrait, and wedding photographer based in Birmingham, England. His work offers a wide range of vibes, from mystical to fresh and romantic.
His website is built using the Format platform and has a clean and professional design.
This photography website design is unique and looks like a fairy tale book. The use of lightbox galleries makes it easy to view his beautiful photos.
Adam has worked with Disney, Adobe, and Panasonic, among others. He also has a Harry Potter-themed series and sells Lightroom and Photoshop presets on his website.
This professional photography website is an excellent example of how to showcase your work professionally and creatively.
Website Link
Mathieu Stern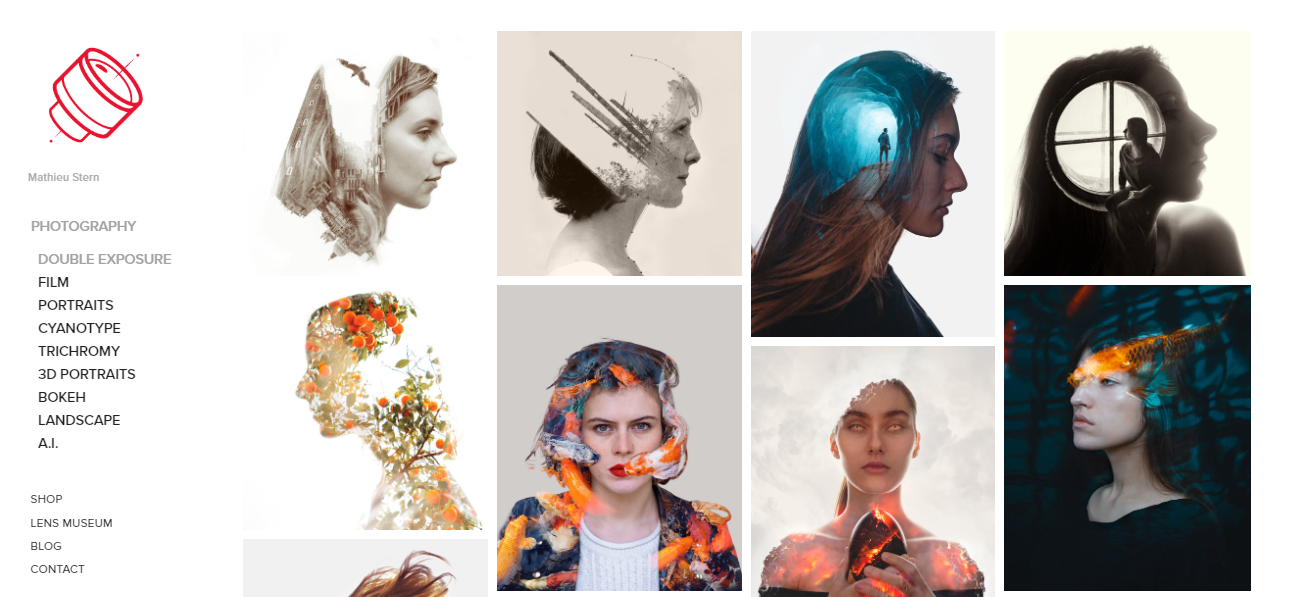 Mathieu Stern is a professional photographer and filmmaker based in Paris, France.
He is passionate about vintage lenses and experimenting with photography techniques. His innovative and out-of-the-box approach to photography makes him stand out.
Mathieu has a YouTube channel with more than 280,000 subscribers, focusing on photographic experimentation. Additionally, he teaches photography and Photoshop at three Parisian design schools.
Stern's website is built using Squarespace and has a clean and minimalist design. His photos are displayed in a horizontal scroll gallery with white space in between each image.
He also added videos to his portfolio and did a great job editing them.
What we like about this website is how Stern's personality shines through. From the design to the copy, it's clear that he is passionate about what he does.
You can find Stern's work in several places, including Peta Pixel, Adobe News, and F Stoppers. His work has also been featured in magazines such as Forbes, Time, and National Geographic.
Website Link
Julia and Gil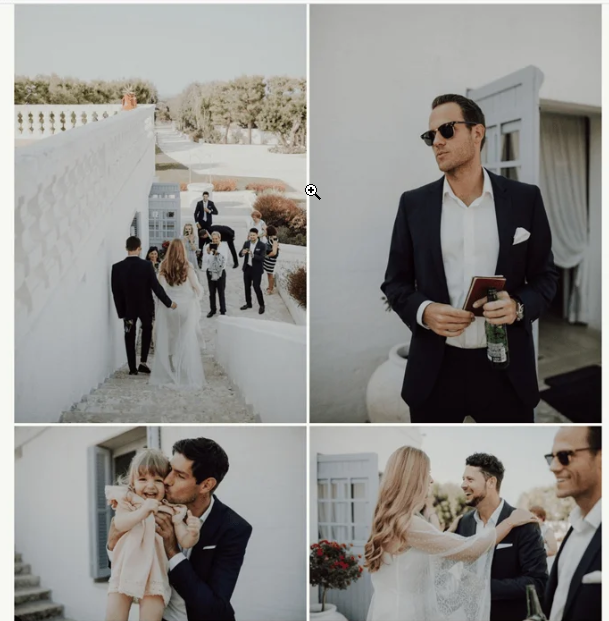 Julia and Gil are wedding photographers who specialize in capturing candid moments. They have been in business for nearly a decade and have worked with couples worldwide.
They focus on documentary reportage, portraiture, fashion photography, art photography, and filmmaking. Their goal is to capture the emotions of the day and the couple's personalities.
In their photography, they avoid clichés to capture the genuine moments of a wedding. The photos they take are atmospheric, honest, and lively.
Made with WordPress, their portfolio website has a minimalist design and is easy to navigate.
This beautiful photography website is also mobile-friendly, ideal for many photographers who want to showcase their work online.
You can also check out their blog to see their work and read how they captured specific weddings.
Julia and Gil are great options if you're looking for candid and natural wedding photography. Overall, it's a good photography website.
Website Link
Haris Nukem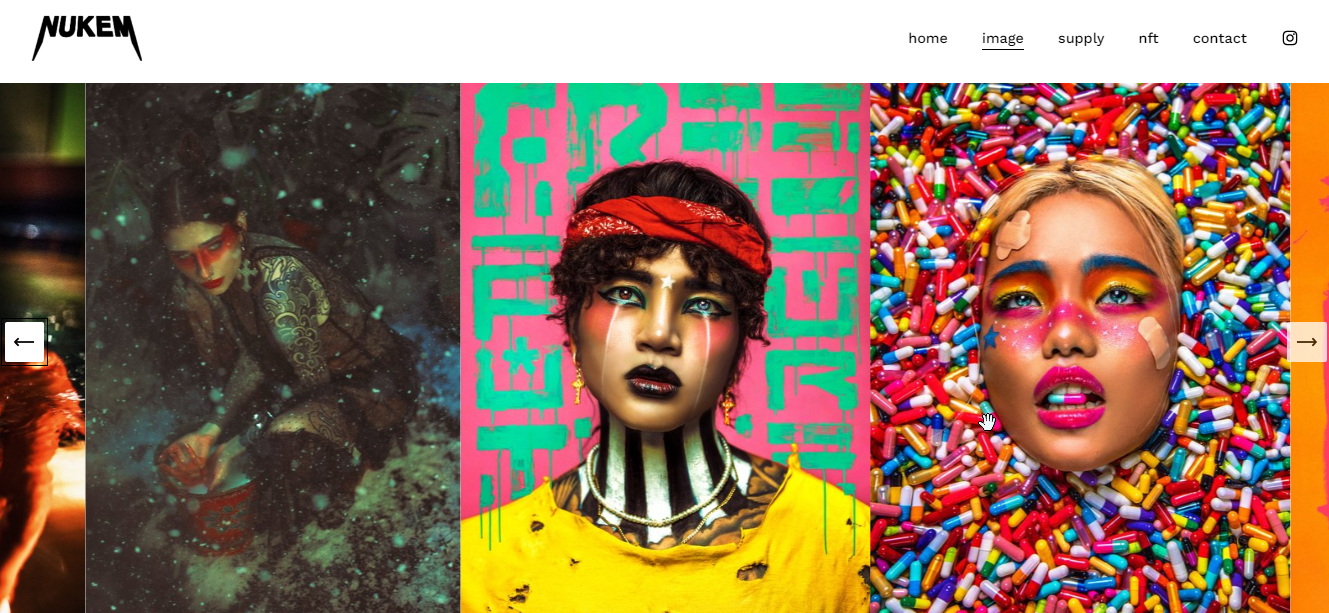 Haris Nukem is a London-based fashion and commercial photographer who provides images that convey important messages.
Born in Bosnia, he came to the UK seeking asylum as a young man. His inspiration comes from how the world and our environment shape our personalities.
In 2019, Nukem held an exhibition called 'Faith' in London's Soho. To enter the event, he asked people to a "'pay what you can afford" entrance fee, and all the money went to the charity Help Refugees.
Using Format, he has designed his website to highlight his work to the fullest extent possible. The landing page consists of a single full-page image.
On his photography portfolio website, you can only see two or three photos at a time in a colorful slider gallery.
Haris Nukem's images are often striking, colorful, and thought-provoking.
To see where his images have been featured and read articles about the photographer, check out the "press" tab on his website.
Website Link
Mike Kelley

Mike Kelley is an architectural and fine art photographer based in Los Angeles, California.
He loves to portray the beauty of everyday objects and scenes. You can see examples of his award-winning photography work on his website.
Kelley's website is built with Squarespace and has a clean, straightforward design that puts his beautiful photography in the spotlight. The website is easy to navigate, with the homepage divided into two columns.
The main section of the website showcases his works in a grid gallery. And the left column contains links to different website pages, such as the portfolio, about page, contact page, etc.
The way Kelley's website showcases his beautiful photographs is gorgeous.
The photos are displayed in a way that makes them look like art pieces. Kelley has worked with big brands like Tesla Motors, HGTV, Herman Miller, and BBC.
If you're interested in Kelley's work, you can also check out his blog and e-commerce store.
Website Link
Best Photography Portfolio Website Builder For You
The following are the ten best websites for photographers to create an online portfolio, whether you're looking for your first online portfolio or want to improve your existing one.
The best part is that these photography sites require no coding knowledge and are easy to use, even for beginners.
Squarespace
Format
Adobe Portfolio
SmugMug
Pixpa
Wix
Shopify
WordPress
Carbonmade
Zenfolio
With the help of these website builders, you can also create your own photography website to sell your fine art prints, find new clients, and build your brand.
Conclusion
As you can see, I've shared the ten best photography websites and portfolio websites across different categories.
They include portrait photography, product photography, wedding photography, architecture photography, digital photography, etc.
These sites have creative layouts or simple designs and belong to talented photographers.
You can find lots of new photography inspirations and ideas on these websites. Additionally, you can learn about different composition techniques, lighting setups, and post-processing styles.
Now it's your turn – which of these do you like the most? And if you have any other recommendations, please feel free to share them in the comments section below.
Related Posts