Artificial intelligence (Al) has spread in various fields, including healthcare, computer vision, business, marketing, finance, education, and even no-code web development.
Table of Contents
The idea that you can build a website without writing a single line of code using artificial intelligence might sound like a scam.
But now, it's a reality with Al website builders.
Artificial Intelligence (AI) for websites is only now becoming more prevalent, but its potential implications are far-reaching and profound.
In this article, we'll explain what AI for websites is, how it can help to generate a more user-friendly and effective website, and how to use AI for websites.
What Is AI (Artificial Intelligence)?
AI, which stands for artificial intelligence, is a system or machine that mimics human intelligence to perform tasks and can iteratively improve its performance based on the data they collect.
In a nutshell, AI systems learn independently rather than being programmed with a human's knowledge.
You can use AI in web design and marketing to develop your site with just a few clicks. Here are some examples:
Website development: You can use AI to help you create website pages.
Search engine optimization (SEO): optimize your website for better search engine rankings.
Ai writer for creating content: Get help to create content for your blog or website.
User experience (UX) testing: Find out how users interact with your site.
Online store building: Create a fully functional online store without much effort.
Website design: create a unique design for your website.
App or website: Develop a custom app or website for your business.
So, what exactly is AI for websites?
In simple terms, it is the use of artificial intelligence algorithms to improve the usability and effectiveness of a website.
Now let's look at how it differs from the traditional website development system.
Traditional Vs. Artificial Intelligence For Websites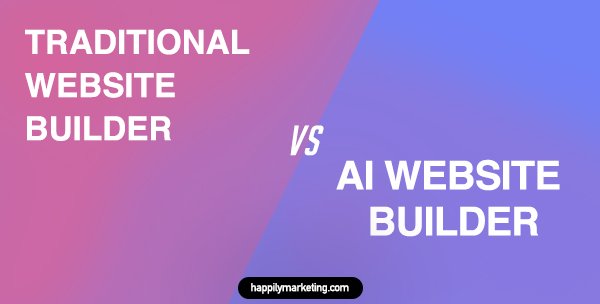 If you want to create an excellent website without programming knowledge, you have three options:
Traditional website builders (For example; Shopify and Squarespace)
Ai website builders
WordPress
Traditional Web Design is creating a website using conventional Web technologies, such as website builders, where content is updated through a database.
Artificial Intelligence Web Design is the process of creating a website using AI technologies.
AI-driven websites are powered by recent technological advancements that allow them to create content independently.
They use text mining to extract data, sentiment analysis to generate content, and natural language processing to communicate with databases.
WordPress is a different story. Although you can build an excellent website without coding, you'll need to subscribe to a WordPress hosting plan and learn some technical stuff to use it.
In addition, if you do not have a high hosting budget (less than $30 per month), you will have to solve most of your problems, including malware removal, optimization, etc. For beginners, it could be challenging.
Because of that, I'd say WordPress is less beginner-friendly than AI website builders and traditional website builders.
After knowing that, you might wonder which one suits your needs better. To help you decide, I've made a comparison table between the two website creation methods.
Differences between Traditional vs. Artificial Intelligence for websites
Traditional Website
Traditional websites are built with HTML, CSS, and JavaScript.
Requires programming knowledge.
Content on traditional websites is updated manually.
There is a steep learning curve, so it is not beginner friendly.
Building a conventional website is more expensive and time-consuming because you must create all the elements manually.
It's less efficient and cannot adapt as they receive more data.
In terms of design, traditional web design usually results in a more polished and professional website.
Artificial Intelligence Website
AI-powered websites use machine learning algorithms.
Doesn't require programming knowledge.
The content updates automatically based on changes in data sources.
Beginner-friendly drag-and-drop builders.
Building an AI-powered website is cost-effective and time-saving since it automates some of the tasks involved in website creation.
It's more efficient at completing tasks and can learn about user preferences over time.
AI-powered websites offer more flexibility and often have a more simplistic design.
If you want a website that is fully customizable, efficient, and easy to use, then you should build an AI-powered website.
How To Use Artificial Intelligence For Websites
As artificial intelligence (AI) becomes more prevalent, businesses are exploring how to use it to improve their websites.
AI can help you personalize your website content for each visitor, recommend products or services based on their preferences, and even answer customer questions.
Here are some advanced ways that you can use AI to improve your website:
Website Creation
Designing and building a website can be challenging, especially if you have little experience. Many popular website platforms now use AI to make the development process more manageable.
You can now use AI to create a fully optimized website in minutes. All you need to do is enter a few essential data points, and the AI platform will do the rest.
It is an excellent option for small businesses or those without much experience in website creation.
Search Engine Optimization
Ranking in search engines is one of the most important aspects of any website. However, you'll miss out on valuable traffic if your website doesn't appear for the appropriate search queries.
SEO was somewhat of a mystery in the past, and it was often difficult to know what steps to take to improve your ranking.
However, AI is changing that. AI and machine learning now enable advanced SEO tools to recognize website problems and offer feedback to help you improve your search engine rankings.
Content Generation
Generating high-quality content is essential for any website; however, creating original, engaging content can be time-consuming.
The content marketing strategy is the go-to choice for many marketers: it generates about three times as many leads and costs 62% less than outbound marketing.
It is now possible to generate website content using artificial intelligence. AI can not only detect significant content trends, but it also gathers the necessary resources on its own to create more content.
You can analyze topics, trending subjects, and user-generated content and leverage influencer marketing.
While the quality of AI-generated content is not yet perfect, it is improving rapidly. For many businesses, AI-generated content is a viable option for blog posts, product descriptions, and other types of website content.
Lead Generation
Generating leads and collecting contact information is the primary purpose of any B2B company's website.
You know how hard it is to get visitors to complete an offer if you've worked in marketing for any time.
Your prospects will lose interest if your form is too long. However, you'll miss important data if your form is too short.
What's the solution? Artificial intelligence.
AI can identify trends and commonalities by analyzing your existing customer base. This information allows you to optimize your entire website or lead generation landing pages. In addition, you can optimize your language, your website flow, and your imagery.
Most importantly, you can use AI to discover and recommend potential customers based on how people interact with your website.
Real-time Personalization
Nowadays, personalized marketing is a necessity. Your visitors want to see content relevant to their interests and expect you to know what they want.
In the past, gathering data about website visitors and then using that data to create personalized content was a time-consuming and expensive process.
AI has changed all that. For example, AI-powered platforms can now collect data about website visitors in real time and use that data to provide personalized content.
You can use AI to send targeted emails, show relevant ads, and offer personalized recommendations.
Online Customer Service
Customer service is key to any business. And as more companies move online, providing excellent customer service is more important than ever.
Chatbots and automated user flows are AI technology-based systems that have revolutionized customer service.
Based on language and behavior cues, these tools can analyze a user's question and offer a response.
You can also use AI to analyze customer service data to identify trends and improve the overall customer experience.
Better Accessibility
AI makes it easy to create an accessible website for all users, including those who are deaf, hard of hearing, or visually impaired.
With AI-powered tools, you can automatically generate alt text for images and make content easy to read for those with disabilities.
You can transcribe videos, provide closed captioning, or offer audio readings with an AI-based tool.
Improved Security
As websites become more complex, security becomes more of a concern.
Keeping your website secure is imperative from malware, hackers, and other threats.
AI can improve website security in several ways. For example, you can use AI to scan your website for security vulnerabilities.
You can also use AI to monitor user activity on your website and identify suspicious behavior.
These are just some of the ways that you can use AI to improve your website.
4 Best AI Website Builders
The following are a few of the best AI website builders that offer AI-driven design:
Wix ADI
Appy Pie
Bookmark
Zyro
Wix ADI – The Best AI Website Builder
Wix ADI is a top-rated AI website builder with many features to help you create a beautiful and functional website. It is the most used free ai website builder.
Unlike other builders, it combines easy drag-and-drop editors without sacrificing power or customization.
You must enter basic information about your business and website goals, and the Wix ADI tool will do the rest.
Wix ADI (artificial design intelligence) reads user preferences across devices, monitors site traffic patterns, and anticipates content needs based on location data through its cognitive engine.
It generates web pages automatically using prewritten text blocks, allowing faster page load times without compromising quality.
Website owners can create custom websites or online stores with all the necessary features, including contact forms, user preferences, and more.
With Wix ADI, it is easy to update an existing site or build a new one.
Appy Pie – AI-Powered Website Builder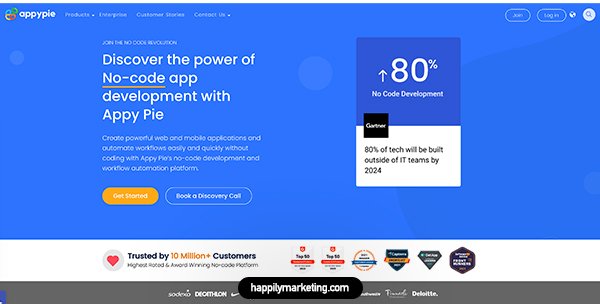 Appy Pie offers cloud-based tools for developing mobile apps.
It also provides a platform that uses AI to generate free websites; for example, with Appy Pie, select a template, add your content, and publish your site.
Appy Pie also offers excellent features, such as eCommerce integration, SEO optimization, and mobile responsiveness.
Like the Wix ADI website builder, it also uses cognitive engines to analyze user preferences across devices, monitor traffic patterns, and predict content needs based on location.
Appy Pie's AI website builder is perfect for creating a professional small business website without hiring a developer.
The platform is easy to use and doesn't require any coding skills.
Bookmark – Absolutely Automated Website Builder
Bookmark is a fully automated website builder that uses artificial intelligence to help you create a professional website in minutes.
It offers a free AI assistant, AIDA, for automating the design and construction of websites.
With Bookmark's AIDA, you enter your business information and goals, and the Bookmark tool will do the rest.
After you input some basic information, it quickly generates a functional, mobile-responsive website with text, animations, and content blocks.
For more control, you can choose to edit each element yourself. Bookmark also offers multilingual support and tools for international sales.
The platform allows you to add images and videos with a click and provides shipping rate calculations, customer support in 50 languages, and analytics information.
Bookmark is an excellent choice if you're looking for an easy-to-use automated website builder that offers many customization options.
Zyro – AI-driven technology for Small Businesses
Zyro website builder offers a simple and easy way to create websites without any coding skills required.
Even newcomers can create their website by following its automated guidelines.
Zyro offers a wide range of templates designed by professional web designers. That means you don't have to worry about the design of your website. Instead, choose a template you like and add your content.
In addition, the platform has an AI-driven SEO feature that analyzes an existing website and improves your website's content on demand.
Zyro website builder is a powerful tool for a small business online with no limits on the number of pages on your website.
How can you improve your website using AI?
In the digital age, a company's website is equivalent to its first impression. Without the right tools, your website might make the wrong first impression, and it might not perform as well as it could.
You may not be reaching your target audience, or you may not be providing the best user experience possible. However, it could result in losing valuable business.
Fortunately, you can improve your website ranking using some artificial intelligence tools.
Here are the two most common and impactful AI tools that help you produce better content for your website faster, enhance your website ranking, and reach your target audience:
Using Surfer Seo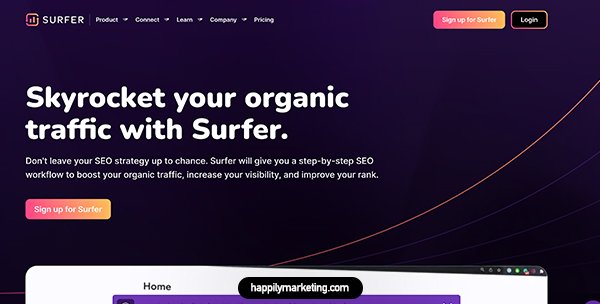 Surfer SEO is an AI-driven SEO optimization tool that analyzes your competitor's websites to help you find which keywords and phrases they use to rank high in search results.
Surfer SEO uses machine learning to perform the following tasks:
Increase incoming traffic to their site
Build quality backlinks
Scale business outreach
It also lets you write search engine-friendly content that makes it to the front page.
With Surfer SEO, you don't have to worry about content strategy. Surfer SEO can help you map a plan depending on your audience, niche, and domain.
Furthermore, it will provide you with many content ideas to help you dominate your target niche.
This tool helps you determine the right keywords, word count, and article structure to increase your chances of ranking well on search engines.
It is an excellent and robust internal SEO tool for optimizing and maintaining your website's quality.
Using Jasper AI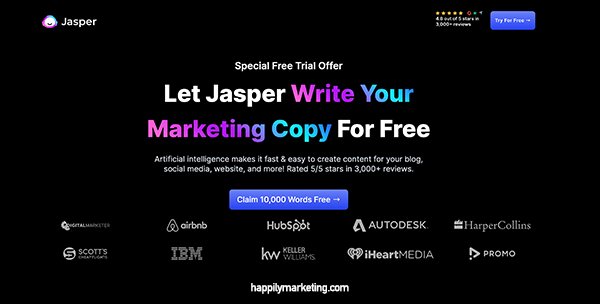 Jasper (previously Jarvis) is a content writing tool that aims to help users write better content faster and produce SEO-optimized content.
It has more than 52 short and long-form writing templates for producing different types of content, including blogs, social media posts, and marketing materials.
However, we found that the tool is limited to shorter articles. It is easy to use and can produce good quality content.
Additionally, the company claims to have consulted with SEO and direct marketing experts to perfect how the AI generator writes content.
From my experience, Jasper is another writing tool that provides writing support, not one that writes articles on its own. With guidance, the software generates excellent content.
Jasper does not offer free plans, but it does offer a five-day free trial.
Overall, Jasper AI is worth considering if you want to generate good quality content faster for your website.
Final Words
Artificial intelligence (AI) for websites is becoming increasingly necessary as online competition increases.
Most big companies are already using it; if you're not, you're falling behind.
You can use AI technology in many ways in your business.
If you want to improve your website, reach your target audience, and rank higher in search results, you should use AI tools.
With the help of one of the ai website builders listed above, you can create a professional website without spending much time and effort on it.
Related Posts
Lego Font : Download Here For Free
10 Best Color Palette generator For Your Website
Is Canva Free? How Is It Different From Pro
Communication In Design | How To Use It Effectively
Can You Be A Self Taught Graphic Designer?
Chat GPT Login: A Step-by-Step Guide With Screenshots
31+ Best Fonts For Tech Companies