Are you wondering if Canva is free? If so, you've come to the right place.
In this blog post, we'll discuss whether Canva is free and, if it's free, what features and restrictions come with the free version.
So, let's get started without further ado!
What Is Canva?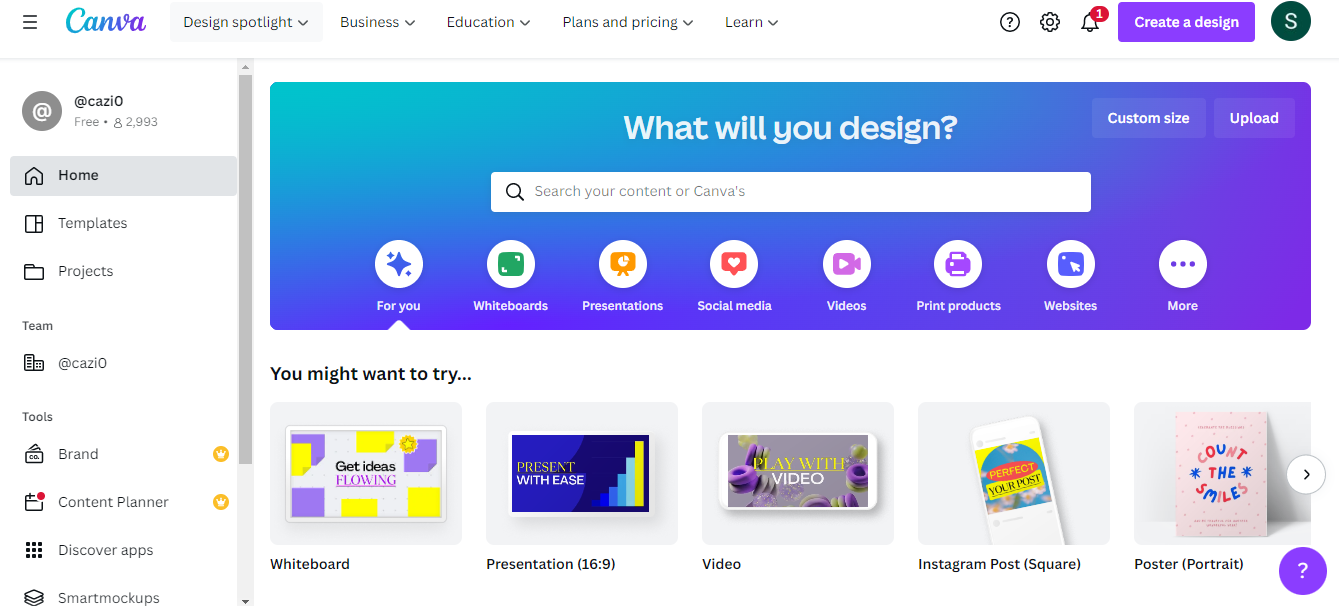 Canva is an online graphic design platform with a simple and easy-to-use interface. It offers a wide range of templates and tools for creating professional designs.
With its professionally designed templates, you can easily create invitations, business cards, flyers, lesson plans, Zoom backgrounds, and more.
Canva is a fantastic time and money saver graphic design tool for small business owners, entrepreneurs, freelancers, and social media managers.
It makes design simple for everyone. Without graphic design experience, this tool can create awesome designs in minutes.
Canva has over 190 countries and over 100 languages supported, and 65% of its users come from the United States. It is also popular in Canada, the UK, and Australia.
Now, it's time to get down to the main point: Is Canva Free?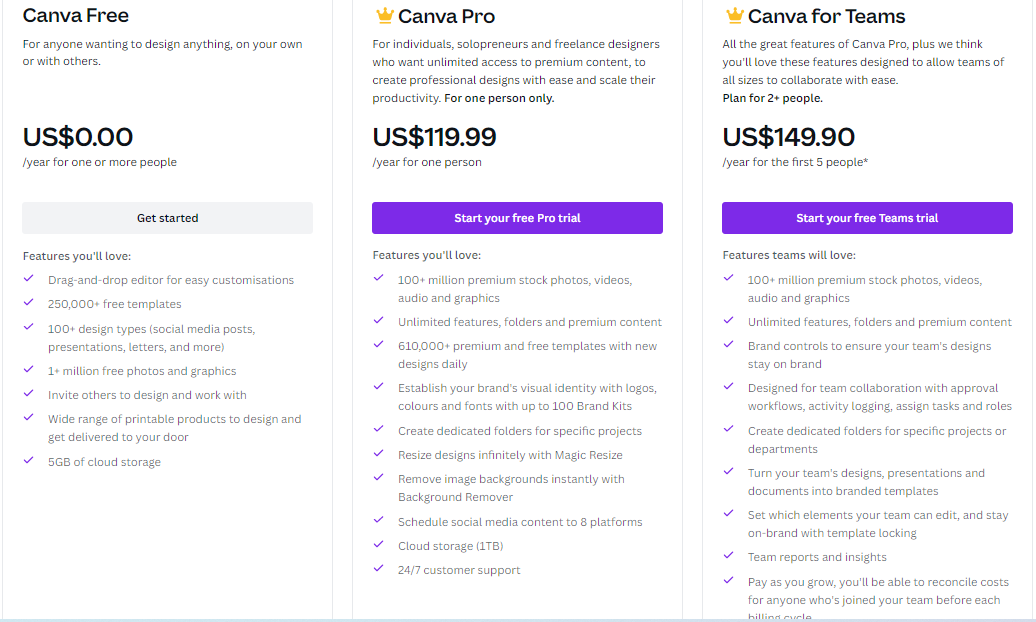 Is Canva Free? Yes, Canva is a free graphic design tool that anyone can use. You can immediately sign up for a free account and start creating beautiful designs for your business or brand's visual identity.
Even though the free version is limited, Canva offers many features, unlike many programs with paid versions.
And if you use it occasionally or for personal reasons, it will probably be a good fit.
You can also use its paid version, which is Canva pro. Canva Pro gives you access to more features, including custom fonts, advanced graphic design tools, and unlimited cloud storage.
Let's discuss what its free version offers!
What Does Canva Free Version Include?
The free version of Canva is feature-rich and offers everything you need to create stunning designs. Here are some of its key features:
Drag and drop editor for easy customization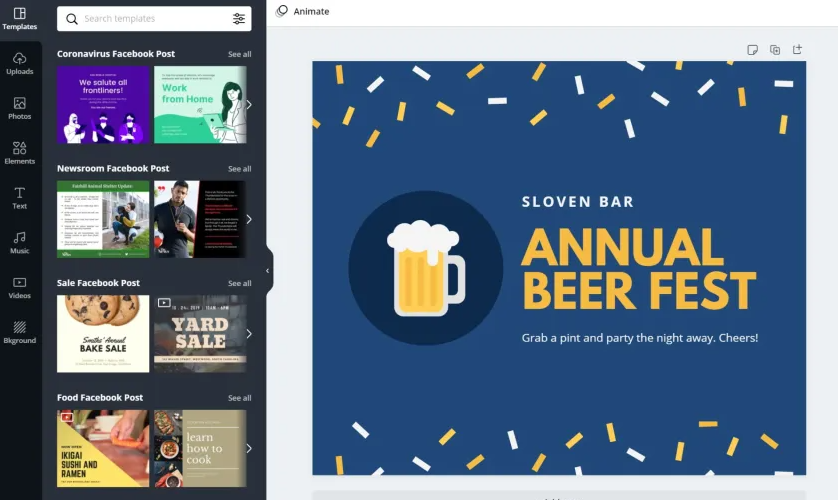 Canva 's drag-and-drop editor is very user-friendly and easy to use. You can easily add or remove elements from your design with a few clicks.
250,000 Templates
Canva app offers various free templates, such as invitations, business cards, flyers, lesson plans, social media posts, and more.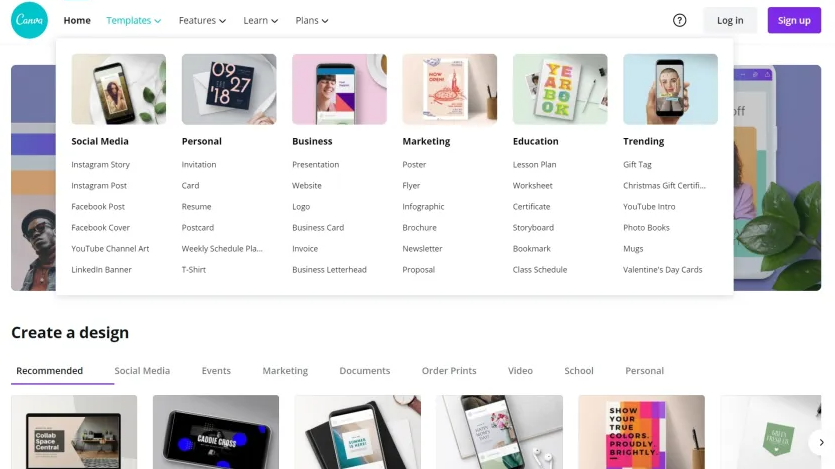 If you want to create an infographic, an advertisement, or a big presentation, you can do it all with Canva templates.
Some Canva templates are customizable, so you can change any design element that doesn't fit your style.
This feature is handy if you don't have time to start from scratch or are a newbie in your design skills.
100+ Design Types
Canva supports a wide range of design types. You can use any of its pre-designed templates or create your design from scratch using a blank template.
If you want to create a design for a social media post, Canva has all the sizes for different platforms, such as Facebook, Twitter, Instagram, and Pinterest.
That means you won't need to Googling to look up the correct size for each social media platform.
Over 1 Million Stock Photos and Graphics
Canva also offers a vast library of free stock images and photos. You can easily find the perfect picture for your design from its library of over one million photos and graphics.
There's no need to worry about copyright issues because all the photos, graphics, and music is free to use for commercial and non-commercial purposes.
And if you want to use premium images, you can buy them from Canva for as little as $1 each or free for Canva Pro users.
Hundreds of Fonts
In Canva free, you have access to 1700 fonts. In addition to basic fonts, it also includes artsy fonts so that you won't end up with basic designs.
You can easily find the perfect one for your design from its library of hundreds of fonts.
Create Two Folders
As a Canva Free user, you can create two folders, which is excellent if you want to organize your design files. Creating more than two folders requires upgrading to Canva Pro.
5 GB Cloud Storage
With Canva free, you get 5 GB of storage space to save all your designs or projects.
Invite Members to Your Team
With Canva, you can invite other members to join your design team.
This is excellent if you're working on a big project with multiple people. You can provide access to your team via e-mail to edit your designs.
It will be beneficial if you have created a bunch of templates you want your team to use or if you are creating an ebook or course that needs proofreading.
As you can see, Canva free has a lot to offer!
The free version will probably be more than enough if you use it for occasional or personal purposes.
Overall, if you're looking to create some simple designs for free, the Canva app is the perfect design platform.
However, if you need something more sophisticated or high-resolution print-ready files, you'll need to upgrade to a paid subscription.
What Are The Limitations Of The Canva Free?
Now that we've discussed all the features of Canva's free version let's talk about its limitations. Here are some of the Canva free:
Limited templates
You can access only 250,000 templates and limited stock images with Canva free. That might be enough for some people, but if you need more customizable templates, you'll need to upgrade to a Canva Pro subscription.
Limited cloud storage
With Canva free, you can only save up to 5 GB of designs in your cloud storage.
No Background Remover
Canva free doesn't offer background remover. So, you can't remove the background of your photos.
Save only low-resolution designs
The free version of Canva only allows you to save low-resolution designs. You'll need to upgrade to a paid subscription if you need high-resolution files.
No ability to adjust compression settings
The Canva free doesn't provide the ability to adjust the compression settings for your images. Therefore, you cannot control the size of your photos.
Can't download SVGs or PNGs with transparent backgrounds
You can't download SVGs (vector graphics) or PNGs with transparent backgrounds with a free version. So, you cannot use these files for some projects.
Canva's mobile app has less than half the features of its desktop version
The Canva mobile app offers fewer features compared to the desktop version. So if you need to use all the features of Canva, you'll need to use the desktop version.
Although Canva is an excellent tool for creating impressive graphics, the free version has some limitations.
If you need to use more create customizable templates and shapes or want more premium features, I recommend upgrading to the paid version.
To learn more about the differences between Canva free vs. paid and their features, read our in-depth comparison post, Canva Free vs. Canva Pro: a side-by-side comparison.
Conclusion
So, is Canva free? Yes, it's free. However, its free plan is limited; you can still do much with it regarding graphic design tools.
Unless you're pretty serious about creating unbeatable designs, the free version offers more than enough features.
With millions of templates and tools available, there's no limit to what you can create with Canva.
Also, their talented designers are constantly creating new templates so you can find the perfect design for your project.
FAQs