Regarding branding, every detail counts, including the font you choose for your website and marketing materials. The right font can communicate your brand's personality and help you stand out from the competition.
But with so many amazing tech fonts to choose from, finding the perfect font for your tech company can be a challenge.
To help you narrow down the options, we've compiled a list of the best fonts for tech companies. From sleek and modern to playful Display fonts, there's sure to be a perfect style for your brand.
So read on to find out which fonts best fit your tech company.
Premium Fonts For Tech Companies
In today's digital age, first impressions are more important than ever. And with so much competition out there, it's essential that your company's branding makes a solid and lasting impression.
Font choices can be a make-or-break factor in this regard. For example, the right font can convey professionalism and sophistication, while the wrong font can make your company look outdated or unprofessional.
I will talk about these fonts one by one, helping you decide which font will fit your tech needs, But before that, I would like to introduce you to Envato Elements.
Here are top Tech Fonts in 2023
Helios Typeface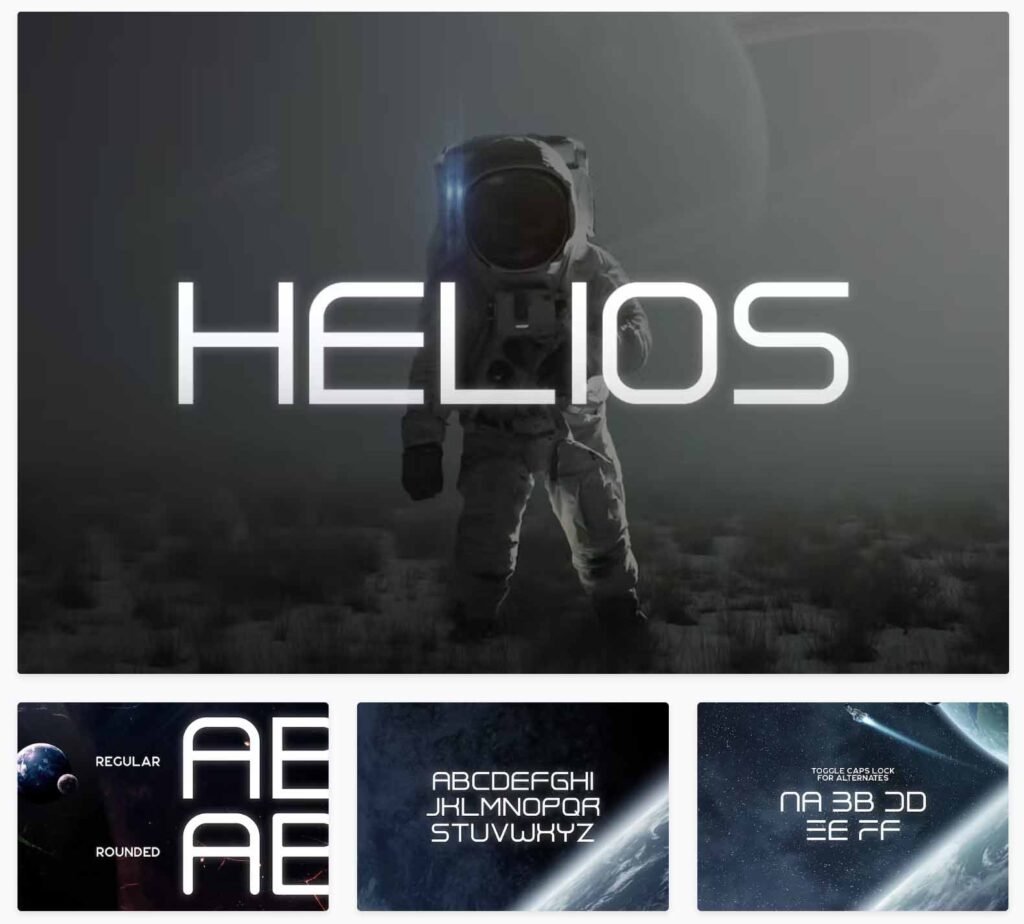 Introducing Helios, the perfect typeface for any future-focused project. Helios will be the best choice to add a cutting-edge style, whether you're creating a website, app, or brochure.
With its rounded and regular corner options, Helios is stylish and versatile. It includes uppercase letters, numbers, and punctuation, plus some letters have alternate versions, which you can toggle with caps lock. So whatever look you're going for, Helios has you covered.
So if you're looking to add a touch of Futurity to your next design, look no further than Helios, try it today!
Adrasta
Adrasta is the perfect font family for your next tech project. With six fonts in different styles, Adrasta is versatile and can be used in various ways. The avant-garde feeling of the font gives it a futuristic feel, while the wedges in the letterforms add an element of intrigue. The Adrasta font family supports 28 Latin-based languages, making it the excellent choice for your next international project.
Bennett Display Typefaces + Webfonts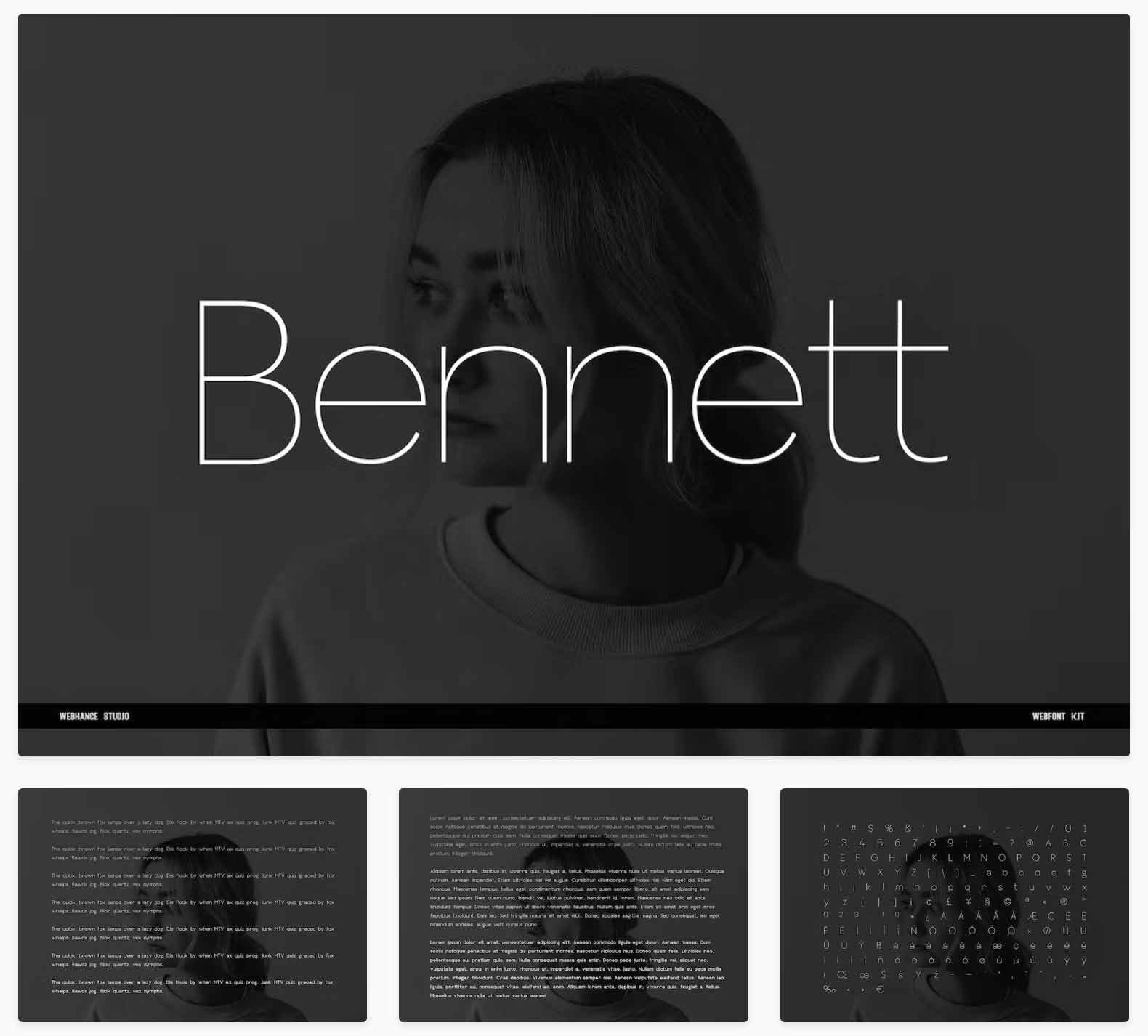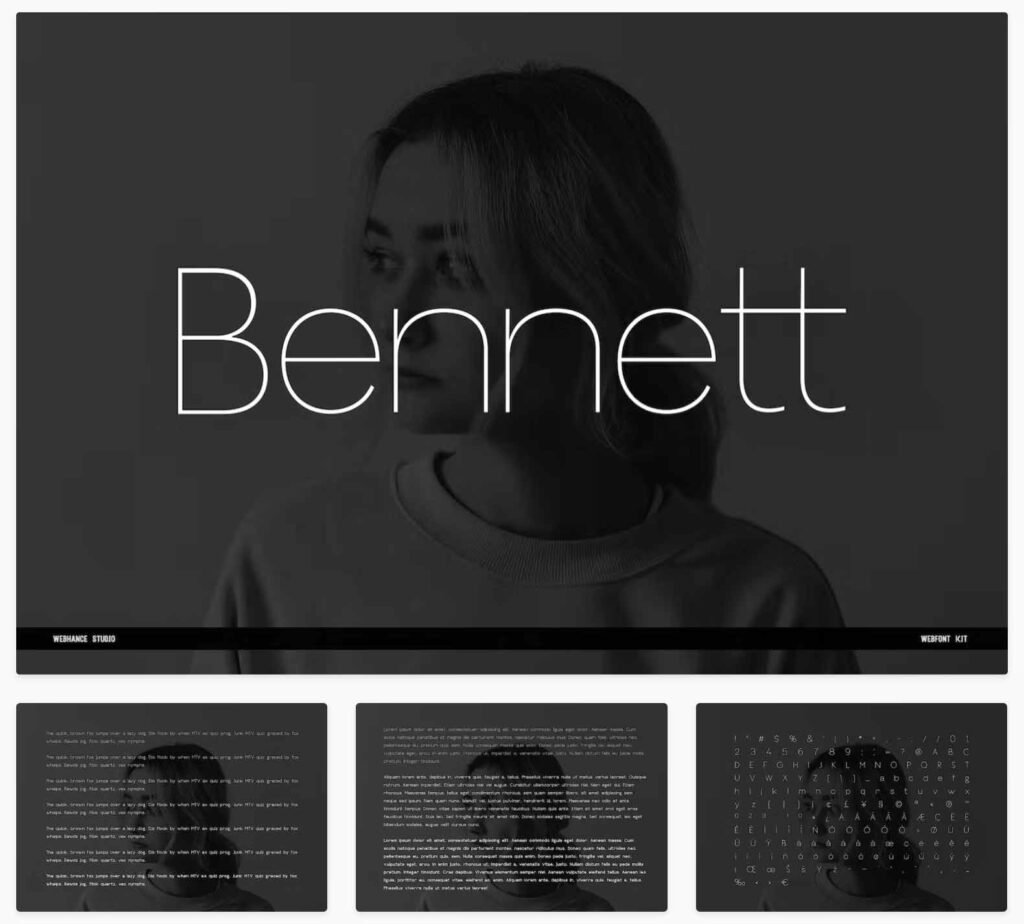 A gorgeous new font family perfect for modern displays and headlines. Bennett has eight font variants, including regular and italic styles, upper and lowercase letters, and multi-language support.
This premium family includes numbers, punctuation, and a standalone bold character line.
Bennett is the best choice for logos, magazines, advertisements, websites, apps, games, films, and more. Bennett will make a lasting impression with its unique and powerful style. So don't wait any longer; add Bennett to your toolkit today and start creating something unique!
Magnify
Looking for a modern and stylish font to add to your design toolkit? Look no further than Magnify Geometric Sans Serif! This sleek and elegant font is perfect for any project that needs a touch of modernity – from branding and marketing to website design, product packaging, and more.
With its clean lines and minimalist aesthetic, Magnify will make your designs stand out from the crowd. But don't let its simple appearance fool you – this versatile font is packed with features that make it perfect for any situation.
With multiple weights and styles, You can use Magnify for everything from headlines and titles to body copy and longer paragraphs.
So if you're looking for a beautiful and versatile sans serif font, look no further than Magnify Geometric Sans Serif!
Xaviera – Modern Typeface + WebFonts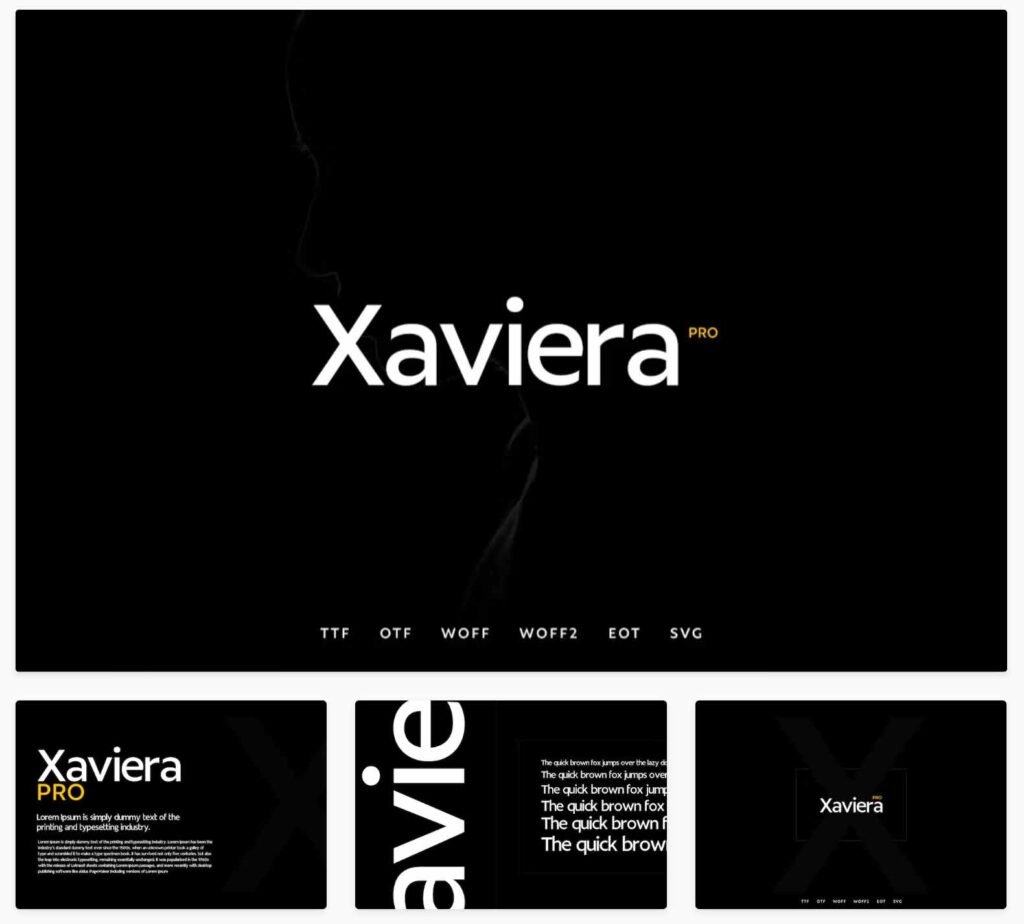 If you're looking for a modern Sans Serif typeface that is perfect for your film posters, headlines, block letters, and more, Xaviera Pro is the way to go! This beautiful typeface is clean and easy to read, making it ideal for headlines and other attention-grabbing purposes. Its mid-weight font makes it the perfect partner for more elaborate, decorative subheading fonts.
The Xaviera Pro pack includes OTF, TTF, and Web Fonts files (EOT, TTF, WOFF, SVG included), so you can use it on any platform. Get creative with your typography and web design with Xaviera Pro!
Bufftron Typeface
The Bufftron Typeface is perfect for tech companies and startups who want to make a great impression. It's clean and modern, with various heights and weights that make it easy to read. Plus, it has a built-in kern feature that makes it perfect for marketing and design applications.
Genosis Family Font
Do you need one of the best modern tech fonts for gorgeous logos and titles? Then you need Genosis Family Font! This beautiful font features serifs and will pair beautifully with many other fonts.
Plus, it has complete punctuation and numerals, alternate, swash, and stylistic sets. So no matter what project you're working on, Genosis Family Font has you covered. So don't wait any longer; add Genosis Family Font to your cart now!
Futrons
Introducing Futrons: the futuristic font that will take your design projects to new heights. With its clean, minimal design and galactic alternates, Futrons is perfect for sci fi fonts enthusiasts and anyone who wants to add a touch of the future to their work.
But Futrons isn't just about good looks. This powerful font is also packed with features that make it perfect for UX and UI projects.
So whether you're working on the latest space-themed movie poster or creating a beautiful card or piece of art, Futrons has everything you need to make your vision a reality.
Don't miss out on this awesome font, click here to learn more and start with Futrons today!
Voyager Typeface
Tech logos always looked better! With Voyager Typeface, your designs will have a sleek, futuristic appeal that's perfect for any design project. This unique font features rounded characters with alternate options that can be accessed by pressing the caps lock. This one, in particular, looks more like one of the best space fonts that can be used for a tech startup in the space domain.
There are two different font weights options to choose from, so you can find the perfect look for your design. Plus, the font family includes numbers, punctuation marks, and some multilingual support.
So whether you're working on a new logo design or sprucing up your user interface, Voyager Typeface is an amazing choice!
Kusanagi – Futuristic Font
Kusanagi is one of the best tech fonts for anyone looking to give a touch of futurism to their design work. With its wide letters and mix of sharp and rounded corners, Kusanagi has a unique look that will make your work stand out from the crowd. And with Webfont support included, you can easily use Kusanagi on your website or app.
But it's not just about looks – Kusanagi is also incredibly versatile.
The font's narrow spacing means it works well for titles and subtitles, while its blocky feel makes it ideal for UI design. And with multilingual support included, you can use Kusanagi in any language you like.
So if you're looking for a truly unique and versatile font, Kusanagi is a great choice. So try it today and see how it can take your work to the next level.
Vaulto – Extended Bold Sans Serif
Introducing Vaulto – Extended Bold Sans Serif, one of the perfect tech company fonts for your next big project. Whether you're looking to brand a new company, design some killer editorial content, or create a dope music poster, Vaulto is a perfect choice.
With its striking bold designs and modern sensibilities, Vaulto is sure to turn heads and grab attention. So don't wait – get your hands on this bad boy today and start creating something unique.
Glorynight Tall Version
Classy, modern, and strong – the Glorynight Tall Version is the perfect font for any tech design needs. With its octagonal form, this display sans font is ideal for any branding or advertising needs, whether for print identity, a website, or a mobile application.
Additionally, its manly look makes it ideal for sporty or modern technology designs. So if you need a modern and stylish font that packs a punch, look no further than the Glorynight Tall Version!
Superfine
Meet Superfine, the strong and sophisticated Display Sans font perfect for any modern-design need, weather it is a logo design or a complete rebranding of the company. Whether you're looking to create a cutting-edge website, high-end branding, or a stylish magazine, Superfine has the versatility and class to do the job. If you are looking for a rebranding of your company, try this font, it is the Best Fonts For Companies that are in technology.
With its octagonal form, this font pack includes regular and italic versions for added impact. So make a statement with Superfine today.
Bios Typeface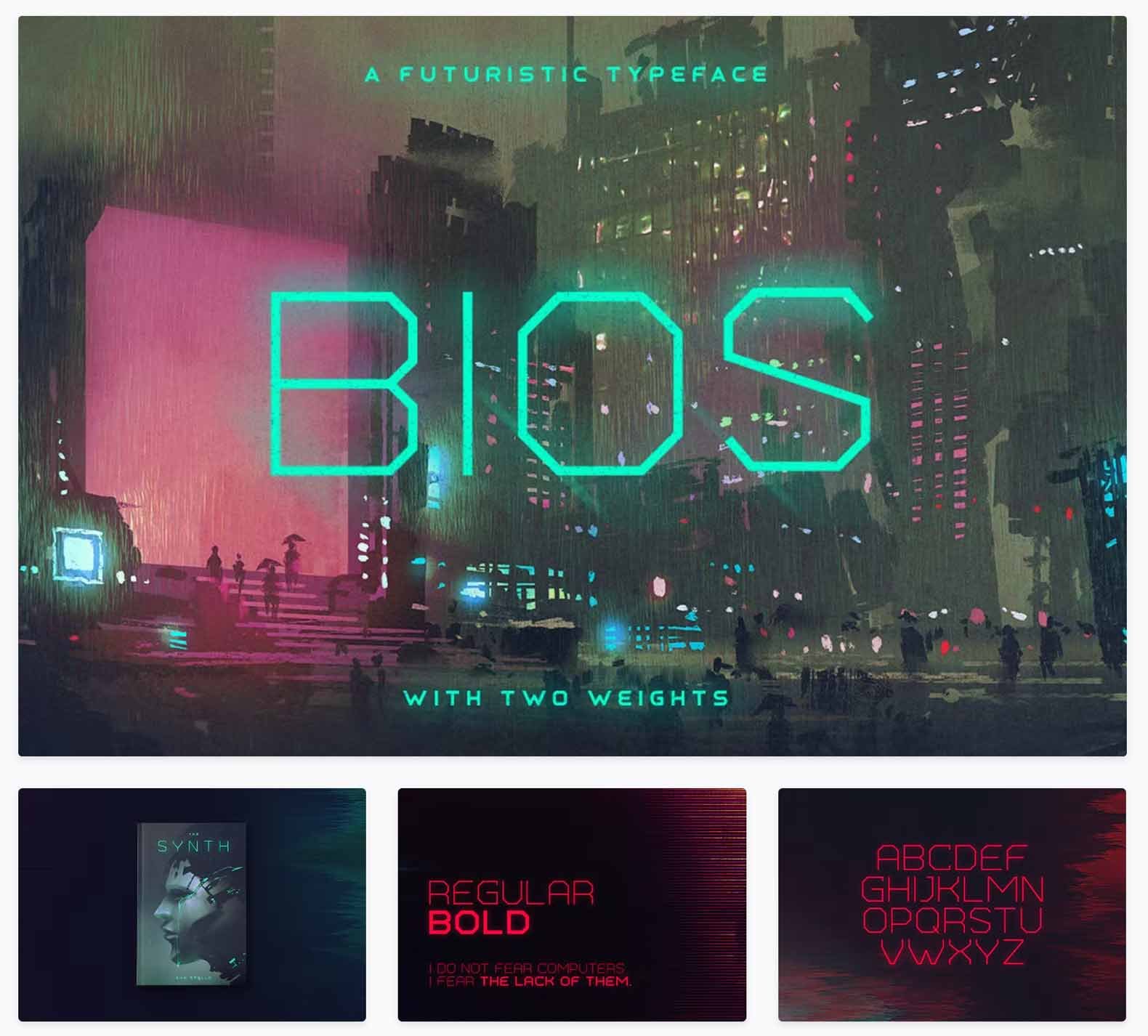 Regarding super tech futuristic designs, Bios Typeface is the best, with a stunning modern look and one of the modern and technological fonts. You can use this font for a bold logo design or branding of a tech company.
Unlike other fonts that try to be too complex, Bios Typeface keeps it clean and straightforward with its sharp edges. This allows your designs to remain professional and sleek.
Glancyr – Modern Geometric Font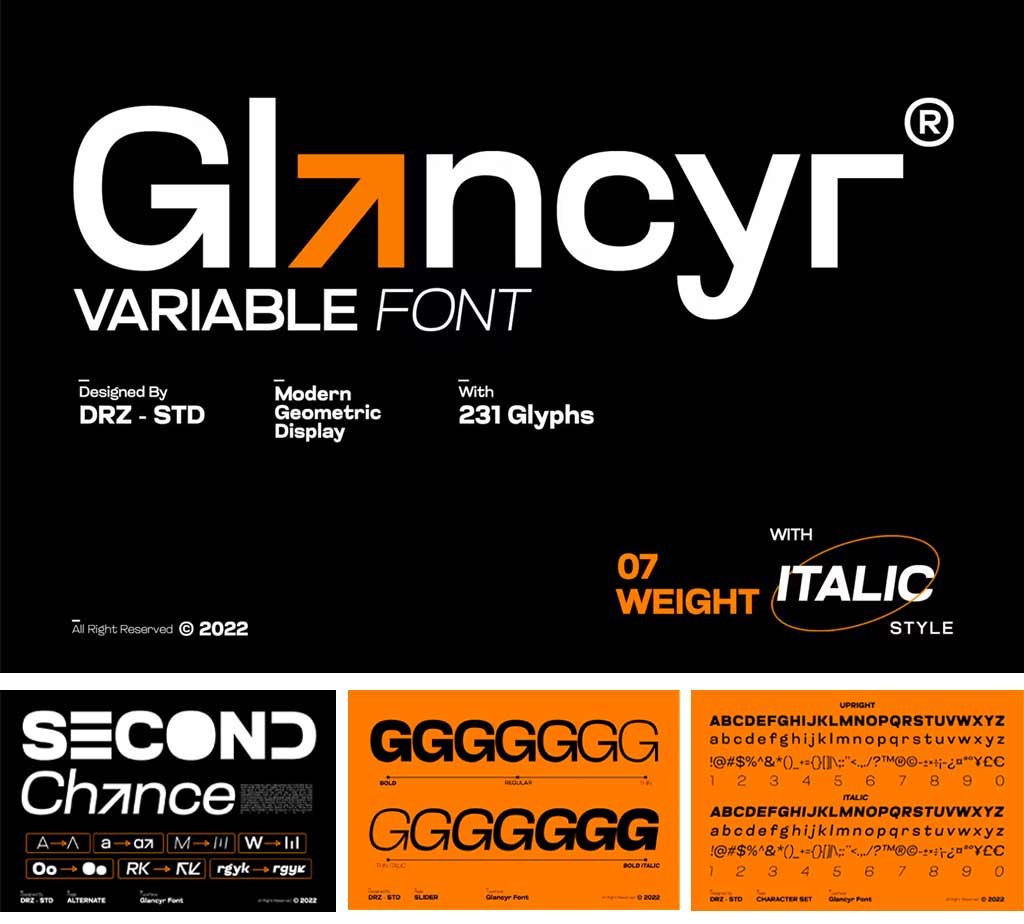 When it comes to selecting the perfect font for your tech company's branding and projects, you'll want something that embodies modernity, sophistication, and versatility. That's where "Glancyr – Modern Geometric Font" from Drizy Studio steps in as a top recommendation.
Glancyr offers a comprehensive package, covering all the essential styles you'll need for your tech-related endeavors. With both upright and italic styles, it caters to various design requirements. What sets Glancyr apart are its additional features that truly elevate your typography game
Amenti – Clean Modern Sans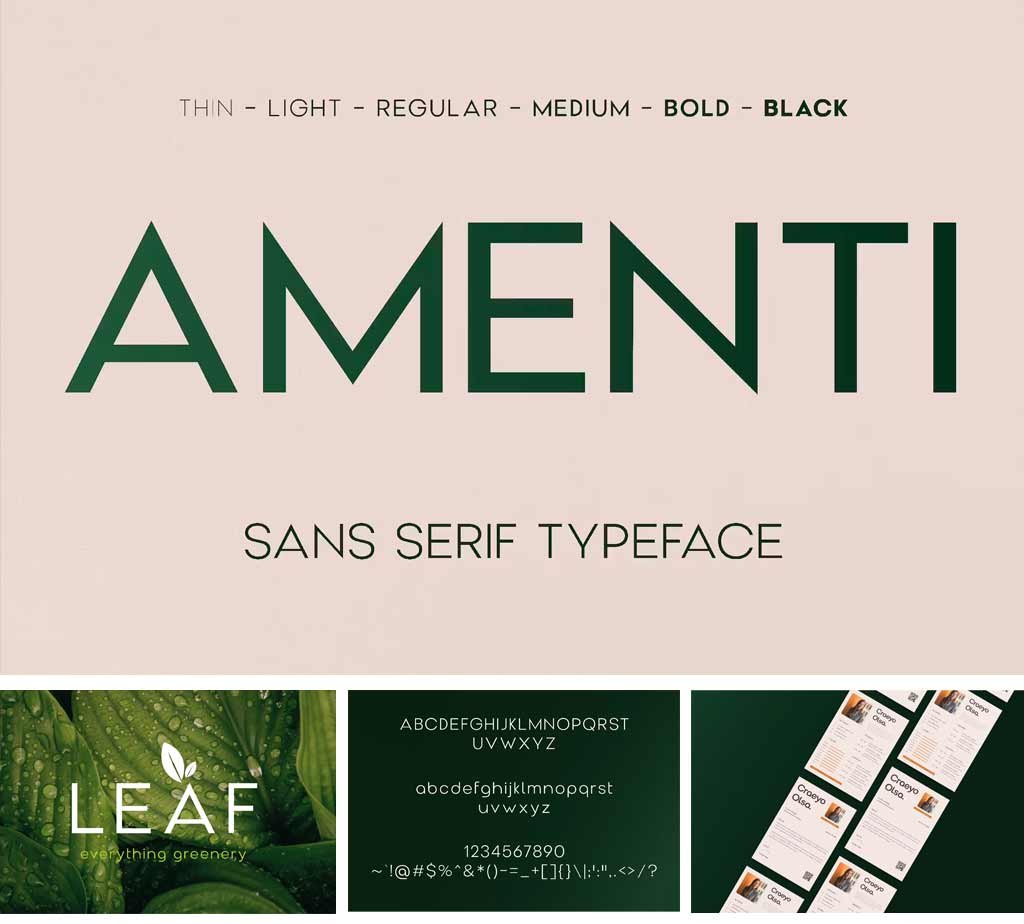 In the fast-paced world of technology, where innovation and aesthetics go hand in hand, choosing the right font for your tech company is pivotal. Allow us to introduce you to "Amenti – Clean Modern Sans," a font that embodies the very essence of modernity and sophistication.
Amenti is a visual masterpiece, characterized by its clean lines and graceful curves. Its aesthetic appeal is simply unparalleled, making it the epitome of contemporary design. What sets Amenti apart is its diversity, offering a range of six different weights, each as captivating as the last. This diversity empowers you to find the perfect balance between professionalism and style for your tech brand.
Portlin – Modern Display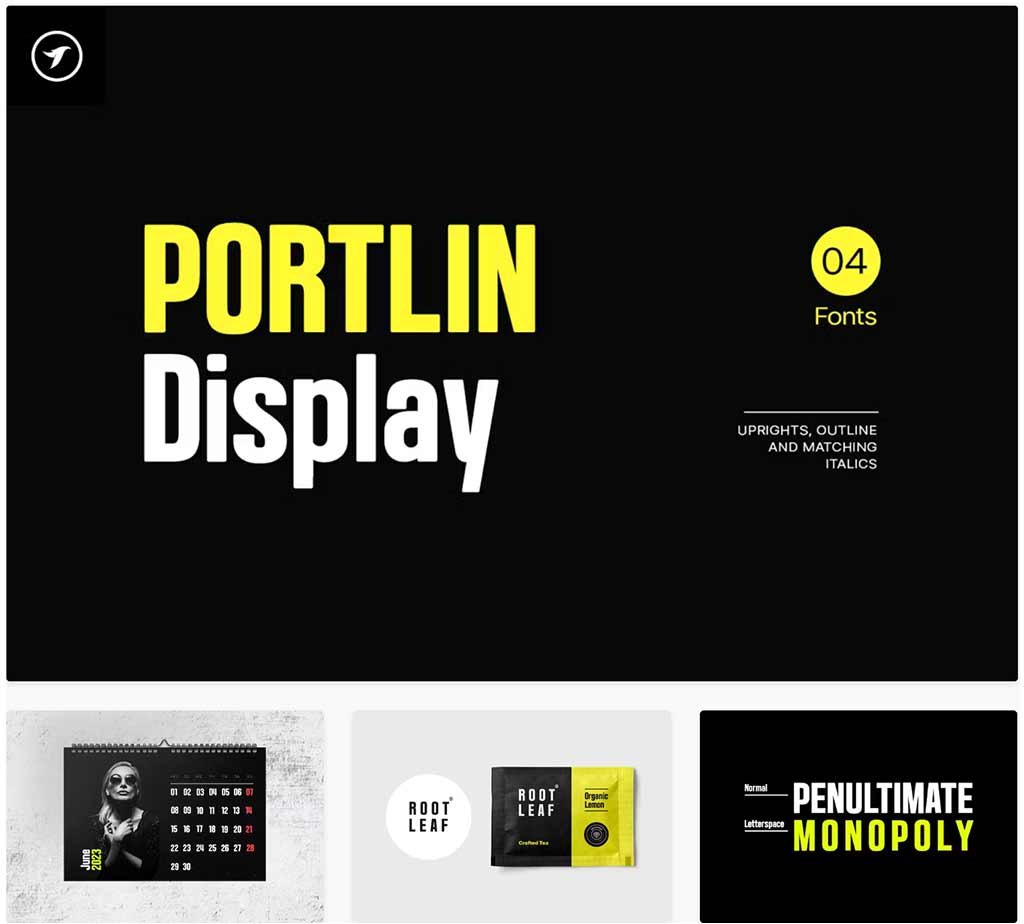 Portlin excels in making a bold statement. It's tailor-made for headlines, big text, branding, logotypes, and all your graphic design needs, including posters, flyers, and advertisements. If you want to create striking logos, eye-catching promotional content, and impactful marketing presentations, Portlin is your go-to choice.
What sets Portlin apart is its flexibility, offering you the creative freedom to adjust letter spacing and craft unique textual presentations. This feature is especially invaluable when you're working on creating exceptional logotypes and branding designs that demand a distinctive touch.
Helixa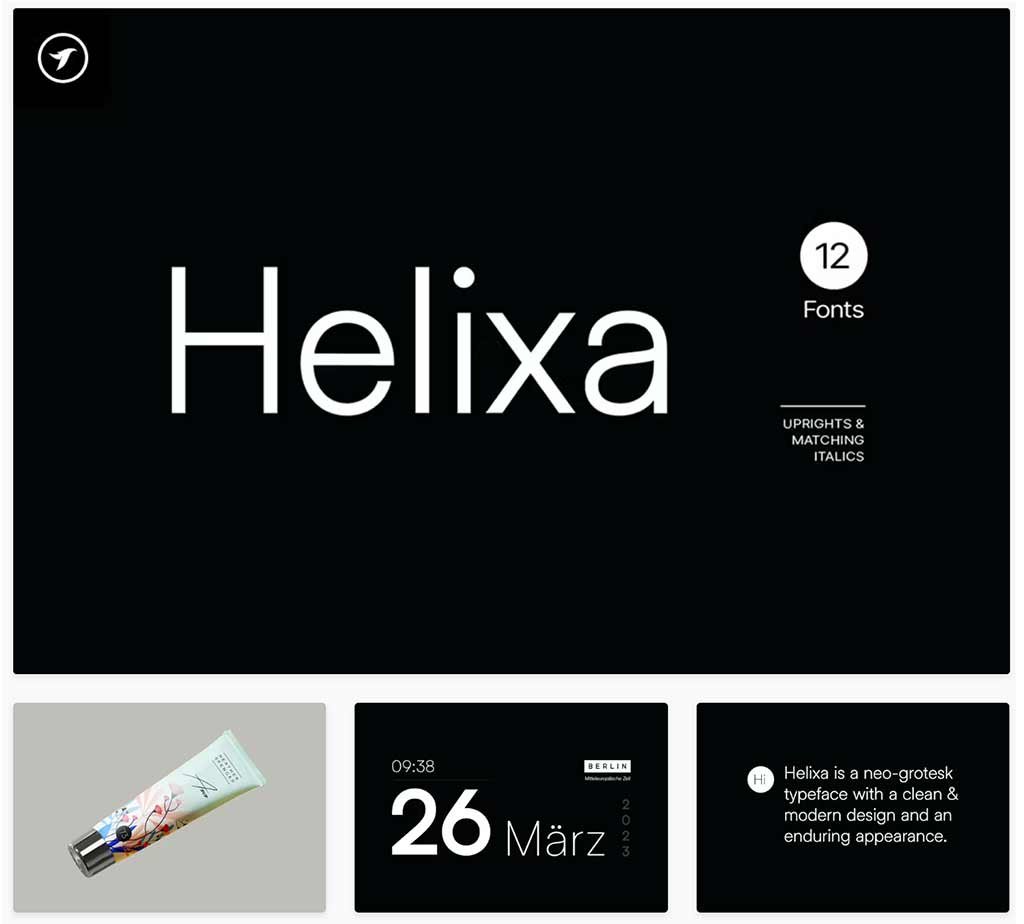 Helixa is a neo-grotesque typeface that boasts a design characterized by its cleanliness and contemporary aesthetics. Its enduring appearance makes it a versatile choice across various design applications. This typeface seamlessly lends itself to a multitude of projects within the tech industry.
Helixa's adaptability allows you to adjust letter spacing, making it the ideal selection for achieving minimalistic headlines and logotypes that exude a sleek and contemporary vibe, as exemplified in the promotional designs attached.
Skyload | Modern Sans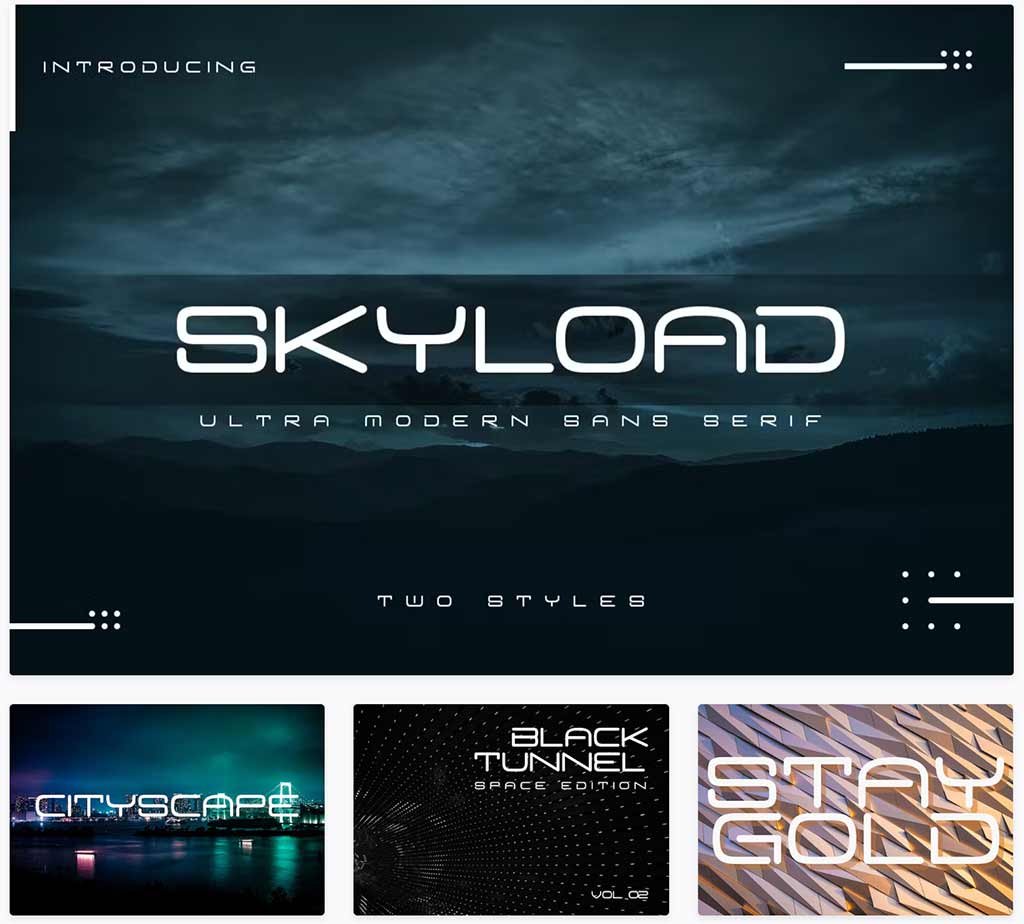 "Skyload | Modern Sans," a font that seamlessly marries modernity, minimalism, and a dash of the futuristic—all essential elements for tech companies looking to make their mark.
Skyload's design is a testament to modern aesthetics, with clean lines and a sleek appearance that exudes professionalism and sophistication. Its minimalistic charm not only aligns perfectly with the tech world's emphasis on simplicity but also lends a touch of elegance to your projects.
Consider Skyload as more than just a font; it's a strategic choice that can enhance your tech company's visual identity and communication.
Helotypo – Modern Font
If you are looking for something bold, traditional yet modern for your tech company's typography needs, look no further than "Helotypo – Modern Font." This font effortlessly strikes the balance between time-honored professionalism and contemporary aesthetics, making it a compelling choice for tech companies aiming to make a strong visual statement.
Helotypo is a font that exudes confidence and sophistication. Its modern design boasts clean lines and crisp edges, ensuring that your message is delivered with precision and clarity—a crucial aspect in the tech industry where every detail matters.
What sets Helotypo apart is its ability to seamlessly bridge the gap between tradition and modernity. It carries the weight and gravitas of traditional fonts while infusing a fresh, modern twist. This unique blend allows your tech company to convey a sense of trustworthiness and innovation simultaneously.
STANGE – Modern Futuristic Font
In the ever-evolving world of technology and innovation, the right font can be the key to unlocking a future-ready design. Introducing "STANGE" – a font that's tailor-made for tech companies and other forward-thinking innovators.
STANGE is a sans-based font with a lowercase that's nothing short of unique. Its design exudes a sense of futurism and modernity, making it an ideal choice for tech companies aiming to stay ahead of the curve. Whether you're working on future designs or creating a logo that needs to scream innovation, STANGE is here to deliver.
If you're looking for a font that embodies the spirit of the future, consider STANGE – because your tech company deserves to stand out and make a statement in the world of tomorrow.
Which font is used by Apple?
Apple uses the SF Pro font as its system font for iOS, iPadOS, macOS, and tvOS.
What font do Google use?
Google uses the Product Sans font as its primary font, which was created specifically for Google's customized and adapted version of Material Design.
What font does Amazon use?
Amazon uses the Amazon Ember brand font as its primary font for all its products and services.
What font does Microsoft use?
Microsoft uses Segoe as its primary typeface in its online and printed marketing materials, including product logos.
Final words
As we bring this exploration of these amazing tech fonts to a close, it's clear that choosing the right typography is an art form in itself. The best tech fonts are those that embody your brand's personality and ethos while effortlessly communicating your message. A well-chosen font can elevate your brand, making it stand out in the competitive tech landscape.
We've journeyed through an array of fonts for tech companies, each offering unique aesthetics and functionality. These tech company fonts are more than just typefaces; they're the visual voice of your brand.
Remember, the best fonts for tech companies aren't necessarily the most intricate or trendy, but those that align with their brand identity and speak directly to their audience. These technological fonts, therefore, play a crucial role in shaping perceptions and experiences. As you venture forward, may your chosen fonts echo the innovation and dynamism of your tech brand, setting you apart in this digital age.
Read More:
15+ Canva Fonts That Go Together (2023)
Retro Color Palettes 101: Add a Vintage Twist To Designs
9+ Passive Income For Graphic Designers | Easy Income
Print On Demand Side Hustle: 8 Reasons Why It Works