If you're looking to add some fun and flair to your designs, using groovy fonts can be a great option. These fonts have a vintage and retro feel that can bring a unique character to your designs.
Table of Contents
Canva, a popular design platform, offers a wide range of groovy fonts. But with so many options available, choosing the best one can be overwhelming.
In this article, we'll share the 13 best groovy fonts on Canva and how to use them to enhance your designs.
So, let's dive in!
Amazing Groovy Fonts On Canva To Use
Groovy fonts are a great way to add a retro touch to your designs. They have a playful and funky feel that can make your designs stand out.
These fonts are often used in posters, album covers, and other designs that require a vintage or retro vibe. Groovy fonts can also be used to create a sense of nostalgia or to evoke a particular era.
Here are the top 12 groovy fonts on Canva that you can use to add a retro touch to your designs:
Gulfs Display
Gulfs Display is one of the best groovy fonts on Canva that takes inspiration from 90s cartoons and comic books. It has a playful and retro style, with bold and rounded shapes that give it a 90s vibe. Cahya Sofyan designed this font.
This playful font is easy to read and works well in both small and large sizes. It also has alternate characters that let you create unique letter combinations and designs.
Gulfs Display comes in six different widths, so you can use it for both modern and vintage designs. It pairs well with graphic elements like illustrations and photographs.
This font is great for branding, logos, titles, posters, album covers, packaging, and other designs that want to evoke a sense of nostalgia. If you're looking for a font with a playful and retro style, Gulfs Display is an excellent choice.
Kare
Kare is a fun and fashionable font that can add a playful touch to your design. It's a custom font that works well for any type of design, including web, print, and motion graphics. Kare is particularly great for t-shirt designs and logos.
This typeface was created for Latino type and was inspired by 70s patterns, making it stand out from other fonts. Its unique letter shapes and ligatures make it perfect for creating fun and casual designs such as invitations, greeting cards, and social media graphics.
Additionally, Kare is an excellent choice for branding and logo design due to its distinct character shapes.
Nectarine
Nectarine is a modern serif font with a touch of vintage flair. Its elegant letterforms and clean lines make it perfect for creating high-end branding and marketing materials such as business cards, brochures, and website designs.
Nectarine's unique character sets, including its set of decorative initials, add a touch of sophistication to any design.
Sceageus
Sceageus is a quirky and fun font that adds a touch of personality to any design.
Its playful letterforms and unconventional shapes make it perfect for creating unique and eye-catching designs. For example, you can use this font for designing invitations, posters, badges, types of logos, clothing designs, and packaging.
Sceageus also has a set of decorative ornaments that can be used to add an extra touch of flair to your designs.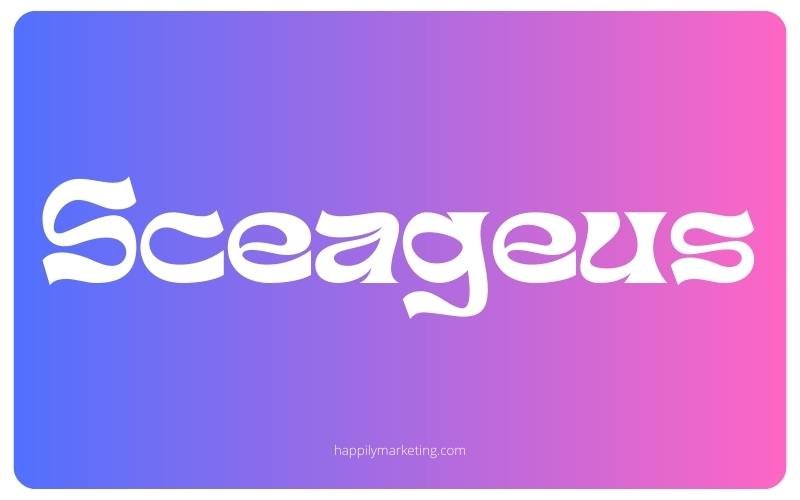 Tan Kindred
Tan Kindred is a modern and clean font that has a hint of vintage appeal to it. This font type is a reverse contrast display font, which means that it has a quirky and fun look.
Tan Kindred is an ideal font for creating sleek and contemporary designs like logos, social media graphics, and website designs due to its minimalist letterforms.
Additionally, it has unique character sets, such as alternate characters and ligatures, making it a versatile font that can be used in various design projects.
Genty
Genty is a unique and eye-catching font that features a blend of geometric and organic shapes. Ilham Herry designed this script font.
It comes with a set of alternate characters that allow for creative letter combinations and more design flexibility. There are 78 characters in this font, including numbers, uppercase letters, and a few special symbols.
For designers, its unique glyphs are so attractive and useful. The bold letterforms make it perfect for creating designs that require a touch of drama, such as headlines, posters, and branding materials.
Tan Nimbus
Inspire by psychedelic art, Tan Nimbus is an excellent groovy font. It is a retro, bold, and playful font. It is perfect if you need a dose of fun in your project.
The letters are clean and simple, which makes the font easy to read and flexible for different designs. In addition, the font includes decorative swashes and ligatures that add an elegant touch to any design.
Tan Nimbus is ideal for creating logos, business cards, and other marketing materials, especially for luxury brands.
Lucky Bones
Bugaki
Bugaki is a groovy font with a bold, playful look that is perfect for creating retro designs. It's excellent for various projects, such as creating invitations, stationery, wedding designs, social media posts, advertisements, product packaging, photography, and special events.
You can access all glyph variations using a program that supports OpenType features and Glyphs panels. These programs include Adobe Illustrator, Photoshop CC, InDesign, or CorelDraw.
In addition, Bugaki supports Unicode PUA, allowing you to access all additional characters without downloading any special software.
To view and copy extra characters to paste into your favorite text editor or application, Mac users can use Font Book, and Windows users can use Character Map.
Tan Newyork
Tan Newyork is a bold and stylish retro font that is perfect for creating modern designs.
It has a distinct, almost futuristic quality to it that makes it perfect for creating posters, web graphics, and other designs that need to stand out.
Tan Newyork is also incredibly versatile and can be used for everything from logos to product packaging.
Shrikhand
Shrikhand is a fun and playful font perfect for adding personality to your designs. It's a good choice for invitations, greeting cards, and other projects that require a personal touch.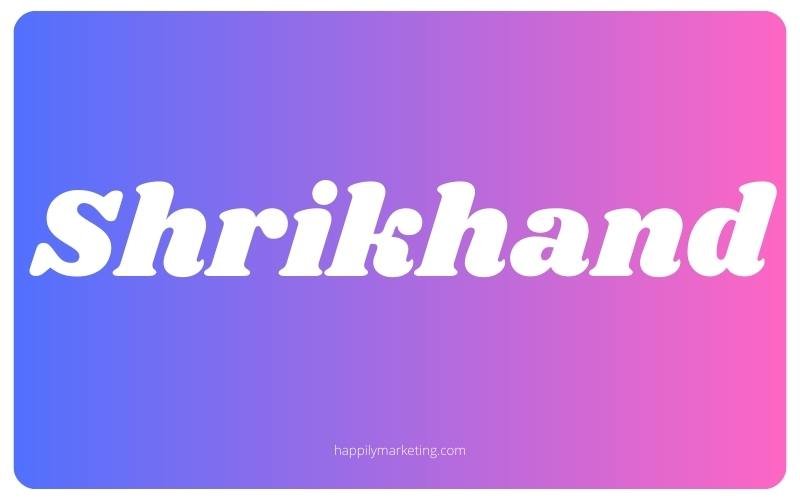 Lucidity Condensed
Last but not least is Lucidity Condensed, a groovy font with a bold, retro-inspired look. It is perfect for creating vintage designs or anything that needs a bit of attitude.
Lucidity Condensed has a distinct '70s feel to it that makes it perfect for creating designs with a bit of nostalgia.
Final Words
So, this was the list of the 12 groovy fonts you can use on Canva in 2023. These fonts are a great way to add some personality and style to your designs.
Whether you're creating posters, flyers, invitations, or social media graphics, these fonts will help your designs stand out.
So, what are you waiting for? You can experiment with these fonts and see how they can change your designs.
Read More
17+ Best Modern Blackletter Font
15+ Canva Fonts That Go Together (2023)
13+ Cursive Fonts On Google Docs For You (2023)
How To Add Fonts To Photoshop – 4 Simple Steps
13+ Best Fonts For Clothing Brands | Download Now
70s Color Palette: The Ultimate Design Palette
Is Canva Free? How Is It Different From Pro
21+ Elegant Fonts For Wedding Invitations