Hey there, fellow design enthusiasts and racing fans! As a graphic designer, I know how hard it is to choose the best font from many race car number fonts. The font can make or break the overall look and feel of the car.
That's why I wanted to share all my top 10 race car number fonts for 2023. These fonts are not only visually appealing but also easy to read and complement a wide range of car designs.
As a designer, I know that every little detail counts in creating a successful design. And when it comes to race cars, it's even more important to get everything just right. So, without further ado, let's check out these amazing fonts.
Best Race Car Number Fonts You Can Use In 2023
Slugs Racer
Slugs Racer is one of the best racing car number fonts on our list. Designed by Ronny Studio, this all-caps racing display font has a thick body with high contrast.
It looks modern and stylish, especially when paired with a contrasting design color. Its elegant design makes it an ideal choice for book covers or as a text overlay onto any background image.
The font is well-suited for racing events or any design that requires a sporty touch. Its thick and bold appearance adds a powerful and dynamic feel to any project.
You can also use this font for logos, branding, promotions, and magazine layouts. The font is easy to read, and its modern style gives it a unique touch that will catch the eye.
Overall, Slugs Racer is a versatile and stylish font, making it a great addition to any designer's toolkit.
Swipe Race – Race Car Number Fonts ( Our Pick)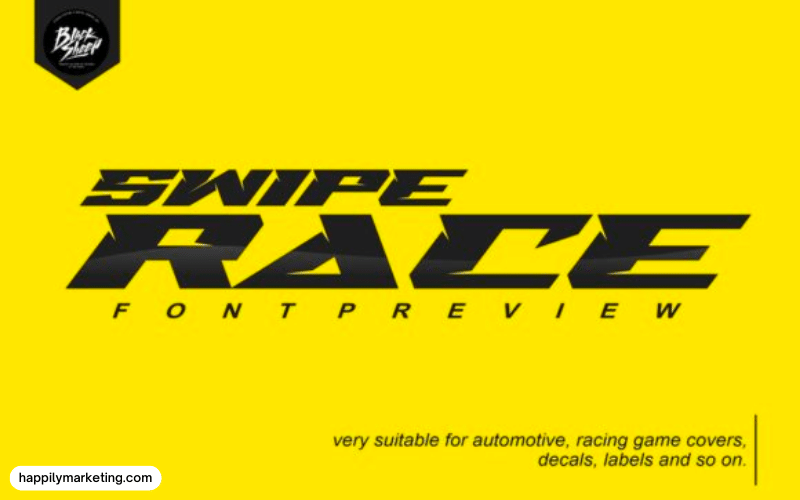 Swipe Race Font by Blacksheep Studio is a futuristic font that screams "speed" and "action." This highly geometric, futuristic racing font is perfect for automotive magazine covers, racing games, and design labels.
With its dramatic cutouts and angular extensions, the font creates a sense of speed and menace, and its italic slant and squat, squared shapes only add to the effect.
Overall, if you want a font that screams "speed" and is perfect for any racing-related design project, Swipe Race is an excellent choice.
Two Race
The Two Race Font is a unique and stylish display font designed by alit design. Its squared lettering style gives it a sporty and edgy look, reminiscent of classic racing typography.
The font has bold and italic elements that make a big impression, and the built-in italic styling can be further enhanced with the second version of the font that takes the slant even further. The font also includes key alternates and ligatures to ensure it offers the best in racing design.
Additionally, the font is PUA encoded, making it easy to access all of the glyphs and swashes. So, if you're looking for a throwback font with a sporty vibe, the Two Race Font is worth checking out.
Race Freak
If you're looking for a racing-themed font for your sports or automotive-related projects, you should check out Race Freak. Figuree Studio created this font.
This font is perfect for headlines, branding, logos, posters, jerseys, packaging, and much more.
With its sleek and stylish design, Race Freak is sure to give your projects an exciting and professional look. You can use this font to create race car numbers or any other text that needs to stand out.
Race Sport
Race Sport is a fantastic font for anyone looking to create racing car designs. The font has a bold, striking look perfect for race car numbers or other motorsport graphics. It's easy to read and stands out well against various backgrounds.
The font includes capital letters, small letters, numerals, and punctuation. It also comes in multiple formats, including TrueType and OpenType, and is compatible with Mac and PC.
Overall, if you want to add speed and style to your designs, the Race Sport is a good choice.
Speedster
The Speedster font is a perfect choice for creating race car designs with its unique and eye-catching number styles. This font family includes several different weights and styles of numbers that will surely give your designs a professional look.
The font is designed with a sleek, modern style that makes it perfect for any racing-related projects. The letters and numbers are well-crafted and easy to read from a distance, which is a crucial aspect of race car designs.
The Speedster font is a must-have for anyone looking to create racing-themed designs, and it's a great addition to any designer's font collection.
Fast Racer
Fast Racer Font is a fantastic racing number font that is perfect for modern auto and racing branding. The font has an angular display with beveled corners that adds some style to it.
The unevenness of the corners makes it a unique and exciting choice for racing number car fonts. The inset cuts further emphasize the font's speed and make it suitable for futuristic race projects such as posters and packaging.
If you're looking for a modern and edgy racing font that captures the thrill of speed, then Fast Racer is an excellent choice.
Stainless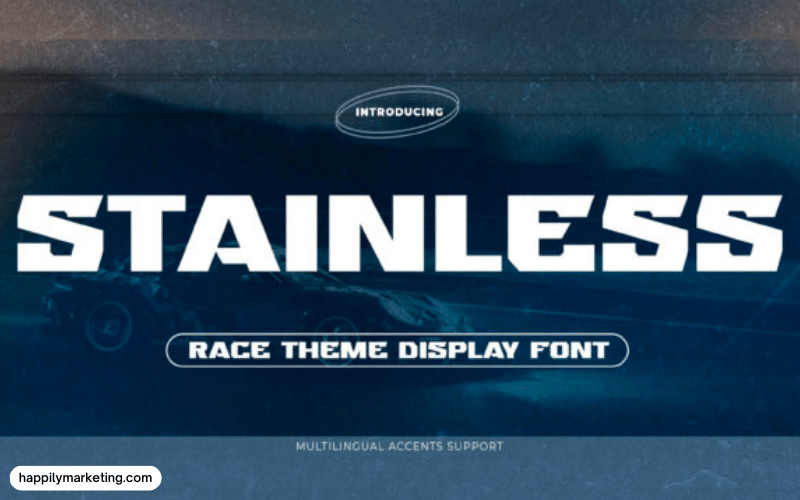 This font is designed for race-themed projects and has strong sports nuances. It has upper and lower case letters, numbers, punctuation marks, and special characters.
Stainless is versatile and can be used in various projects such as advertising, branding, logos, product packaging, headers, posters, and more.
This font is perfect for creating templates, brochures, videos, invitations, cards, and printed quotes. Overall, Stainless is an excellent choice for designers who want a unique and modern font for their race-inspired projects.
Nightrace
The Nightrace Font is a stunning race car number font that is perfect for anyone looking to add some excitement and energy to their designs.
This font is inspired by the sleek and fast cars of the race track and is sure to catch the eye of anyone who sees it. The bold and dynamic lines of the Nightrace Font give it a sense of speed and power that is perfect for racing themes.
It is an easy-to-use font that works well on a range of designs, including branding, logos, posters, t-shirts, and websites.
Race Speed
Race Speed is an awesome racing-style font that perfectly embodies speed and power. Miftahuliman85 designed this display font, and it's perfect for designing logos, t-shirts, posters, backgrounds, and more with a racing theme.
It's compatible with Windows, Apple/Mac, and Linux. You can easily convert this font to a web font. Plus, it works well with cutting machines like Cricut and Silhouette.
With its bold, sleek design, Race Speed Car Font will make your designs stand out. So, try it if you want to add a touch of speed and power to your project.
Conclusion
These are some of the most popular and visually appealing race car number fonts.
Selecting the right font for a race car number can significantly impact its overall appearance and identity.
We hope this list of awesome Race Car number fonts helped you find the perfect one for your car.
What race care font are you going to experiment with first? And why? Please let us know in the comments below
Also, don't hesitate to share your favorite fonts and why you chose them in the comments
FAQs
What is the best font for race car numbers?
The "Swipe Race" font is the best font for race car numbers; it stands out from all the other fonts. The font depicts the energy and action a speed car carries with itself.
What font is used for NASCAR numbers?
NASCAR does not use a specific font; it's a custom build font for their brand. However, there are similar fonts that you can use. One such font is "Microgramma" font
Read More