Planning your wedding can be overwhelming, but the wedding invitation wording is one of the most important details to get right.
Get a better understanding of all the details of crafting the perfect invitation with this guide. We'll cover everything from informal and formal wording to etiquette tips, so you can ensure your guests receive an invitation they won't forget!
So let's get started.
What to Include In Your Wedding Invitation?
A formal wedding invitation wording includes certain key elements.
Let's have a look at all of them in great detail: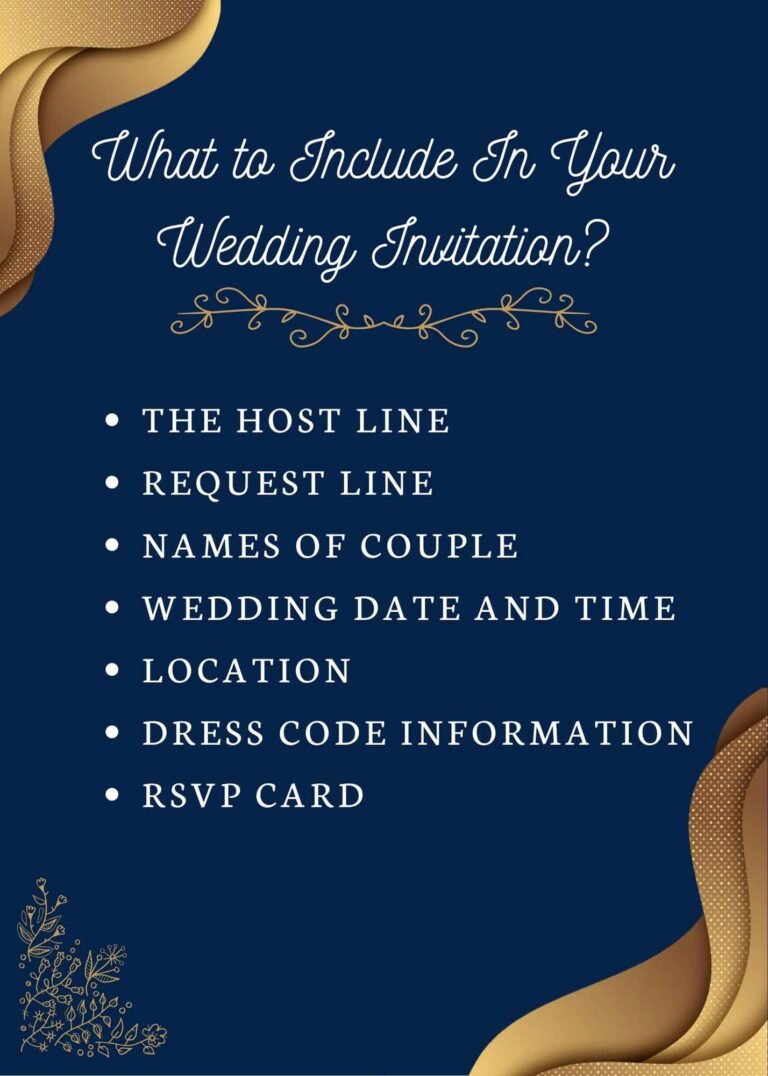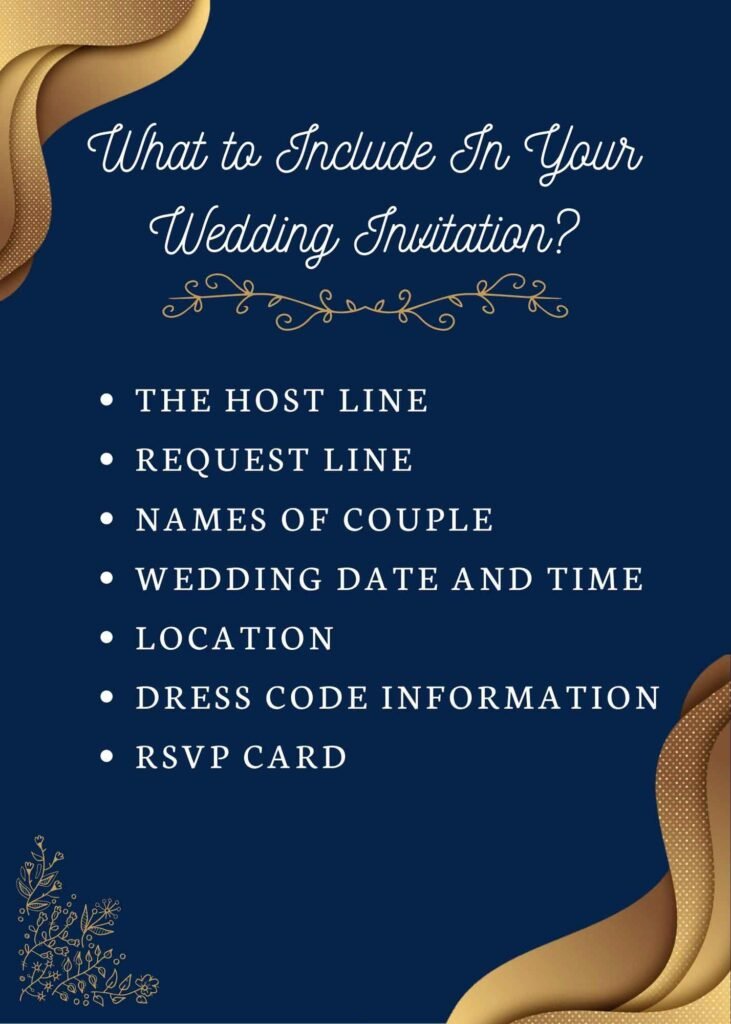 The Host line
Invitations for formal weddings always require the host line in the beginning. Most times, it's written on behalf of the parents hosting the marriage of their children or sometimes the bridegroom along with them.
Irrespective of whoever foots the bill, it's always gracious to name the parents on the top of formal invitations.
If it's a collaborative hosting, in that case, one can use- "Together with their parents, Kelly and Brian request the pleasure of your company on their wedding day."
However, mentioning the deceased parent's name on the wedding invites will require some changes. In that case, one can use- "Shermoy Williams, daughter of Mr. Adam Williams and the late Iris Williams, and Justin Blake, son of Mr. Camden and Elizabeth Blake,
request the honor of your presence…"
Well, some may even have to include the names of their divorced parents in their formal invitation wording, and that can be done by keeping each parent's name on a separate line.
However, including the name of their step-partner will not require a separate line. It may seem complicated initially, but it is all a part of wedding invitation etiquette rules.
Request Line
Another critical step is to request the honor of your guest's company, which can be done in multiple ways. Traditionally, "honour" is spelled in the British spelling, which indicates a church or other place of worship. This is how you can try it:
"honor of your presence"
"would enjoy your presence."
"ask you to join them in their celebration."
Names of Couple
Even if their names are not included in the host line, they must include in the next lines. However, the question of whose name should come first always arises. In traditional wedding invitations, the bride's name comes before the groom's.
Not only that, but also the groom's parents refer to add the full name to the invitation, and the bride's parents add the first and middle names. However, it's completely optional if the couple hosts the wedding celebration.
In a more modern context, you can write an invitation to your event that requests the presence of your guests. You can do this through email or a physical letter.
Make sure to include important information about the event's time, date, and location so that all attendees know when it is happening and where. As well as any other helpful instructions or reminders you think your guest would need in order to attend.
When formulating your invite, be sure to make it polite yet personal; focus on making everyone feel individually welcomed while inviting them collectively as one group.
Your Invite should speak both personally and formally simultaneously: remember, even if they don't know each other, all the guests have been invited for their contributions!
Wedding Date and Time
No numerals are used in traditional wedding invitation wording to mention the wedding date. Therefore, everything is written in full letters.
For casual weddings, numerals are fine. The time of day is indicated as "o'clock in the afternoon" or "half after five o'clock." The use of a.m. or p.m. is optional.
Location
You do not need the full street address of the wedding venue until it results in confusion or your wedding location is held at the host's place. You may include the reception location on a separate card if it is not conducted in the same location.
Dress Code information
You should include the dress code information on your wedding invitation in the lower right corner if you include one. Without a note, your invitation will indicate what to wear.
Guests may anticipate cocktail attire, a black-tie affair if the invitation is very fancy, or a more casual formal dress code if the invitation is simpler.
RSVP Card
There is also an option to include a response card for your guest that they can fill out and return. You can also people RSVP via your wedding website. RSVPs and social media accounts allow brides and grooms to modernize their big day while still maintaining tradition when sending out invites. It's a great way for couples to customize each element of their wedding without stress!
Wedding Invitation Wording Etiquette
Now that you have decided on your wedding stationery, it's time to figure out the tone and style of wording your wedding invitation.
Be formal
How you write your wedding invitations reflects how formal you are about the event. Choose traditional wording if you want your guests to wear black tie attire. You must also explore some playful wording examples if it is a casual wedding.
Include an insert card
You shouldn't include registry details in your wedding invitation suite. A separate insert card can give your guests links to your wedding website. That website will have all the registry details your guests need to find the perfect gift.
This relieves the pressure of opening a gift at an awkward moment or through return mail. You can also add photos of you two as a couple and an album for our guests to take part in wedding memories.
Wedding Invitation Wording Examples and Templates
When it comes to wedding invitation wording ideas, there are a few things to remember. First, the wording should be formal and traditional. Second, the font should be easy to read. And finally, the template should match the overall theme and wedding style. Also, don't forget to mention the wedding reception details if there are any!
Here are some wording suggestions:
Mr. and Mrs. Steve
It would be a pleasure to have you as a guest
Their son's wedding ceremony
Alexander Jack
to
Bella Raes Kim
You are invited to join us in celebration of their marriage Saturday, the sixteenth of may.
Lake Como, Italy
Reception to follow
OR
Mr. and Mrs. John Smith
request the honour of your presence
at the marriage of their daughter
Mary Jane Smith
to Mr. Christopher Brown
on Saturday, the third of June
Where should I purchase my wedding invitations?
There are a few things to consider when purchasing your wedding invitations. First, you'll want to decide on the style of invitation that matches the overall theme and feel of your wedding. Next, you'll need to choose a reputable supplier who can print and ship your invitations in a timely manner. Finally, you'll want to compare prices and choose the most affordable option.
For more information on where to purchase your wedding invitations, check out our top 10 tips below:
Start by browsing through different online stores or visiting a local stationery store. This will give you an idea of the different styles and designs available.
Consider ordering samples before making your final decision. This way, you can see and feel the quality of the invitation firsthand.
Make sure to read reviews before selecting a supplier. Check out sites like Wedding Wire or The Knot to find honest feedback from past customers.
Choose a supplier who offers custom printing options so you can personalize your invitations. Ask about turnaround time and shipping options when placing your order. You'll want to ensure your invitations arrive well before your big day!
Don't forget to factor in postage costs when budgeting for your invitations. Standard postage rates will apply depending on your invitation's size and weight.
Can I design my wedding invitation?
Assuming you have a basic understanding of design, you can design your wedding invitation! Many couples do this to save money or add a personal touch to their big day.
If you're going the DIY route, give yourself plenty of time to play around with different design ideas until you land something you love. There are many websites and tools that you can use to design your wedding invitations.
Tools to get inspiration from
A great way to get inspiration for your invitation design is by looking at samples from other weddings. Check out websites like Pinterest or WeddingWire for some creative ideas. Once you understand what you want your invitation to look like, it's time to start putting together the actual design. If you're not confident in your design skills, plenty of online templates can be customized to fit your vision.
Canva: Tool to design
Canva is one of these tools, and it is a great way to design your invitations. With Canva, you can choose from a variety of templates or designs, or you can create your design from scratch. You can also upload your photos and logos to customize your invitation.
Canva has a drag-and-drop interface that makes it easy to design your invitation, and you can preview your design before downloading it.
Once your invitations are designed and ready to go, it's essential to double-check the wording before sending them off to be printed. Make sure all the essential information (like date, time, and the full street address if it is a different location)
Sample Cards you can design and get printed easily using Canva!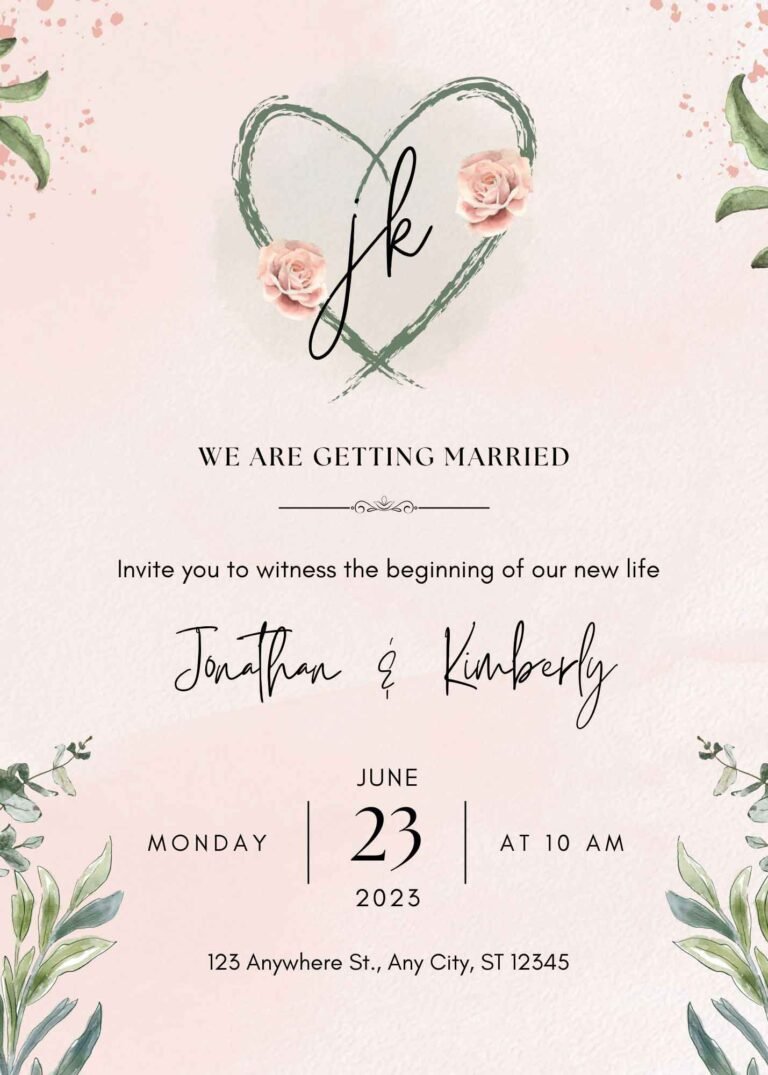 The Bottom Line
We have provided some great examples of wedding invitation wording that you can use to create the perfect invitation for your special day. Remember, the wording should reflect the style and tone of your wedding, so make sure you pick something appropriate.
There are plenty of resources available online if you need more help crafting your ideal invitation – don't forget to check out our collection of beautiful pre-made templates when creating your unique design!