Today we have collected the list of 19 free fonts similar to old English for your next design.
When you are looking for an old English word font to use in your project, it is essential to think about the tone of your content. Fonts can make certain words or phrases more serious, while others might be more playful.
This blog post will introduce you to old english font for free that can be used in different projects.
As you are aware, fonts are an integral part of any design project and help shape the tone of your message. Choose 19 Old English fonts for your logos, headlines, invitations, presentations, and more.
19 Number Fonts Old English For You
1. Old London by Dieter Steffmann : If you're looking for a font that will not let your design project go unnoticed, the Old London font is the one for you! This old English text typeface is both bold and elegant.
It can be used in different design projects to create an atmosphere of class and tradition.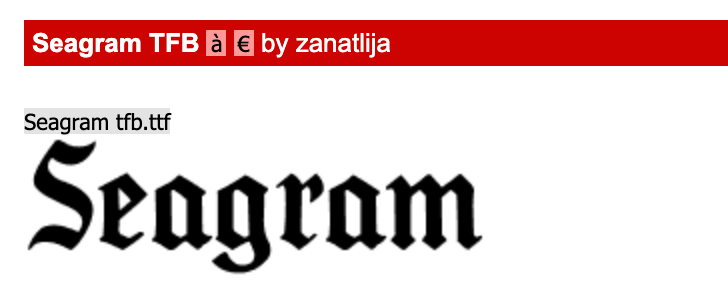 2. Seagram TFB by zanatlija: Seagram TFB is a font designed by zanatlija exclusively for personal use. The old English font free is and equipped with multiple weights and styles to satisfy demanding graphic designers.
It includes old English uppercase letters, numerals, symbols & punctuation, as well as accented lowercase Latin letters.


3. Cloister Black by Dieter Steffmann: Cloister Black is a typeface with an old English font that's both stylish and practical.
It has embedded ligatures, contextual alternates, titling capitals, swash capitals plus the complete set of glyphs including figures, punctuation and even an attic story caps display face to showcase your text in style.


4. Chomsky by Fredrick Brennan: Cloister Black is a medieval-inspired font modernized to match today's needs.
The script feels wispy and flamboyant, but it balances everything with its thoughtful negative space. This is surely one of those fonts every designer should have in their arsenal.

5. Ancient by artRAVE Editions : Ancient by artRAVE Editions is an elegant typeface. One which mixes the calligraphy of today with a dash of history, to create something bold and culturally relevant.
It has a heavy stroke contrast and sharp edges that make it perfect for logos, marketing materials, or headers.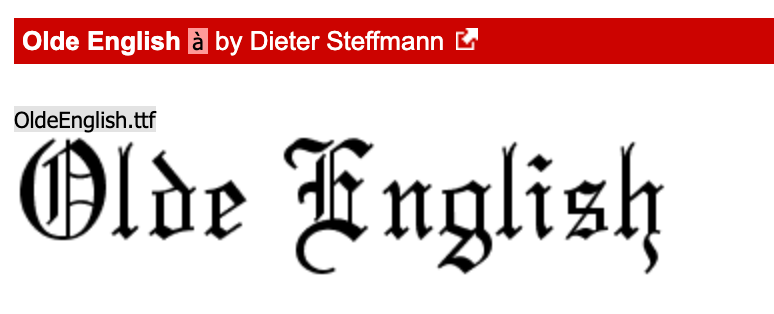 6. Olde English by Dieter Steffmann: We all have a love affair with classic, handwritten lettering from the past. Who doesn't want to write letters in beautiful old cursive?
This is the best feminine old English font. it's an amazing font that takes you back to times when the script was not yet obsolete.
7. Sketch Gothic School by Galdino Otten: Sketch Gothic School is a hand-drawn typeface that has been redesigned and redrawn to accommodate the modern market.
Its medieval-style provides an air of formality and simplicity that can be used for many applications. Whether it's bold headings or handwritten quotes on Instagram, this is one of the best fonts, similar to old English.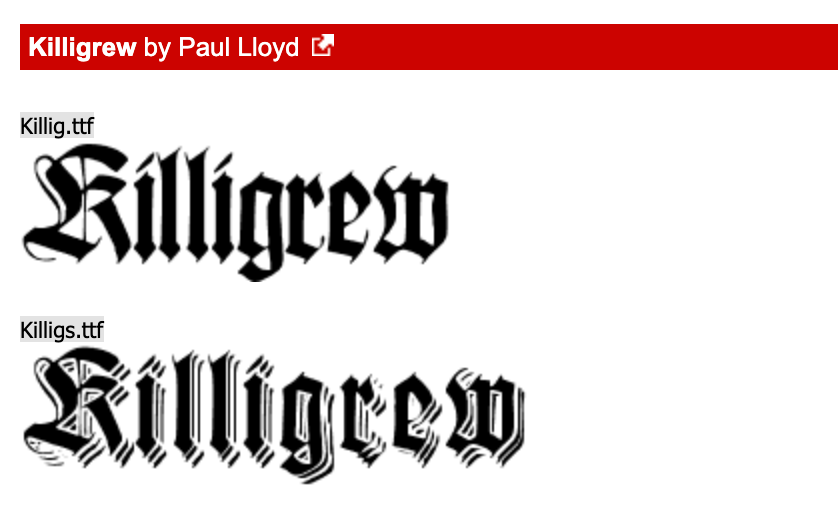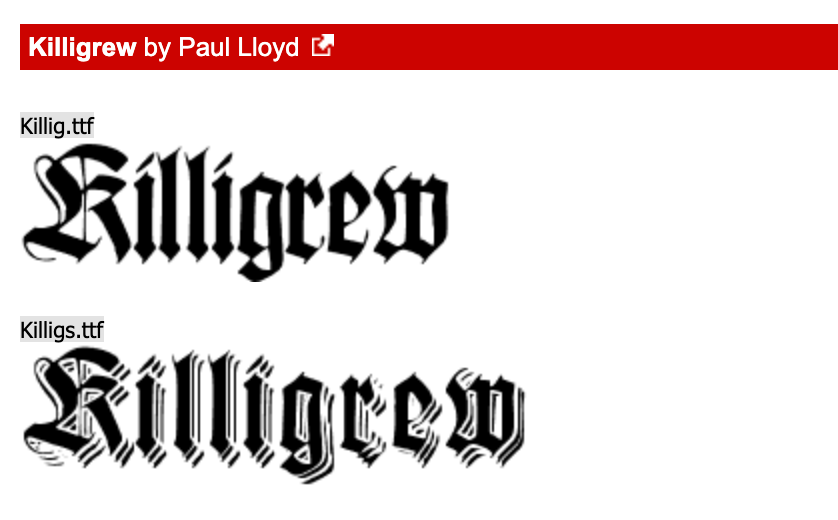 8. Killigrew by Paul Lloyd: Killigrew is an Old English Font that offers the look and feel of a classic font. The letters in Killignrew stand much closer to each other than most fonts, which gives it a cleaner appearance.
This pattern is repeated when you turn the letter upside down. It includes all capital and lowercase letters, numerals, and punctuation marks.

9. Deutsch Gothic by James Fordyce: Deutsch Gothic is a typeface created by James Fordyce. It's an oldie but goodie.
This font will be classy and fancy-looking with formal writing and romantic novels/stories.
10. English Towne by Dieter Steffmann: Developed by Dieter Steffmann, English Towne is an old font based on medieval serif letterforms.
The traditional, slightly condensed proportions and blocky letters provide a charm that will make your dreams come true with its specialized calligraphy style.

11. Germanica by Paul Lloyd: This font creates a medieval feeling that combines form and function. The ornate decorations blend seamlessly into the clean text, creating an easy-to-read style.
12. Taylor Gothic by Thor Christopher Arisland: With a refreshing foray into a previously unexplored but fittingly timeless style, Taylor Gothic is ideal for your next title or a large-scale project.
With trending display options and alternate sets of capital letterforms available, its versatility provides the perfect avenue to showcase your work with an intellectual flair.
13. Bahisy by StringLabs – stringlabscreative.com: Bahisy is a real show-stopper of a font. It's perfect for things like posters, invitations, or cards that need an old feel.
If you're looking for something to give your project that old English look and tie it in nicely,, this is the font you've been waiting for!
14. Blackletter by Dieter Steffmann: Another one of the best fonts which is very similar to old English, Blackletter is a font that was created as an homage to the old English fonts.
Beautifully designed and eloquent, this typeface would be ideal for material with a Medieval setting or a Gothic theme.

15. Berkahi Blackletter by Faras Dina: Berkahi Blackletter is versatile and timeless. It's perfect for businesses looking to maintain brand consistency while avoiding the sterility of sans serif fonts like Arial or Helvetica.
Celebrate tradition with this classic font, great for logos, product packaging, signage…everywhere!
16. Black family by Paul Lloyd: You'll probably love this font because it's traditional yet modern feeling.
Don't be fooled by the name; Black Family is a set of three fonts that can work well for personal and professional design projects. And check out the Latin alphabet! It's not often you see those included in sets like these.
17. Tisk by Sigit Nur Wicaksono: Tisk is a lovely, geometric font with an old English feel. Geometric with regularity, the style of Tisk is perfect for logos and headlines.
If you're looking at getting creative by experimenting with fonts until you find the one that fits your project best-then Tisk might be what you need!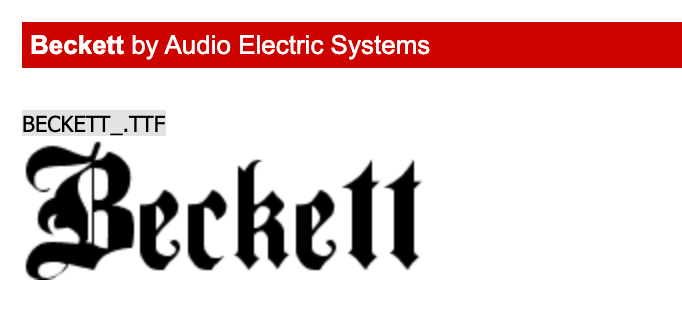 18. Beckett by Audio Electric Systems: An old English font best for typography and creative writing that needs an old touch. Beckett is an elegant, clean, readable & contemporary sans-serif typeface.
19. Fette Unz Fraktur by Peter Wiegel: Last in the list of fonts identical to old English is Peter Wiegel's Helmswald Fraktur. If you have been looking for fonts like old English, Fette Unz Fraktur is the best among them.
It is a versatile font with the unique advantage of being both old and beautiful and easy to go to with any vintage design. It's perfect for any setting requiring a scriptural touch, from invitations and thank you cards.
Another best font that you can use is Old English Text MT by Microsoft, try this font here

We hope you enjoyed our list of fonts that are similar to old English. Finding the perfect free old English font for your project can be hard, so we wanted to make it easier by creating this post with 19 different options! Which one is your favorite? Let us know in the comments below!
Read More: