21+ Socks Mockup for You to Market and Sell Your Designs!
Socks mockup are an excellent way for designers to present their designs on socks for selling them.
They are also an essential tool that e-commerce businesses need to successfully sell their products online.

And with the wide range of sock mockups available, there is no excuse not to have one! In this post, we will show you some of our favorite sock mockups and tell you how they can help your business succeed.
There are many different types of free socks mockups available on the internet but the problem with the free design is that they do not offer fully customizable mockup PSD.
If you want to start an online store selling socks, you should always buy a premium PSD mockup that is going to be a perfect solution for your brand.
but let's start with basic, casual, and athletic. Casual socks come in all shapes and sizes like crew-length or ankle-length and they can be worn comfortably under shoes or sneakers.
Each kind of sock design feels different when presented on a socks mockup.
Athletic socks are much thicker, and they can be worn for sports like basketball or soccer.
They also come in many different colors, patterns, and styles that you might want to use as inspiration when designing your sock mockups.
If you're a business owner selling socks online, having quality sock templates is a must!
The best way of showing off your design is with high quality, professional socks mockup. You can read more about them here.
1. Basic Socks Mockup Set
Time to get your feet out from the business of life, and put them up for a minute. Kick off those shoes and let's chat. Meet sock mockups from Creative Market. The photoshop file lets you create a custom sock presentation in seconds with editable layers best for showcasing designs. Download it today!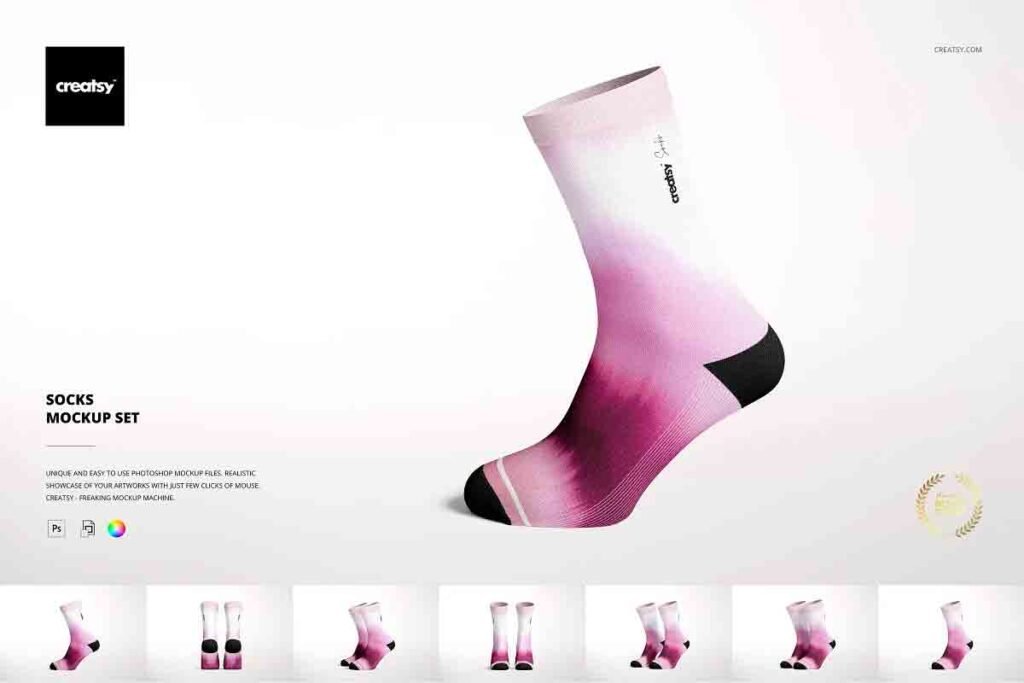 2. Cycling Socks 3 Types Mockup
Show off your newest product with these realistic mockups. We've made them easy to use–all the possibilities are included, just change the colors and decide which type is best for you. It is one of the easy and advanced sock mockup PSD you can use.
It comes with three editable PSD files for you to edit easily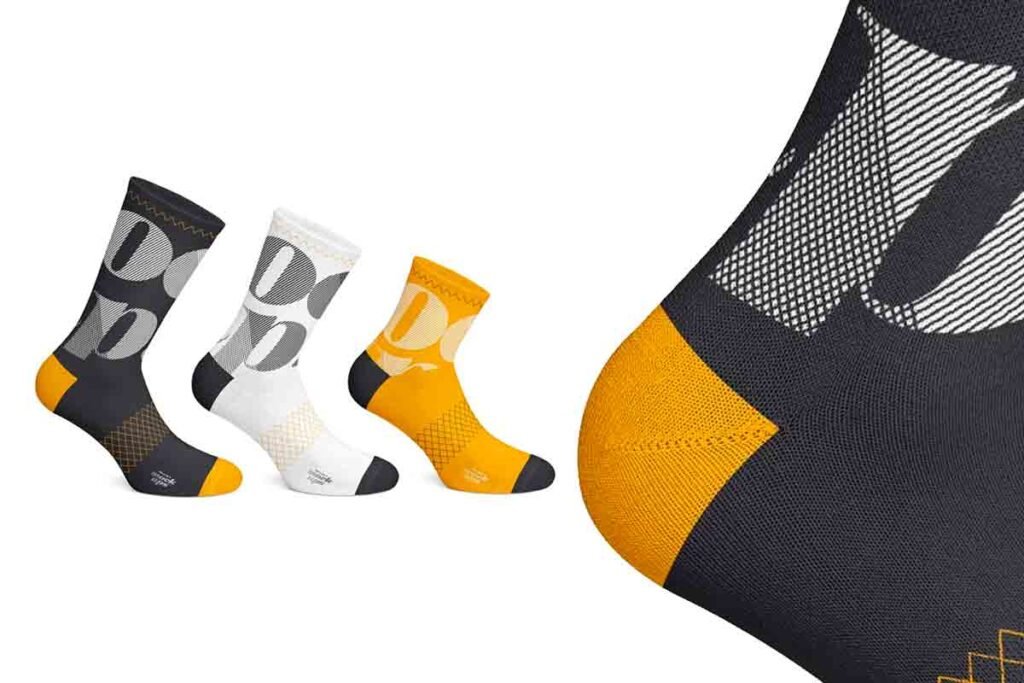 3. Socks Mockup Set
Pull your creative socks up with this Photoshop mockup set of sleek, contemporary packaging. Add your design to the sock template and you'll have a customized, modern style that will stand out on shelves around the world!
4. Sports Socks – Mockup
Add your design in seconds for a polished, professional final product. Customize the background to suit your company's identity or just save time by uploading a PNG or JPG of any color you'd like.
5. Socks Mockup – Full
Enhance your design with a playful and customizable mockup template. This hi-res photo of socks features 4 different mockups to customize according to the client's needs. The lights and reflex levels can be customized as well, making it a great place to showcase your brand design!
6. Athletic Socks 3 Types Mockup Set
Are you looking for a way to create your own athletic socks? This set includes 3 types of mockups with layered smart objects ready to showcase your custom design. Simply edit the color layer and shapes, save as .psd file, print on any printer that is up to standard business specs (A4), laminate overlay, or acetate sleeve option available too.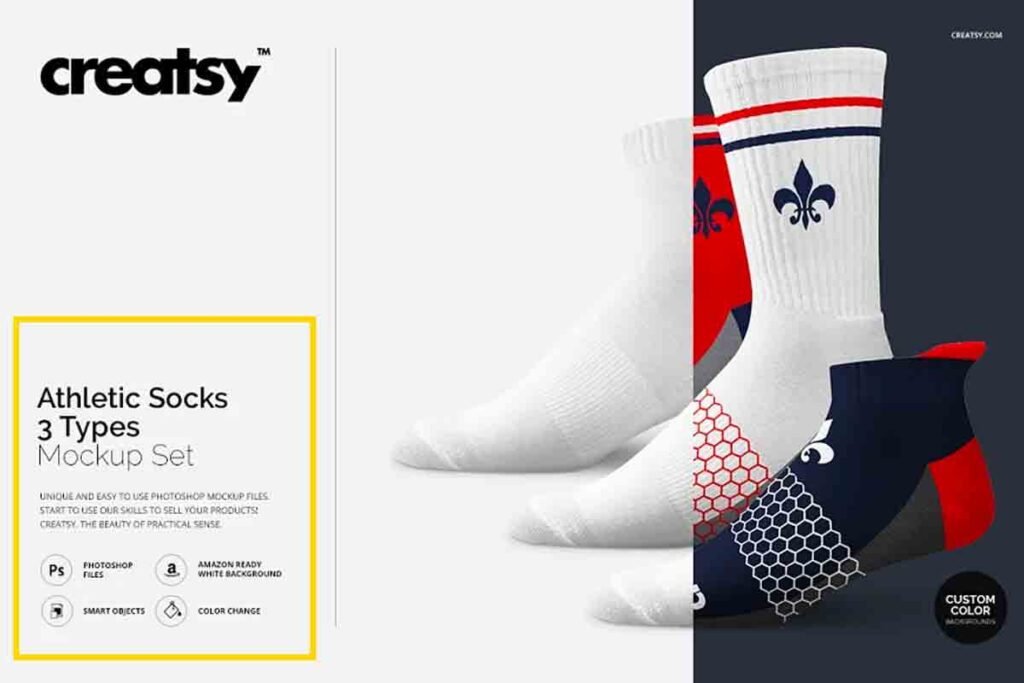 7. The Regular Socks Mock-up
The Regular Socks Mock-up provides you the opportunity to promote your product with both a stock photo and a detail shot in just minutes. The mock-up comes with 12 photoshop files containing an 'almost complete' design for the front of your item, including all aspects from materials to copywriting, as well as options for color and different angles.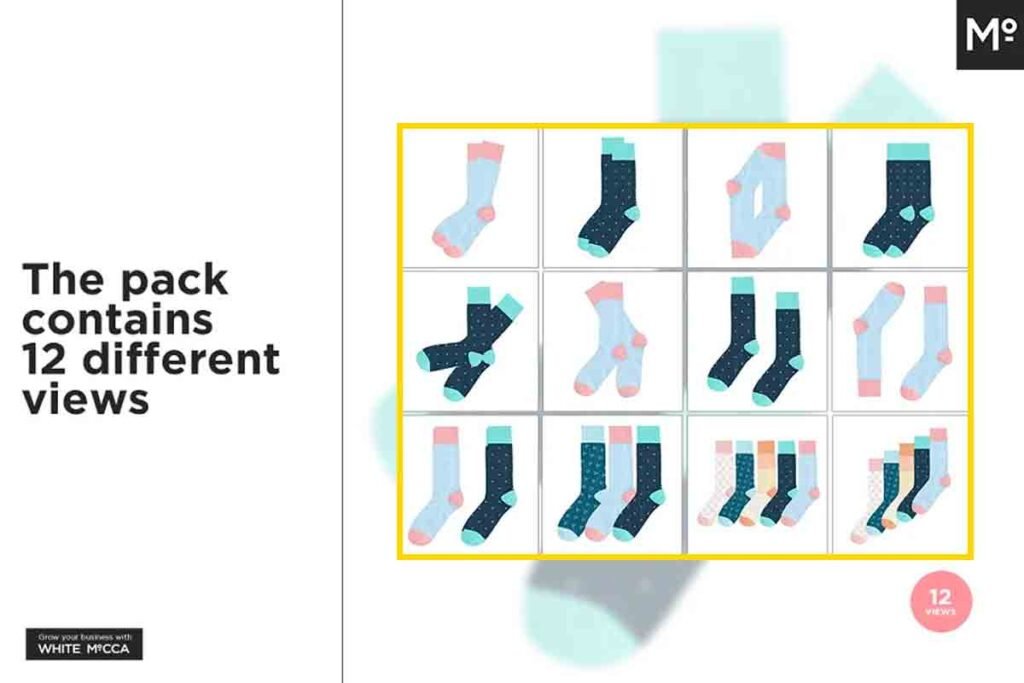 8. Sublimation Tube Socks Mockup Set
This set of layered, editable .psd files will help you generate quick product mockups in Photoshop. The package includes 7 files with 6000×4000 px, 300 dpi. You can design your own socks fabrics and apply the design using the provided smart objects. There are also background texture layers for versatility in color choices.
9. Classic Socks 9x Mock-ups
Get your clean designs, cuddly ankles, and classy calves with Classic Socks 9x Mock-ups. Whether you're designing socks for a baby or for an all-inclusive resort, these mock-ups are perfect! With 9 views of the design on the shoes to choose from – it'll be easy to make your kicks stand out.
10. Kids Socks Mockup Set
Kids Socks mockup set is here! It includes 4 immortal .psd files, with backgrounds in neutral and white. Customize the colors to fit your needs or leave them flexible for more options below. As always, it comes with a completely editable label that will make your product look great on any surface of your choice
11. Calf Sock Mockups
Whether you're in the market to promote a product, service or business online, these mockups are perfect for accomplishing that. We compiled 8 gorgeous templates to mockup your next project and each template includes its own custom color scheme – helping you craft the right mood for your marketing.
12. Socks Knee High Mockup Set
Socks Knee High Mockup Set – A great way to present your designs for a new idea in the market! This layered template is easy for amending and brings out any detail of your design. A stand-out performance with a clear view, this mockup has a uniquely designed realistic touch!
13. Baby Socks 2 Mockup Set
Marketing the socks is important when they are designing your product. You want to be specific so that people can understand what you are selling and how it works. A Baby Socks 2 Mockup Set is a baby socks mockup set that's easy to edit, with 4 photoshop files included- 2500x2500px 300dpi; changeable colors and design (via smart objects) & removable/customizable label.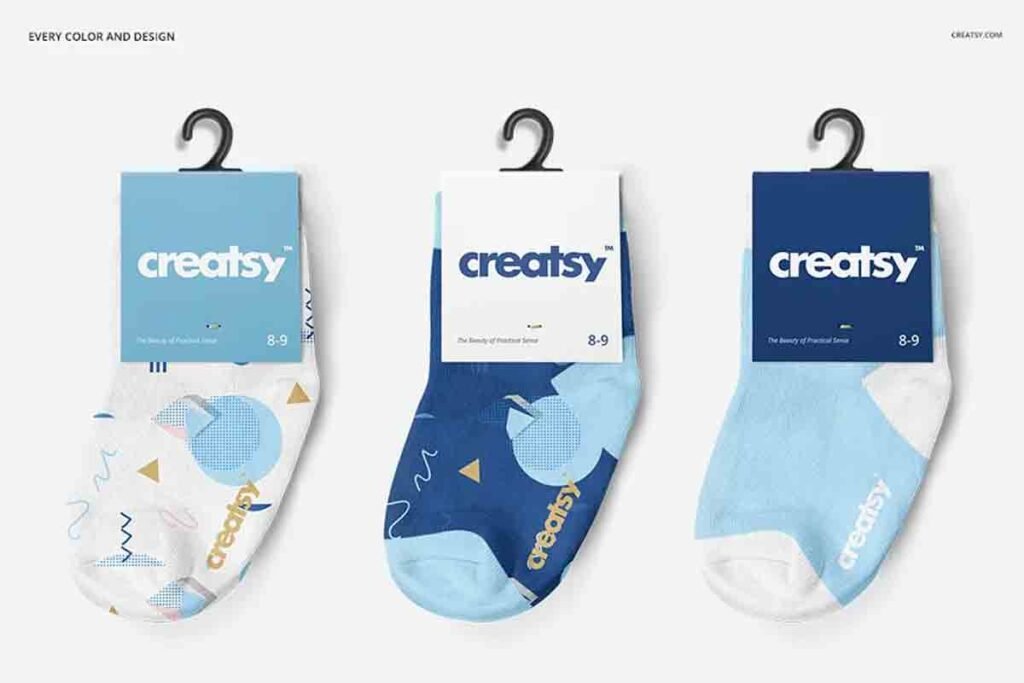 14. Melange Socks Mock-up
The mockup of graded Melange Socks is easy-to-use. You can change colors, put your own designs and even turn on/off the 2nd socks (bottom one). Well organized layers, 40000×4000 px 300 dpi. They have well organized layers for your quick and convenient edit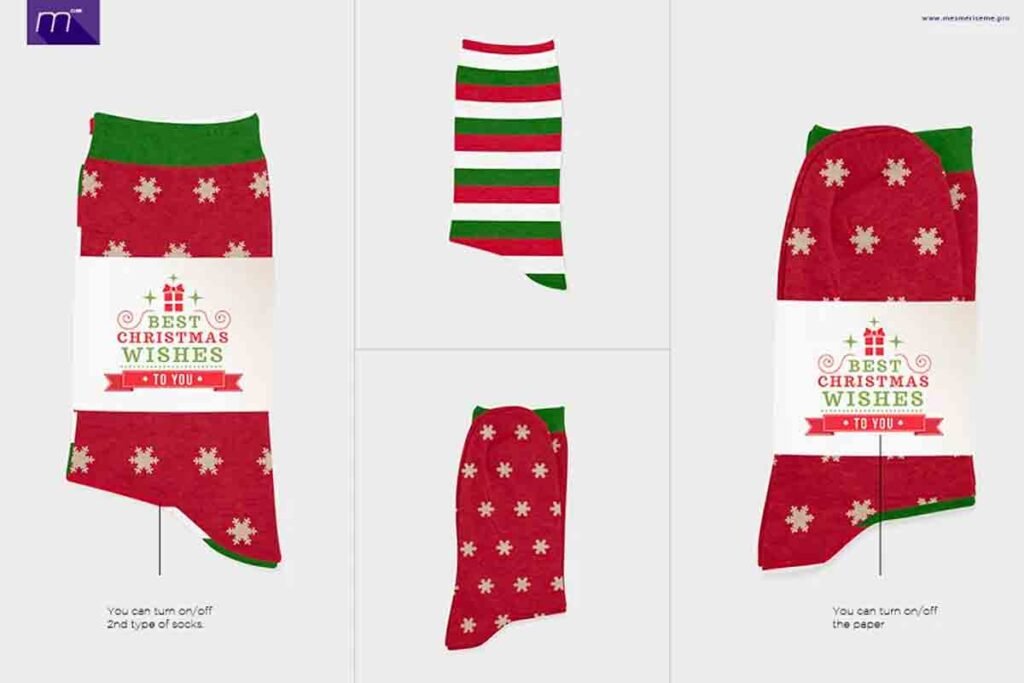 15. SOCKS MOCKUP SET
These awesome mockups are perfect for showcasing your latest designs in a modern way. Packaged along with 8 different PSD files, not one design will go unnoticed or ignored. Cut down on workflow time and bounce ideas around without wasting any further time!
16. Knee High Socks Mockup Set
Knee-high mockups for your custom design! They're layered, editable PSD files that are layered and ready to be customized with the colors you want. All you have to do is edit the smart object and color layers! We even included a .zip file of geometric designs so you'll always have a look handy.
17. Socks Set Mockup
Add some style and trend to your next apparel designs with this clean and easy-to-customize Socks Mockup. This product is great for all types of designers, from graphic designers to fashion designers alike! With eight different color variations and multiple poses within one pack, it's ideal for showcasing merchandising trends in the clothing industry.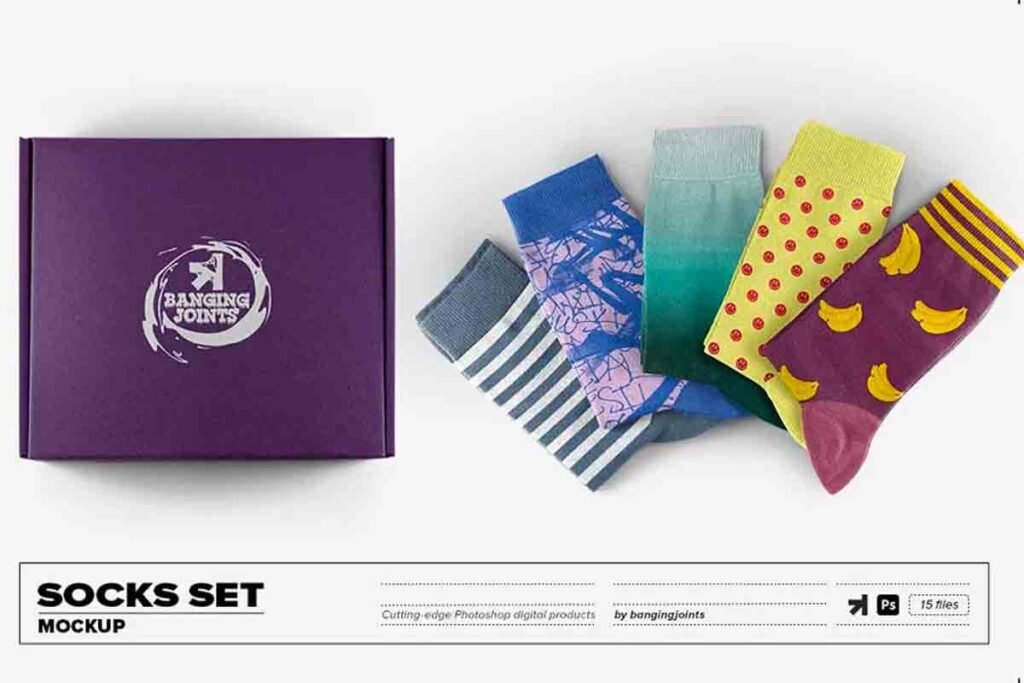 18. Socks Mockup Set (long)
Take your design to the next level with these patterned mockups. Start by uploading your own fabric, then customize the cuff pattern, heel stain color, and toe to match any look! Choose from long or short socks for a realistic touch that will make you want to buy our socks immediately.
19. Low Cut Socks Mockup Set
Low cut socks mockup set – a layered, editable PSD file that helps you to showcase your custom design. Simply edit the smart objects and color layers, these files work only in Photoshop (min. PS CS4). The pack includes 2 .psd files with file specs of 2000x2000px at 300 dpi, changeable colors, and gradients as well as the design.
20. Low Cut Socks 2 Mockup Set
With these mockups, you'll be able to market your designs in the most creative way! Change colors and designs while establishing an exciting tone for your brand! Easy editing with smart objects makes sure that every part of the design is editable. The pack includes 4 files in all which include .psd with mockup set of high-cut socks on white background 2500x2500px 300DPI pixels changeable colors via Smart Object
21. No Show Socks Mock-up
Be you, be creative. Imagine all the possibilities and make your design come to life with this product. Simply upload your project and use Photoshop's smart objects to customize it for a renderable photo-realistic experience that will wow any viewer!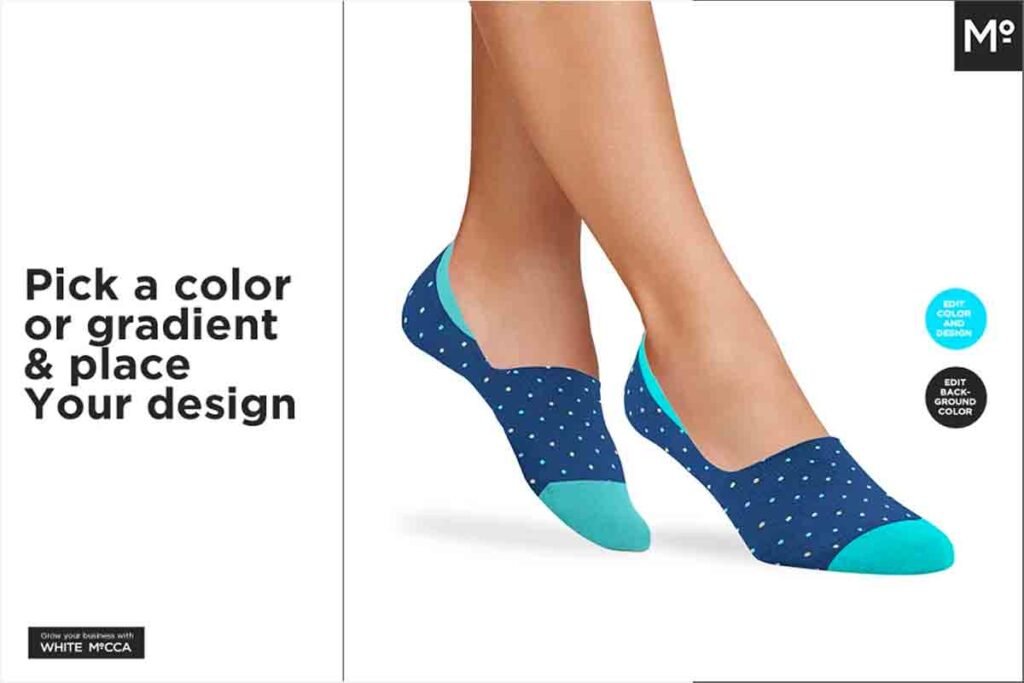 We hope these high-quality socks mockup will help you to showcase your design in the best way possible.

Whether for a personal digital project or commercial product, we hope these resources can show off your work to its fullest potential.


Thank you for reading this list of our favorite socks mockup!
Also, check out cap mockups for your online store.
Related Topics