Are you a fashion designer starting your clothing line? If so, one of your most important decisions is what fonts to use on your products and branding.
Choosing the right font can give your brand an air of sophistication and luxury and attract your targeted audience, while the wrong one can make your customers ignore you.
That's why you must choose the right font for your brand. But how do you decide which font is right for your brand out of the millions of choices?
If you're also in the same situation, don't worry; I'm here to help you!
In this blog post, I'll share some of the best fonts for apparel brands and explain how to choose the right one for clothing brand logos.
So, let's check out these good clothing brand fonts!
13 Best Fonts For Clothing Brands
The following are the top 13 fonts for clothing brands that are stylish, modern, and easy to read.
The best part is that these fashion fonts will make your brand feel premium and catch the attention of your target audience.
Andalucia
Andalucia is a beautiful handwritten script font. It has gorgeous alternate characters that make it even more luxurious and sophisticated.
The combination of copperplate calligraphy and hand lettering gives this font a sense of elegance, making it perfect for the high-end clothing and fashion industry.
It was designed by Pista Mova and is simple, clean, feminine, sensual, glamorous, and easy to read.
You can use this classic font for all types of formal work, including labels, invitations, menus, logos, make-up, stationery, letterpress, greeting cards, wedding cards, romantic novels, and packaging.
It features upper and lowercase characters, numerals, punctuations, and multilingual support.
So, if you want to give your brand a touch of stylish elegance, Andalucia is the way to go.
Bailenson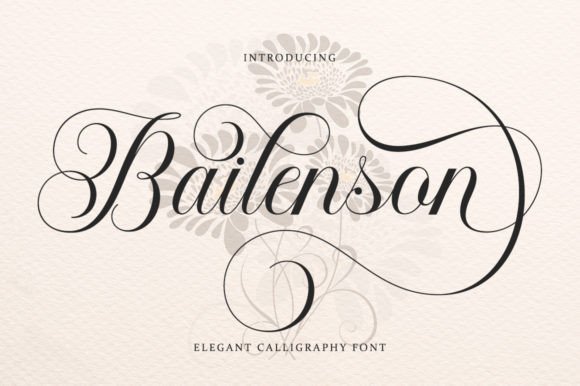 Bailenson is one of the most beautiful script fonts inspired by the handwriting of Italian women and ancient manuscripts.
With its classic style and elegant touch, this font works perfectly for wedding favors, greeting cards, book covers, logos, branding, and business cards.
You can even use this gorgeous typeface for any design work that requires a classic, formal, or luxurious feel.
This classic font is also easy to read and stylish, making your clothing brand shine instantly.
Daddy
Daddy is a lovely and joyful script font with a unique hand-drawn appearance. It's an excellent choice for children's clothing, toys, books, and other products.
Scott Cohn designed this font for his children's books – Daddy Sat On A Duck and Daddy Said A Word I Never Heard.
The Daddy script font has a complete set of alternate characters and ligatures.
You can use this font for designs that need a personal touch, such as wedding invitations, greeting cards, branding, social media posts, and even product packaging.
It will give your projects a sweet and romantic touch.
So, if you're planning to start a clothing brand for kids, why not choose the Daddy font?
Scarlotta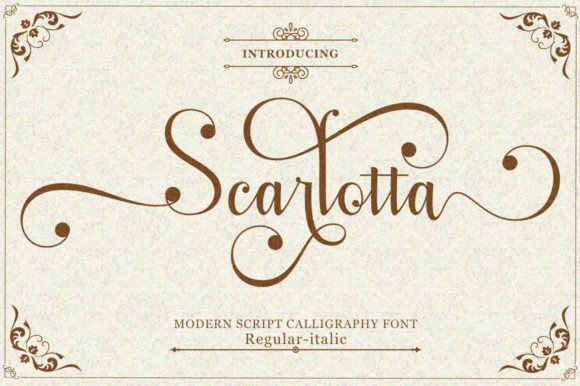 Scarlotta is the perfect calligraphic script font for clothing and fashion brands.
This font family includes regular, italic, and bold font styles, stylistic alternates, and swashes.
And with over 480 glyphs and 270 alternate characters, this font supports multiple languages. Scarlotta includes two font files: OTF and TTF.
Furthermore, this classic font features OpenType, which gives you plenty of options for mixing and matching font pairs to create the right look for your design.
Also, there's a dash of ornamentation to add a touch of elegance.
So if you're looking for a stylish and versatile calligraphic script font, check out Scarlotta Script.
Virginia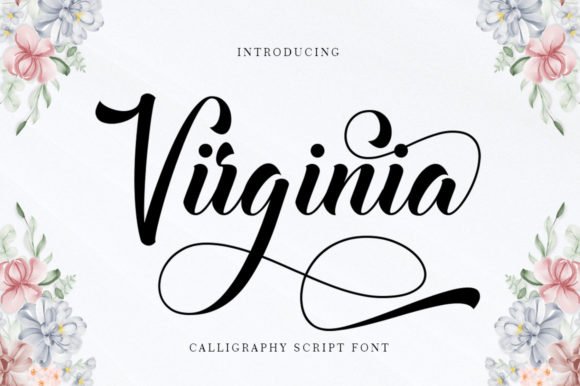 Virginia is a calligraphic script font with hundreds of alternate characters and ligatures. It's a subtle, clean, and pretty font.
The font's quick strokes convey elegance and a natural handwritten style. You can easily install this font on PC & Mac systems.
Virginia font is suitable for logos, signatures, quotes, apparel designs, invitations, greeting cards, packaging, labels, menus, fashion magazines, and books.
The cool thing about this font is that it's encoded with Unicode PUA, which allows you to access all additional characters without needing special design software.
You'll love the Virginia classic font if you want something versatile and stylish.
Gantole
Gantole is a modern font with a dancing baseline and an elegant touch. This font looks amazing at display sizes and is easy to read at text sizes.
Created by Gatype, this font has nearly 420 glyphs and supports multiple languages.
It includes uppercase and lowercase letters, numerals, symbols, punctuations, and more, making it a perfect font for makeup artistic projects.
You can use it for logos, wedding invitations, headings, t-shirts, letterheads, signage, labels, news, posters, badges, etc.
Gladiolus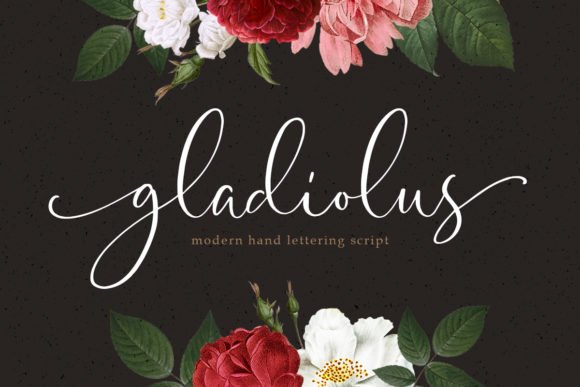 Gladiolus is a stunning script font that will make any crafting idea stand out. It is a work of art that conveys the impression of beauty, sweetness, elegance, and charm.
With swirls and swashes, your project with a feminine theme will look even more pretty.
This fancy script font is perfect for headlines, logos, greeting cards, packaging, clothing, makeup, fashion themes, stationery, labels, social media posts, or any advertising purpose.
Olivia Script
Olivia is a modern monoline script font with a sophisticated flow.
It features more than 350 glyphs, including uppercase & lowercase letters, numerals, punctuation, and alternates.
The smooth texture of Olivia makes it perfect for all kinds of printing projects.
You can use this beautiful font for multiple purposes, such as branding, clothing, invitations, greeting cards, posters, wall hangings, diaries, gifts, etc.
Outside
Outside is a beautiful and unique handwritten font perfect for many projects.
The font family includes alternates and swashes, allowing you to create unique and elegant designs.
The casual charm of its style makes it wonderfully down-to-earth, readable, and versatile.
This font will look outstanding in any context, whether you use it on busy backgrounds or as a standalone headline.
Calianda
Calianda is a luxurious and modern style of calligraphic font. Inspired by lovely wedding lettering, the font is carefully crafted in every letter, so it looks fabulous.
With this one, your designs will look instantly professional and jaw-dropping.
Calianda font is suitable for wedding cards, writers, fashion, clothing brands, artist designs, architecture projects, etc.
It includes a complete set of basic uppercase and lowercase characters, numerals, and punctuations.
Also, the font contains ligatures to make it flawless characters and add aesthetics to your extraordinary project.
Citraloka
Citraloka is a modern and authentic handwritten font with light and playful swashes.
It features 28 ligatures, 79 alternate characters, and multilingual support.
You can use this beautiful brush script font for branding projects, logos, wedding designs, social media posts, product packaging, and other designs that require a handwritten feel.
Its beautiful and elegant style makes this font perfect for your brand logo design and projects.
So, if you are looking for a beautiful handwritten font to create eye-catching fashion and clothing designs, this is the one for you.
Remember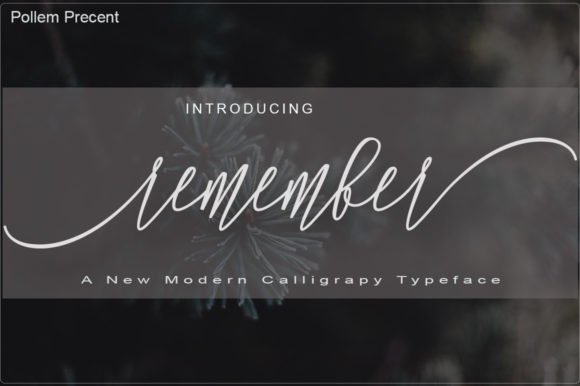 Remember is one of the most unique and stylish script fonts you'll ever find. Because it's a brush script font, it will have some sweet strokes and a handwritten feel.
It comes with a well-balanced set of letters, numerals, punctuations, and multilingual support.
This appealing and unforgettable typeface is perfect for creating beautiful, poetic designs that attract your audience's attention.
Also, it's PUA encoded, so you can easily access all the glyphs and swashes.
Remember is one of the best calligraphic scrip fonts if you want a stylish, unique, flowing handwritten font.
Farmhouse
Farmhouse is a lovely and modern typeface. It's specially designed to add a sweet and romantic touch to your projects.
The characters are stylish and modern yet retain the classic handwritten look that is so popular nowadays.
Furthermore, it offers stylistic sets, ligatures, initials, and swashes, so you can fully customize your designs.
You can use them for wall displays, wedding invitations, advertisements, social media posts, branding logos, product packaging, product designs, labels, watermarks, photography, stationery, and any other project that requires elegant handwriting.
The Farmhouse is a versatile font that will add personality and charm to your project.
Types of Brand Fonts
Before choosing one for your business, you must understand the different types of fonts and their message. Here are six major types of fonts.
Serif Font (Serif Typeface)
Sans Serif Fonts
Script Fonts
Slab Serif Fonts
Decorative Fonts
Handwritten Fonts
Geometric sans serif fonts
Read More:
How To Choose The Best Font For Your Brand?
Depending on the style and name of your brand, you will want to consider which font suits it best. You can't choose a random font because not all will work well with your brand style.
Here are some essential things you must remember when choosing the suitable font family for your fashion brand or design project.
Understand Your Brand Identity
Before you start browsing fonts, it's essential that you first understand your brand identity. What kind of feeling do you want to evoke with your brand?
Some words you might use to describe your brand identity include trustworthy, friendly, luxurious, modern, fun, etc. Select a font that reflects the overall tone of your brand.
Choose A Readable Font
If your customers cannot read the font at first glance, it doesn't matter how beautiful it is. Make sure you pick a font that's easy to read, even from a distance. Also, it should be memorable.
Make Sure It's Consistent
Consistency is one of the most important things to remember when choosing a font for your clothing brand.
Make sure all your branding materials use the same font so customers can quickly identify your products.
It Attracts Your Targeted Audience
It won't take your brand long to succeed if you can easily attract the targeted audience.
Therefore, the font you choose must appeal to your target audience. For example, a clothing brand font should be bold and stylish.
Avoid Using Multiple Fonts
Using multiple fonts can be confusing and overwhelming for your customers. Stick to two to three font families at most for your brand. If you use multiple fonts, ensure they complement each other well.
Conclusion
As you can see, I've shared a list of 10+ best fashion fonts for clothing brands. They are beautiful, stylish, and perfect for any design project requiring a handwritten touch.
Also, these script fonts will add a touch of elegance and sophistication to your design.
From this list, choose a font that reflects your brand's identity and create stunning designs that will attract your audience's attention.
I hope this article has helped you determine which font is best for your clothing brand or fashion industry.
If you're unsure which font to choose or need help with your branding project, feel free to comment below. I will be glad to assist you!
Canva: The perfect tool to design cool logos
Canva is a perfect logo maker that one can go for that offers help in providing the best graphic designs, presentations, posters, and visual content. Then go with Canva to get cool logo ideas so that you get your bold logos ready in no time !!
It's time to learn design tips from the above examples to style your logo to win your audience's hearts.
Read More: Best Website Banners: Design Inspiration & Ideas!