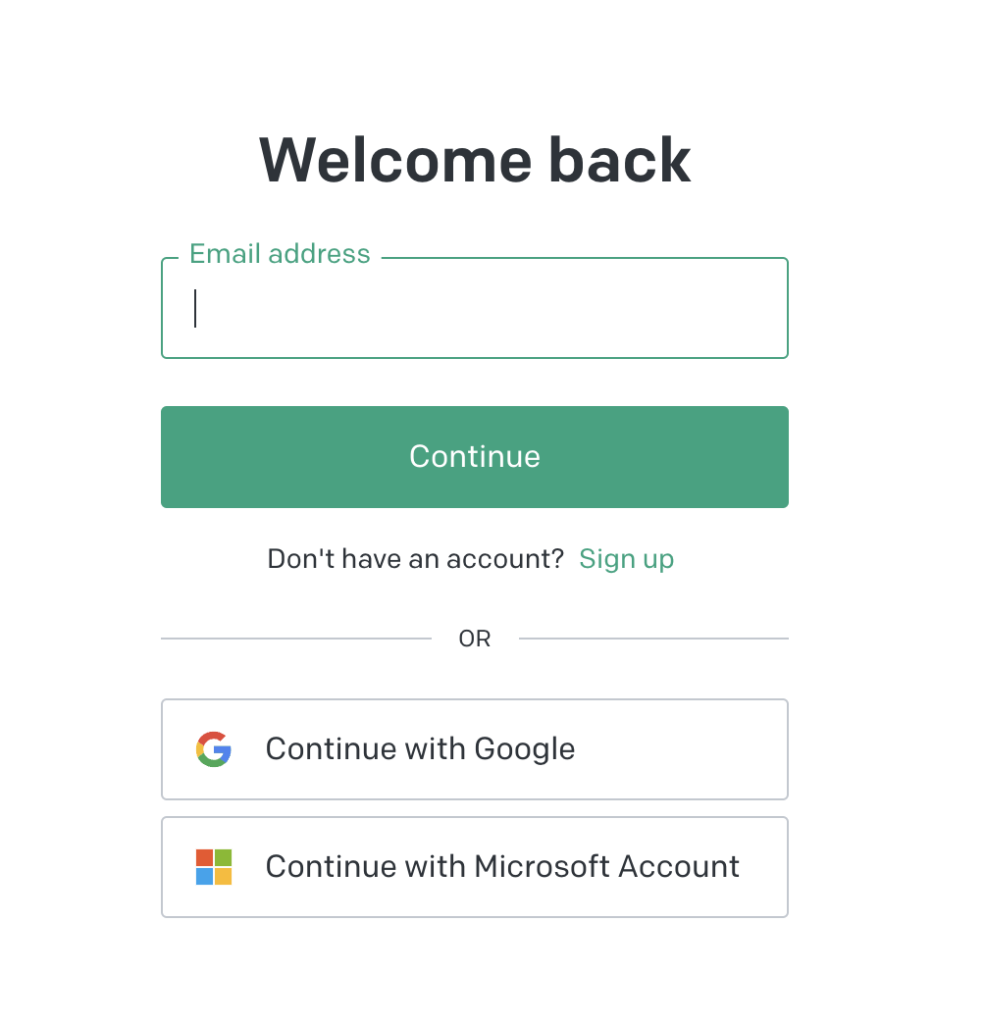 What is the Chat GPT login process, and how do you start? Keep reading to learn
Virtual assistants have become essential to our lives in today's digital world. ChatGPT, a cutting-edge AI-powered assistant, stands out with its witty and insightful responses.
However, you must know how to log into the platform to use the Chatgpt account.
Some times chat gpt signup is currently unavailable but you can check it later and it will work fine.
In this article, I'll show you a step-by-step process on how to log into ChatGPT with screenshots to make it easier to follow. Also, I'll answer some common questions, including what to do if you can't log in to ChatGPT.
So let's dive in!
About ChatGPT
Before we dive into the ChatGPT login process, let's take a quick overview of the AI software!
OpenAI ChatGPT is an impressive AI language model that can generate human-like responses to a wide range of queries. With its vast knowledge base and advanced natural language processing capabilities, it can communicate with users in a way that feels almost like chatting with a real person.
The model is trained on massive text data, making it one of the most advanced AI chatbots. The data comes from Wikipedia, textbooks, articles, and scientific journals.
ChatGPT is particularly impressive in natural language processing, as it can understand complex sentence structures and nuances in meaning. This makes it a powerful tool for various applications, from customer service chatbots to language translation.
It also can learn from its interactions with users, improving its responses over time. Though it's not entirely perfect, OpenAI ChatGPT is a remarkable achievement in AI language processing.
Overall, OpenAI ChatGPT is a powerful tool for anyone looking to communicate more effectively with an AI chatbot for various purposes.
Is Chat GPT free?
Yes, ChatGPT is free to use if you intend to use the basic version. You don't have to pay anything. Sign up for a free account on the official OpenAI website, and you can start using ChatGPT's basic features without any trouble.
However, you must remember that OpenAI ChatGPT recently launched its pro plan, ChatGPT Plus. It will cost you $20 per month; you can always use the existing account credentials if you buy the plan. The Chat GPT pro plan offers benefits such as access during peak times, faster responses, and exclusive access to the latest features.
Read : Chatgpt Statistics: Here Is Everything You Need To Know
Chat GPT Login Page
When you access ChatGPT, the first page you see is the login page. You can access ChatGPT only through Open AI's website, which is the parent company of ChatGPT.
You can access ChatGPT using Google or any other online browser. Alternatively, visit https://chat.openai.com/auth/login for (chat.openai.com auth login) to open ChatGPT's login page.
How to Sign Up for ChatGPT?
To use the OpenAIChatGPT tool, you must first create an account. Luckily, it's a simple process.
Just follow these easy steps to sign up and open an account for OpenAI ChatGPT: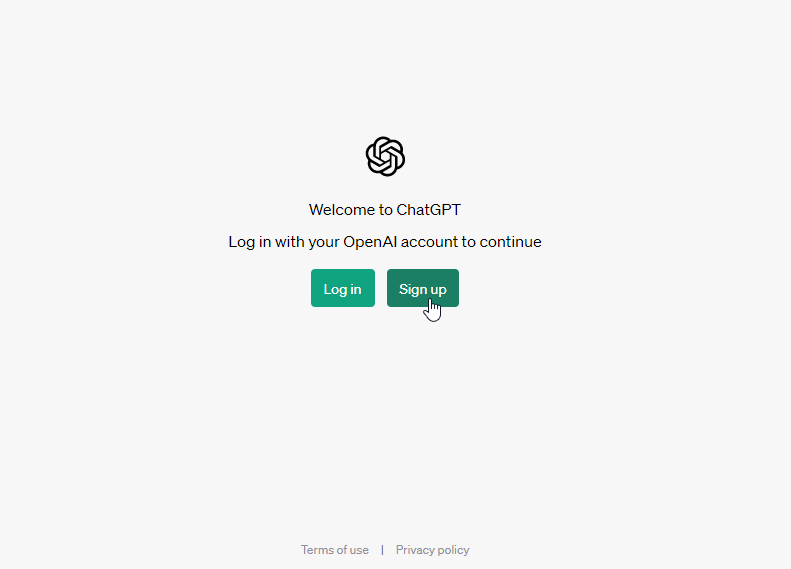 Fill out the registration form with your name, email address, and a strong password.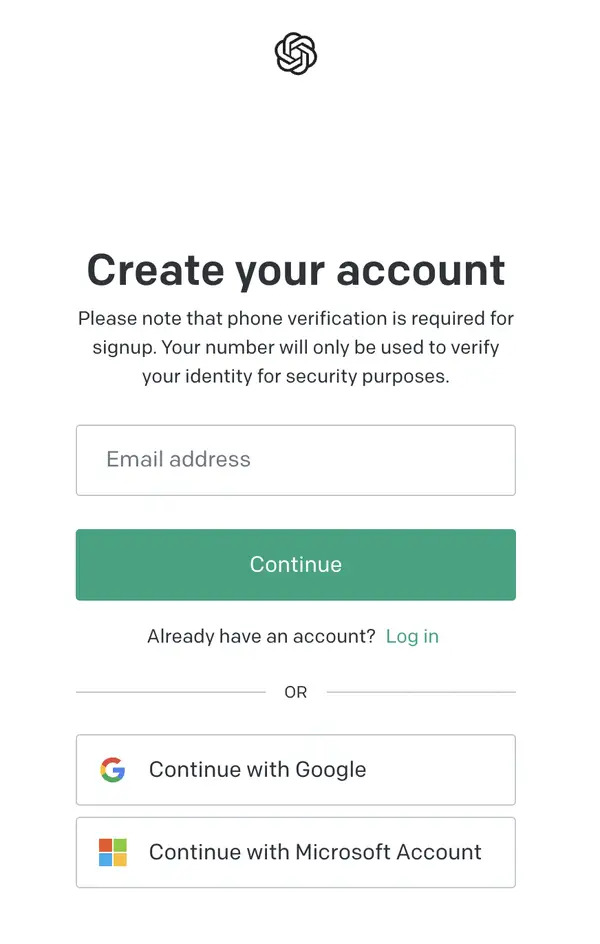 Next, read and agree to the ChatGPT terms and conditions by checking the box provided.
To complete the registration process, tap the "Sign Up" button.
Once your registration is complete, you will receive a confirmation email at your provided email address. Follow the instructions to verify your account and activate ChatGPT.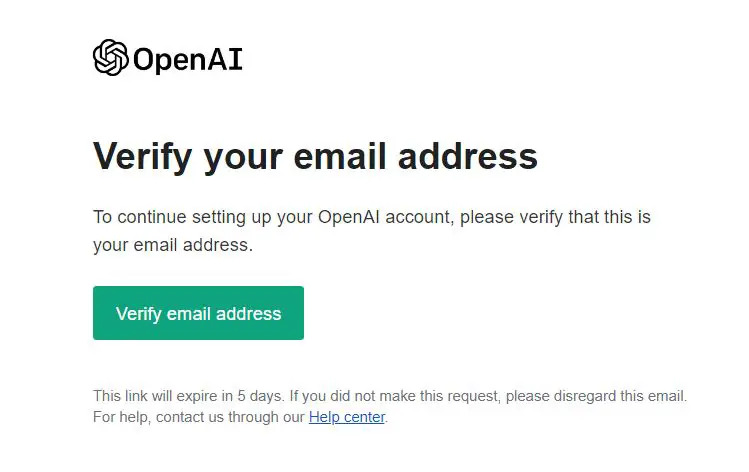 After verifying your account, you can log in to ChatGPT using your username or email address and the password you created during registration.
How to log in to ChatGPT?
After creating an account on the OpenAI Chat GPT website, log in to your account and start using ChatGPT.
Here are the simple steps to log in to ChatGPT: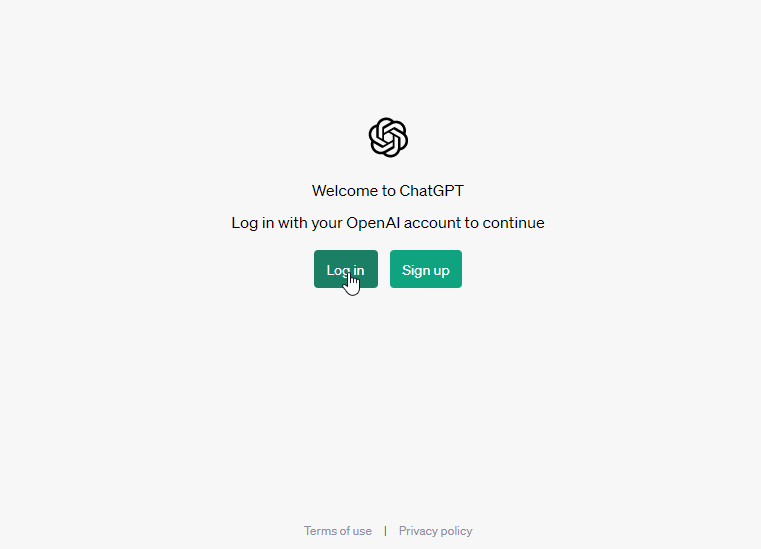 Enter your email address to sign in. You can sign in with either Google or Microsoft account.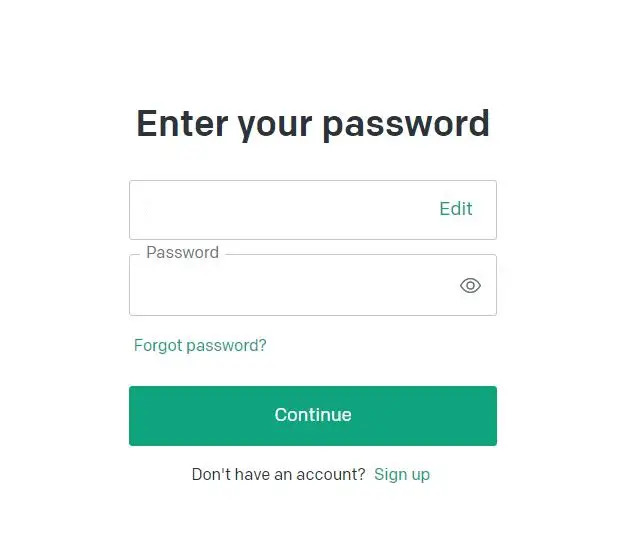 Now, type your password in the given space.
Lastly, click the "Log In" or "Continue" button to access the ChatGPT dashboard.
That's it! You can now start using the ChatGPT tool right away.
Chat GPT Login Google
When you sign up for OpenAI Chat GPT, you have two options to log in: "Continue with Google" or "Continue with Microsoft."
Select the "Continue with Google" option on the login page to log in with Google. Then, please enter or select the Gmail address you want to use and its associated password. You'll be directed to the AI ChatGPT dashboard.
Unlike the normal ChatGPT login, this method doesn't require you to verify your email address or age.
Chat GPT Login Microsoft
Select the "Continue with Microsoft Account" option on the Chat GPT sign-up page if you have a Microsoft account. Enter your Outlook or Hotmail email address and its linked password to access the platform.
After that, you'll be navigated to the Chat GPT main interface without requiring email verification or age confirmation.
How to Use ChatGPT After Login?
After you log in to ChatGPT, you'll see three sections: examples, capabilities, and limitations. You can select one of the alternatives according to your needs.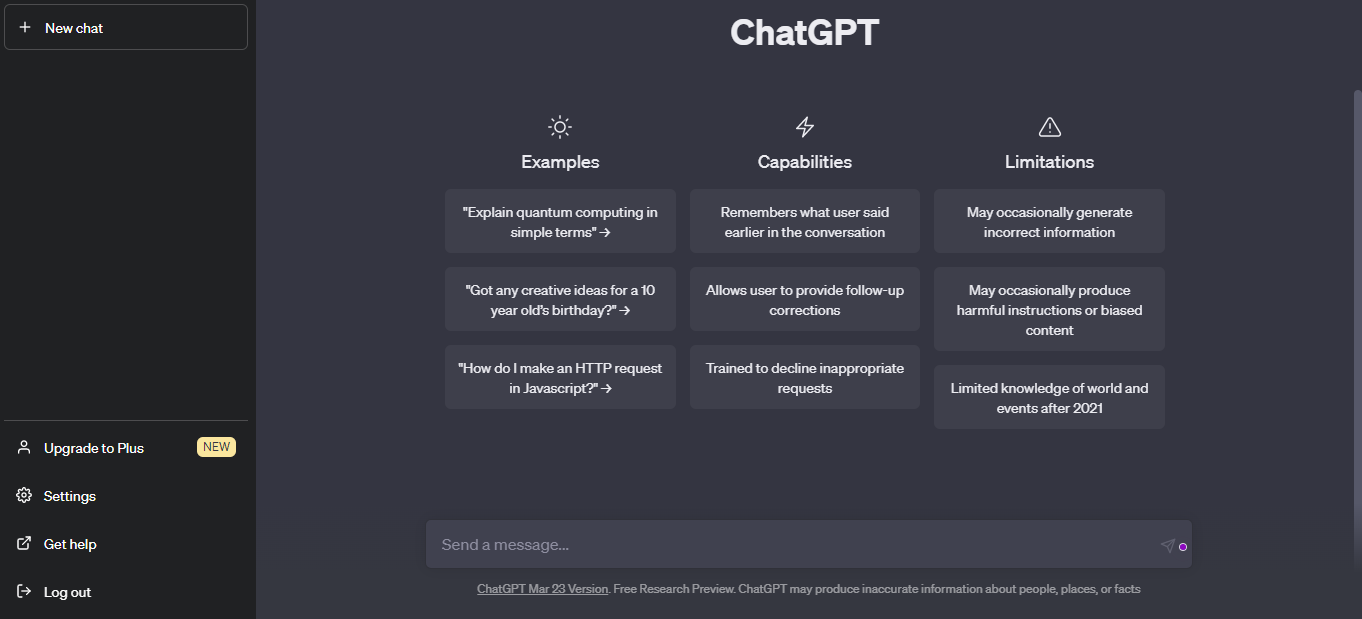 Alternatively, you can start a conversation by typing a question into the chat box at the bottom of the screen. You can do this by pressing "Enter" or clicking the send button.
ChatGPT will respond to your message with a helpful and informative response. You can ask ChatGPT anything you want, whether a question, a request for information, or to chat.
You can also use ChatGPT to play games, get suggestions, or just have a friendly conversation. ChatGPT is always ready to help and available 24/7, so feel free to start a conversation anytime you want.
The best thing about ChatGPT is its user-friendly interface, making it easy for beginners and experts to use. You can explore a wide range of AI-powered chats that enhance your creativity and problem-solving skills by logging in.
Chat GPT Login Errors and their Solutions
ChatGPT by OpenAI is an AI-based language model that assists users in generating human-like text. It has quickly become a favorite of millions of people around the world.
It can be used for various purposes like content creation, writing essays, answering questions, and much more. However, sometimes users face issues while trying to log in to ChatGPT.
In this section, I'm going to teach you why ChatGPT login is not working and what to do if you can't log in to ChatGPT. I'll show you how to fix common ChatGPT errors.
So let's dive in!
Why is Chat GPT Login Not Working?
When you try to log into ChatGPT, you may encounter an issue that prevents you from using the AI tool.
The most common error users get is "Error 1020 Access Forbidden". You don't need to worry about it; it's a common problem you can easily resolve.
This error usually occurs due to a problem with your VPN or browser. However, it can also occur due to incorrect user information or a lack of authorization.
Another error that ChatGPT users may experience is the "Network Error." This error can occur for various reasons such as API memory restriction, an unstable internet connection, too much traffic, technical challenges, backend issues, or input size.
How To Fix the "Can't log in to ChatGPT" Error?
ChatGPT login not working can be a frustrating experience for users; it gives an internal server error. The good news is that there are several ways to fix this problem and gain access to your ChatGPT account. To fix ChatGPT login issues, try these easy and quick fixes:
Check Login Details
The first thing you should check when you can't log in to ChatGPT is your login details. Make sure that you have entered the correct username and password. If you have forgotten your password, click "Forgot Password" to reset your password.
Check Internet Connection
Another reason you might be unable to log in to ChatGPT is a poor internet connection.
Check if your device is connected to the internet and the internet speed is fast enough to support ChatGPT. You can check your internet speed using https://fast.com/.
If your connection is weak, try moving closer to the router or switching to a different network.
Check OpenAI or ChatGPT Server Status
Sometimes, ChatGPT servers might be down due to maintenance or technical issues. In such cases, you can check the status of the servers on the official OpenAI or ChatGPT website. If the servers are down, you can wait for some time and try logging in again.
Clear Caches & Cookies of Your Browser
If you are still facing issues while logging in to ChatGPT, try clearing the caches and cookies of your browser.
Over time, the cache and cookies can accumulate and cause conflicts with the website's login process. Clearing them will remove any temporary files that might be causing the problem.
To clear your browsing data, click the three dots in the top-right corner of your browser. Then click More Tools > Clear browsing data. Select the time range you want to clear in the Clear browsing data window.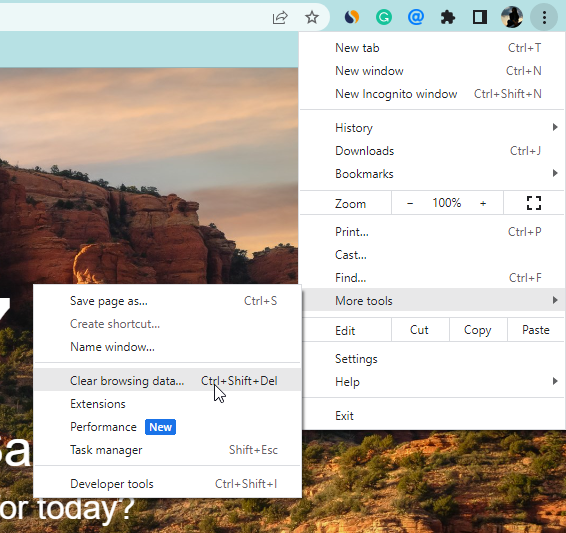 Now, check the box next to Cookies, other site data, and Cached images and files. Finally, click Clear data.
Once you've done that, try logging into ChatGPT and see if it works.
Restart Your Device
Restarting your device can also help in fixing login issues. Sometimes, a simple reboot can fix any software or connectivity issues preventing you from logging in to ChatGPT.
Try Login Using a VPN
If none of the above solutions work, try logging in to ChatGPT using a VPN. A VPN can help bypass any connectivity issues or IP restrictions preventing you from accessing ChatGPT.
Conclusion
Chat GPT is an incredible AI tool that can help businesses and content creators in various ways.
Hopefully, this guide has helped you navigate the OpenAI Chat GPT login process. You can easily complete the process by following the steps provided in the article.
If you have used ChatGPT before, we would like to hear about your experiences in the comments below. Also, please let us know whether you recommend it to others!
FAQs
What is the website for ChatGPT?
ChatGPT's official website is https://chat.openai.com/chat or. try chat.openai.com login and
openai.com chatgpt login
Should you use Chat GPT for content creation?
You can use Chat GPT for content creation without worrying about Google penalties. Many content creators have expressed concerns that using AI-generated content will result in penalties from Google.
However, SearchEngineLand.com reports that Google does not penalize content that is created with AI. As long as the content is high-quality, original, and relevant to the topic, there shouldn't be any issues.
Using Chat GPT for content creation can save you time and effort while still producing excellent content. AI tools can help you generate ideas and explain things in an easy-to-understand way.
But remember that AI-generated content must be high-quality, original, and relevant to your audience. You can also use chatgpt to improve your communication skills.
Where can I download ChatGPT?
Unfortunately, ChatGPT is unavailable for download as it is a cloud-based language model that runs on servers. But you can access ChatGPT through various platforms integrating OpenAI's API, such as Hugging Face or OpenAI's playground. Simply create an account and start interacting with ChatGPT's powerful language processing capabilities.
Can I use ChatGPT without signing up?
No, you cannot use ChatGPT without signing up. You must create an account and log in to use its language processing capabilities. This allows it to personalize your experience and provide more accurate responses based on your previous interactions. But don't worry; signing up is a quick and easy process, as you can see in this article.
Is ChatGPT available for mobile?
No, ChatGPT is not currently available for mobile devices. However, you can access the ChatGPT website through the web browser of your Android phone.