When designing a website, logo, app, or landing page, it needs to be clearer to choose between available color schemes. Choosing the right color palette and color scheme is essential to match the brand's image.
For example, the right color combinations and beautiful color schemes make your brand more approachable to consumers and reflect your brand feature that makes your brand stand out from others.
You might have spent hours reading color theory articles, watching video tutorials, and browsing galleries searching for a suitable color palette for your project.
However, it takes work to get inspired to generate color palettes. In such a situation, an online color palette generator tool may save you precious time selecting complementary colors.
Many color scheme generator tools are available to help you explore the color wheel. These color palette generators enable you to create new color palettes, color schemes, shades, and gradients. Some websites recommend free color palette tones and themes that match your brand image.
In this article, you will find some of the best color palette generators to experiment with new colors and add to your color tool collection.
What is a color palette?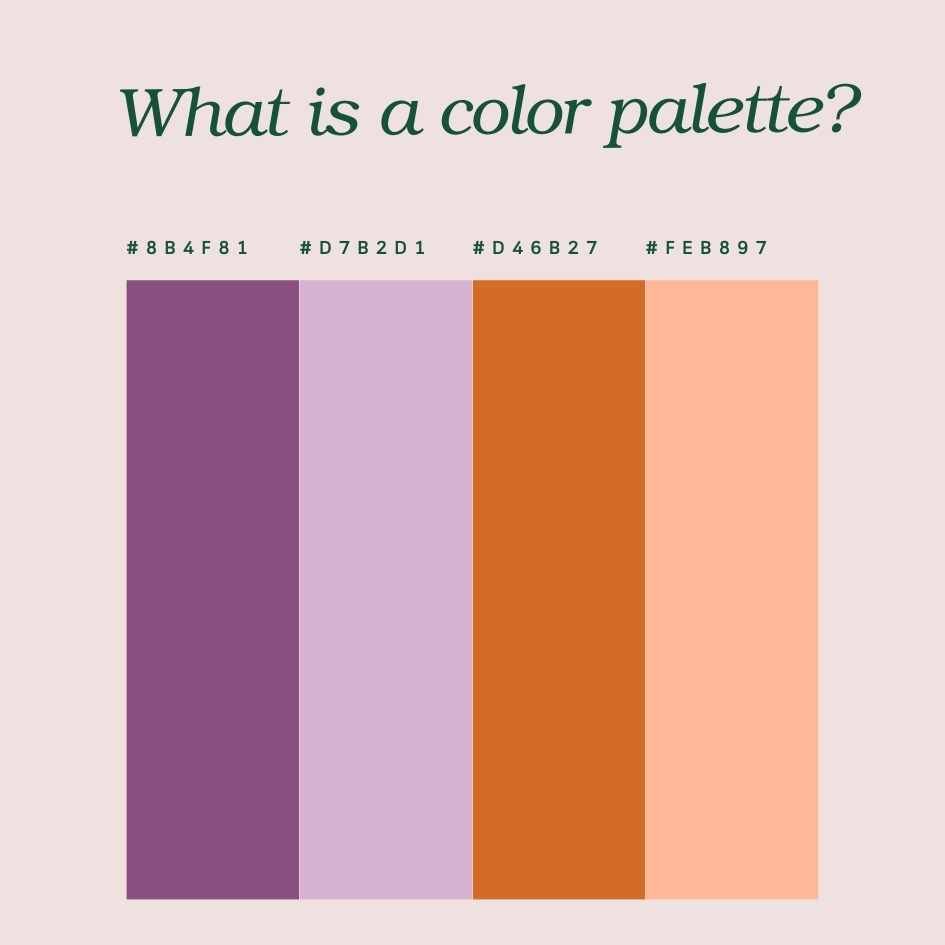 Before we move to the color palette generation, let's know about the color palette. Color palettes are collections of colors and shades used by artists or designers. When it comes to home design, a color palette refers to all the fabrics, paints, and other colors used throughout the space.
The term is often used in branding and graphic design to describe the precise shades of colors that make up a brand's identity. In addition, palettes of colors are sometimes used interchangeably with themes and schemes.
What color palette should you choose?
Choosing a color palette that suits your project is a very tricky task. In this process, you must consider aspects such as brand personality, features to represent and competitor color schemes, etc.
Here is the checklist of tips to downsize your choices.
Your brand personality
Choose themes for the project based on how they work with people and work together. Based on your brand traits and position in the market, you should choose color palettes suitable for your brand image.
For example, a cool color palette induces trust and loyalty, while warm colors are responsible for mental energy and excitement. Here is the chart that you can use to decide on your palette.
Choose a color that represents your brand.
A solid color that links your project most and makes it dominant. You can use contrast or the same color shade for all other aspects of your project.
Experiment and explore new color shades and gradients
A solid or bold color associated with huge brands supports companies to get recognized instantly in the market. Hence some companies use this solid color palette in almost everything, for example, Target, Netflix, and Spotify. But most brands choose color schemes that complement the primary color that gives out the feeling of a modern and sleek identity.
What is the optimal number of colors for a color palette?
A vivid color palette with too many colors may ruin your brand identity. This unclear identity may fail your branding, making consumers move away from your company. Hence picking a beautiful color scheme that is attractive is science and art together. So, how many colors a color palette should have?
You will need a few terminologies before we choose the optimal colors for your theme.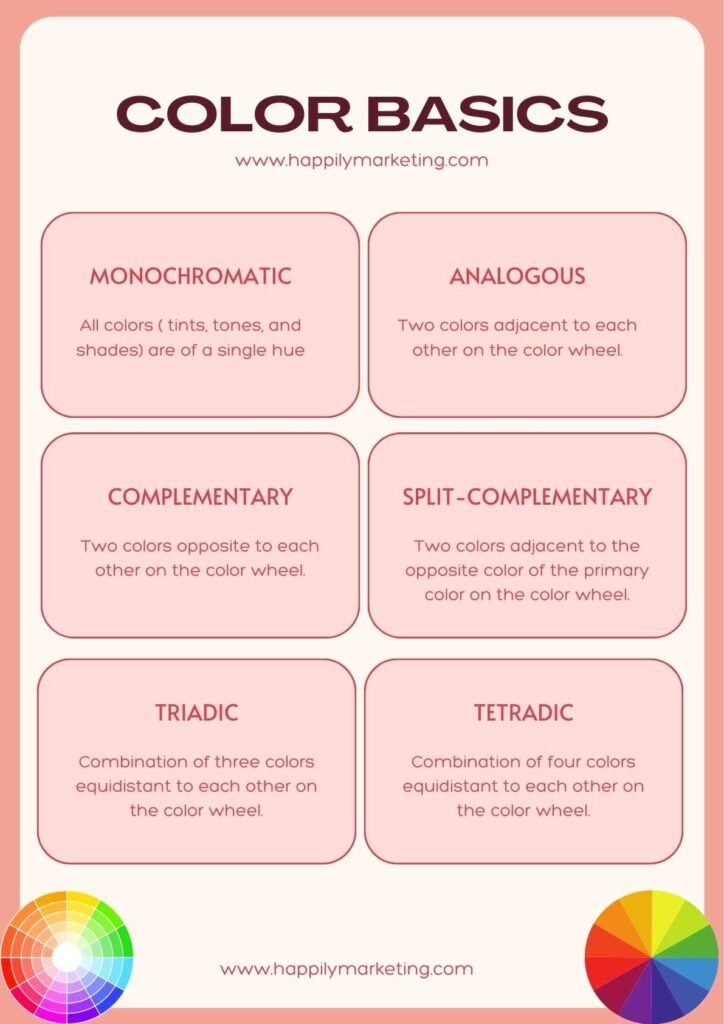 Monochromatic: All colors ( tints, tones, and shades) are of a single hue
Analogous: Two colors adjacent to each other on the color wheel.
Complementary: Two colors opposite to each other on the color wheel.
Split-complementary: Two colors adjacent to the opposite color of the primary color on the color wheel.
Triadic: Combination of three colors equidistant to each other on the color wheel.
Tetradic: Combination of four colors equidistant to each other on the color wheel.
Your chosen color combinations might have been inspired by one of the above color schemes.
Online color palette generators
Various online color palette generators are available, but these are some palette generators listed below.
Venngage
Random color palette generator
Colors
Adobe Color
Paletton
Colormind
Color Hunt
ColorSpace
ColourLovers
Curls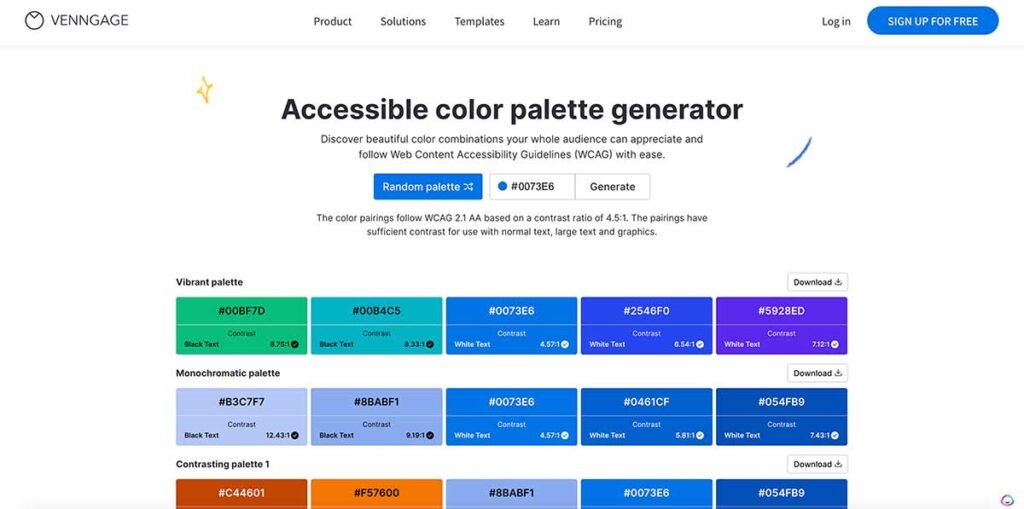 This color palette generator allows you to generate WCAG-complimenting colors in two ways. First, randomized tools help you to generate color palettes from scratch. While another option, " generate from HEX," help you to discover color palettes based on your color choice.
Also, the interesting thing about this tool is that after generating a color palette, you don't need to check it manually for accessibility. So saves your precious time and hard work while giving you a color palette that follows the WCAG 2.1 AA contrast ratio of 4:5:1. Of course, all this doesn't need prior designing experience, and it is free for all.
This tool is for designers working on a campaign's website, logo, app, or landing page. It provides all one service. You have to lock the colors and hit the generate button. It will provide you with a list of color palettes you choose.
Also, as the name suggests, if you have yet to decide what color to choose, it will randomly create the color themes, and you can choose from that. This tool is handy for a designer, marketer, or blogger seeking a suitable color palette, and this tool can help you. This tool will help you to explore beautiful and harmonized color inspiration creatively.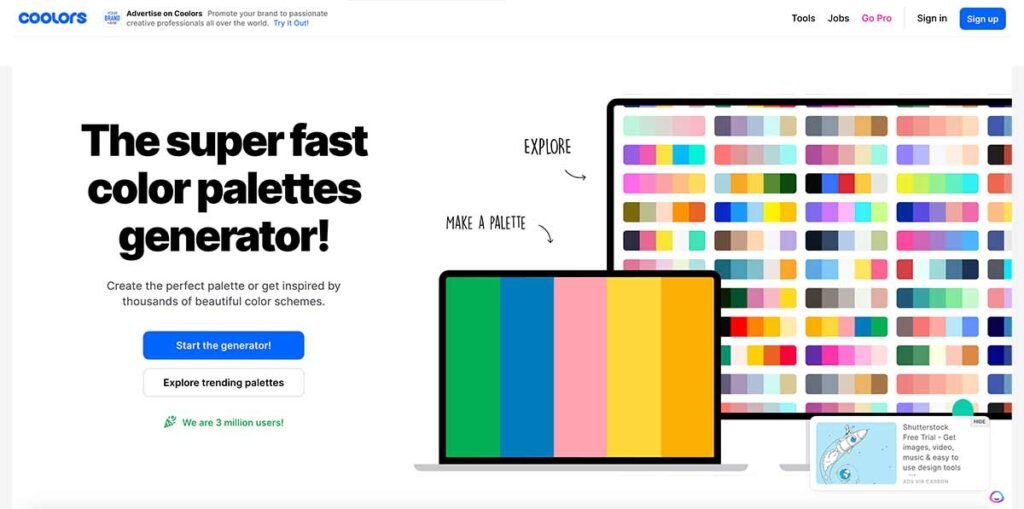 This color palette generator helps you to explore color choices based on keywords and images. Also, it provides tools that check for the accessibility of your palette to color-blind people or to generate more gradients and tones.
This robust and intuitive tool you can find on the web for free. But it is also available as an iOS, Chrome, and Adobe extension. This tool provides color values of chosen color not only in HEX code but as RGB and CYMK color values.
This is one of the outstanding Adobe products, giving a more professional feel. This tool also allows users to extract and create a color palette from uploaded images. Finally, it provides tools that check for accessibility.
Sometimes good color combinations do not pair with text or are easy for color-blind people. This tool provides the service of checking accessibility to all. Anyone with an adobe account for other products can access it.
This intimidating color palette generator is supported by color science. Even though it appears more technical, it has an interface that can be easily accessible. Users can select from monochromatic, adjacent, or complimentary with three and four-color options. Or else the user can create and modify selections using the color wheel.
You can adjust the color wheel distance to match your primary color. This color palette generator tool does not look user-friendly initially, but if you want a simple, straightforward, science-based color palette generator, this might be your best choice.
This unique tool helps you create a color palette and shows you a preview of your generated palette on the website. This tool is built by and built for website developers; hence, it provides means to check whether your color scheme will work.
You have to explore colors and lock those colors. For example, the AI-powered system will generate color palettes, and you can select one of those and check if it works on the sample website.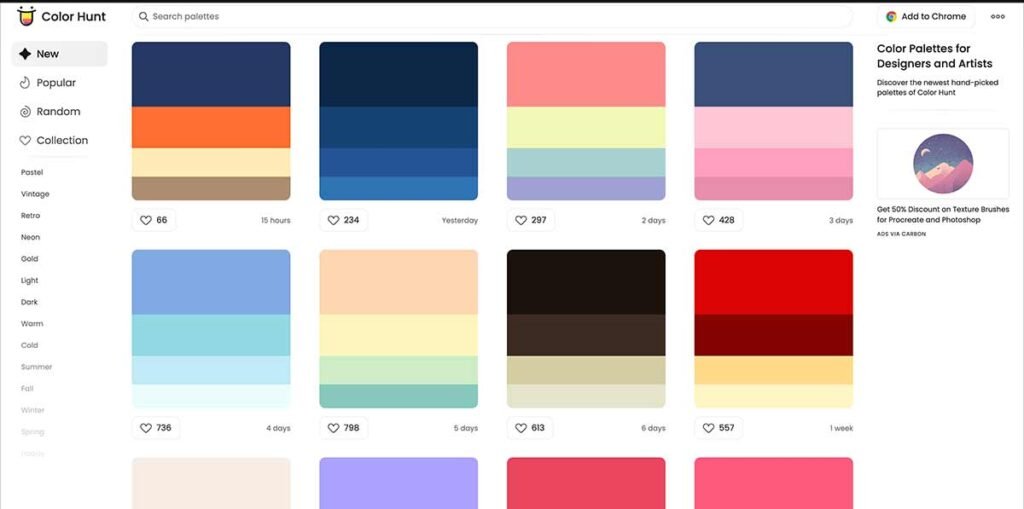 This tool allows you to browse new, trendy, and random color palette options. This tool is an artist-generated color palette library for designers. This tool is handy when you need to gain palette creation experience. This tool provides a list of already prepared color palettes for inspiration.
Using this tool, you can create your four-color palette. The tool provides HEX values for each color that can be easily shared. The main drawback of this site is it only provides four color palette generators.
This color palette generator tool lets you choose through the color wheel or enter the color. Based on your response, generate a variable list of color palettes, including gradient, complementarity, contrast, and much more. This tool is developed primarily for web developers, but others can also benefit from it.
This simple and intuitive tool creates palettes within seconds, making them more accessible to consumers. But even if it is fast, it does allow restricted customization of options. Hence if you are looking for creative color palette generation, something other than this tool might be helpful for you.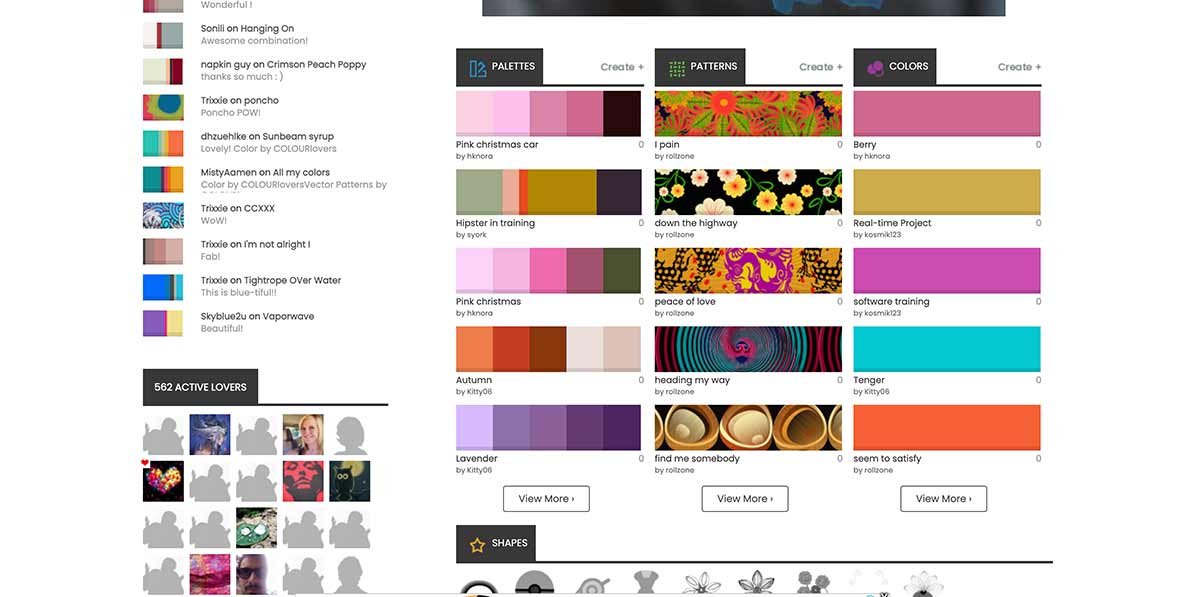 This is a community where creative artists over the globe share color palettes, designs, and patterns they have created. There are also blog posts and articles related to designs and color schemes. This community has a free color palette generator that is quite progressive, and beginners might need help with it. But it supports the creativity and curiosity of an artistic mind.
Users can explore and create new combinations until they find the perfect one. A basic version of this tool is also available that is quite user-friendly but does not provide automated complementary and contrasting color generation.
It is free to use a color palette generator that provides monochromatic, contrasting, or complimentary color schemes that follow color science. This tool enables you to create shade by selecting monochromatic palettes, or you can mix-match cool and warm shades.
You can surf around shades and tones that blend well or stand out from each other. When you find your perfect color palette, copy the HEX code by clicking on it, and you will be good to go. The drawback of this tool is it will only allow you to customize your color palette partially.
Canva: The perfect tool to design cool logos
Canva is a perfect logo maker that one can go for that offers help in providing the best graphic designs, presentations, posters, and visual content. Then go with Canva to get cool logo ideas so that you get your bold logos ready in no time !!
It's time to learn design tips from the above examples to style your logo to win your audience's hearts.
Final Words
The color palette generators are great online tools that help users to create or select the color themes and schemes that develop with each other. For example, you need these tools if you are a designer working on a website, logo, app, or campaign's landing page.
Some of these generators allow you to extract colors from images, and others allow you to create using the color wheel, while the rest provide you with random or ready-made palettes. All of them have unique qualities that target specific consumers. These generators allow creatively exploring beautiful and harmonized color inspiration for designers, marketers, or bloggers seeking a suitable color palette.
To find the best color palette for your business, is to know your brand personality and your target consumer base. According to it, narrow down your color choices and create color palettes using the above tools. A vivid color palette with too many colors may ruin your brand identity. Hence picking a beautiful color scheme that is attractive is science and art together.
Color palette generators are powerful tools that will help you to build a color palette that relates to your brand identity. Some companies use bold and solid colors, while some choose sleek and modern colors.
I hope this article helped you create your color palette journey and find the best one for your project.